Josef Koudelka, Gypsy with a Camera: Getty Show Shines Light on Dark and Powerful Photos
My dog-eared copy of Josef Koudelka's Gypsies sits in the bookcase next to Cartier-Bresson's Decisive Moments and Robert Frank's The Americans. Like those books, it was fundamental to my development as a photographer.
From the moment I saw it I was mesmerized by its stunning black-and-white images. Published by Aperture Books in 1975, it contained page after page of Koudelka's dark and brooding photographs of European gypsies; the Romani or Roma people.
Shot in Romania and Czechoslovakia, Koudelka lived in dozens of Roma encampments immersing himself in their "gypsy" world. Fascinated by their faces and gestures, over time he created a work of profound beauty and mystery.
Many of those powerful images are part of the fascinating show "Josef Koudelka: Nationality Doubtful" on view at the Center for Photographs at the Getty Center in Los Angeles through March 22, 2015.
"I don't pretend to be an intellectual or a philosopher. I just look." – Josef Koudelka
I responded strongly to Koudelka's images because I had just photographed a Roma community in Tacoma, WA. Although I had spent a few days there, I had seen many of the same faces and people that Koudelka had captured in Eastern Europe.
The Roma are believed to have left India a thousand years ago and have been travelling nomadically throughout Europe and the Americas ever since. With their dark skin, north Indian based music, dance and customs they were seen as outsiders, thieves and criminals and were shunned.
The prejudice is still alive. A few years after I photographed them, I tried to find some of the Roma only to be told that they had fled the city, driven out by the hostility of their neighbors.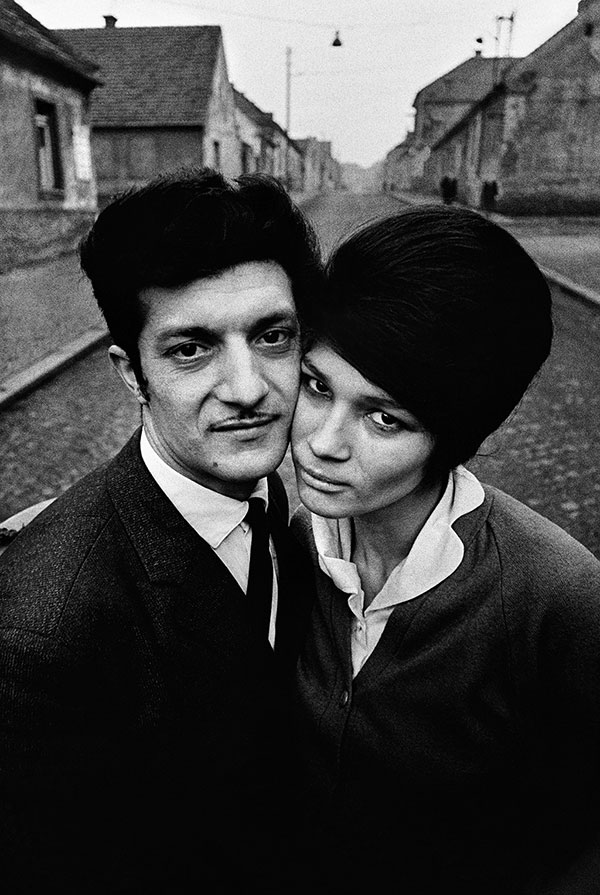 Beginnings as a Photographer
Josef Koudelka was born in 1938 in Boskovice, Moravia and as a child began taking photographs of his family with a 6 x 6 Bakelite camera. In 1961 he graduated with a degree in engineering and started to work as an aeronautical engineer in Prague. This was also the year he had his first exhibition of photographs.
The show went well and he began getting assignment work from local magazines. He specialized in theater coverage and shot the shows and backstage life with a Rolleiflex. However despite getting photographic work, he kept his day job.
When he started to do his Roma photography he had to photograph them in his spare time. Finally in 1967 he gave up engineering and became a full time photographer taking more assignment work and spending more time with the Romas. In the course of the 1960s he lived and photographed in over eighty encampments in Eastern Europe taking thousands of images.
Photographing the Soviet Invasion
Then in August 1968, he encountered an event that changed his life. He had just returned home to Prague after photographing in Romania when two days later Soviets tanks rolled into the city.
The invasion by the Warsaw Pact, and directed by Moscow, was aimed at crushing Czechoslovakia's newly enacted democratic reforms. Koudelka flung himself into the streets, recklessly shooting in the heart of the conflict. He photographed the clash of military forces with the largely unarmed civilians, facing the tanks and armed troops alongside other Czech citizens.
He shot roll after roll of film and then, with the help of friends, got the film smuggled out of Prague and into the hands of the Magnum agency in London. These powerful images taken in the center of the invasion were a revelation that stunned Western eyes.
First published by The Sunday Times, they quickly spread to magazines and newspapers around the world. But concerned for his safety and that of his family, Magnum sent out these photographs with just the credit line of P.P. (Prague Photographer).
They became ironic symbols of the Cold War and in 1969 the Overseas Press Club gave the "anonymous Czech photographer" their Robert Capa Gold Medal. The true identity of P.P. remained secret until 1985 when after the death of his father (his last living relative in Czechoslovakia), Koudelka acknowledged that he was "P.P."
After the invasion and the repression that followed, Koudelka applied for a work visa in England. With Magnum's support he got the visa and upon arriving in England in 1970 immediately applied for political asylum. It was granted and for the next decade he lived in England and worked with Magnum.
Working in Exile
"When I photograph, I do not think much. If you looked at my contacts you would ask yourself: 'What is this guy doing?'" Koudelka says. "But I keep working with my contacts and with my prints, I look at them all the time. I believe that the result of this work stays in me and at the moment of photographing it comes out, without my thinking of it."
Though living in England, Koudelka was a refugee, an exile. Although he could get travel documents, he had no passport and no national identity. He could work on the Roma project and travel for Magnum assignments but, like the Roma, he was stateless.
Out of this time in his life he produced Exiles (1986), a collection of images that spoke of dislocation and drew upon both his Roma experience and his own feelings of displacement. Many of these photos comprise that "Nationality Doubtful" show at the Getty Center.
He called the work "Nationality Doubtful" because that was the status listed in his travel documents as he had no passport and could not prove his birthplace. For Koudelka though, the phrase has deeper meaning. As he likes to say the title should really be "Nationality Is Doubtful." For Koudelka, the nomadic photographer has come to believe that the commonality of all people transcends national boundaries.
Koudelka left England and moved to France in the early 1980s. In 1987 his statelessness ended when he became a French citizen and then, armed with a French passport, returned to Czechoslovakia in 1990.
Koudelka had begun shooting with a panoramic camera in 1986 and when he returned to Czechoslovakia he started photographing the devastated region of Podkrušnohoří. Located at the western tip of the Black Triangle foothills of the Ore Mountains, between Germany and the Czech Republic, it is a horrific moonscape: a terrain scarred and shattered by mining.
The long panoramic frame became a tool for Koudelkra through which to show bleak landscapes disfigured by industry, war and time. These desolate images of ruined landscapes were published as two books The Black Triangle (1994) and Chaos (1999).
A more recent project for Koudelka and his panoramic camera has involved photographing fences, walls and other manmade barriers for a book entitled Wall (2013). In these photographs he documents the bleak fenced in landscapes of places like the West Bank, the Negev and the Golan Heights.
Today at age 77, Koudelka has homes in France and Prague and continues to work.
"I am not interested in repetition," he says. "I don't want to reach the point from where I wouldn't know how to go further. It's good to set limits for oneself, but there comes a moment when we must destroy what we have constructed."
"Josef Koudelka: Nationality Doubtful" is on view in the Center for Photographs at the Getty Center through March 22, 2015. The exhibition is co-curated by Amanda Maddox, assistant curator, department of photographs, the J. Paul Getty Museum, and Matthew Witkovsky, Richard and Ellen Sandor Chair and curator, department of photography, the Art Institute of Chicago.
FEATURED VIDEO