How to Shoot Extreme Sports with a Medium Format Camera: Daniel Tengs Works Out the Fujifilm GFX 50S
Norwegian Daniel Tengs sets himself apart from other extreme sports photographers in at least one key respect: he goes the extra mile, capturing snowboarders on medium format, namely the Fujifilm GFX 50S. Not exclusively, mind you, but with a certain flair so we can say his photo shoots with this format create a near mind-bending experience for the viewer.
After all, stop and consider how difficult it is to control such shoots to begin with using any 35mm-style camera. With the larger format you enter a different mindset. But in the hands of extreme sports photographer Daniel Tengs it appears effortless.
Testing the Limits of Medium Format
When given the opportunity to shoot with the Fujifilm GFX 50S, Tengs couldn't pass it up, especially since he is not a stranger to Fujifilm cameras. Prior to incorporating the medium format model into his extreme sports photography, his go-to camera had been, and still is, a Fujifilm X-T2 APS-C mirrorless.
This, however, is not Tengs's first foray into medium format for high action. "I first tried shooting with medium format seven years ago," Tengs recalls. "I wanted to try it out not only because of the extra megapixels but also because of the look that a medium format camera gives to the picture."
That interest in the larger format soon waned, only to be rekindled by the Fujifilm 50S. But why? "The GFX 50S is a robust, weather sealed, and light camera system. And since it's in the Fuji family, it's a camera system I already know very well."
The Medium Format Experience
As to how shooting medium format for extreme sports differs from using smaller format cameras, Tengs says, "There is a difference for sure, when compared with the smaller, lighter X-T2, but the GFX 50S is pretty close in weight and size to a regular DSLR camera. Once you have the shot, that's when you see the difference, when you upload the photo into Photoshop. The dynamic range of the GFX 50S is insane! You can really have fun with the picture, make it bright, make it dark. Once you start to play around with the file, that is the moment when you really start to appreciate the total package that the medium format brings."
What about disadvantages when shooting medium format? While Tengs admits they exist, it is not to the point of distraction. "It is slower than a regular DSLR or the mirrorless sports cameras. But still surprisingly quick, when it comes to response time from pressing the shutter to actual exposure. The tempo of the work might slow down a bit, but I like it. Every shot feels more special with a medium format camera."
Lighting for Extreme Sports
When it comes to lighting, Tengs employs a mix of available light and flash. "It all depends on the trip and the location, as well as the accessibility. If we are somewhere remote it might be more of a hassle to bring flashes. I have two different mobile studio flash kits that I use, depending on the situation. Usually it is all about making the photo crisp, which is why I routinely use only reflectors. And that means less stuff to drag around as well." Tengs may also add a slaved shoe mount as a kicker light.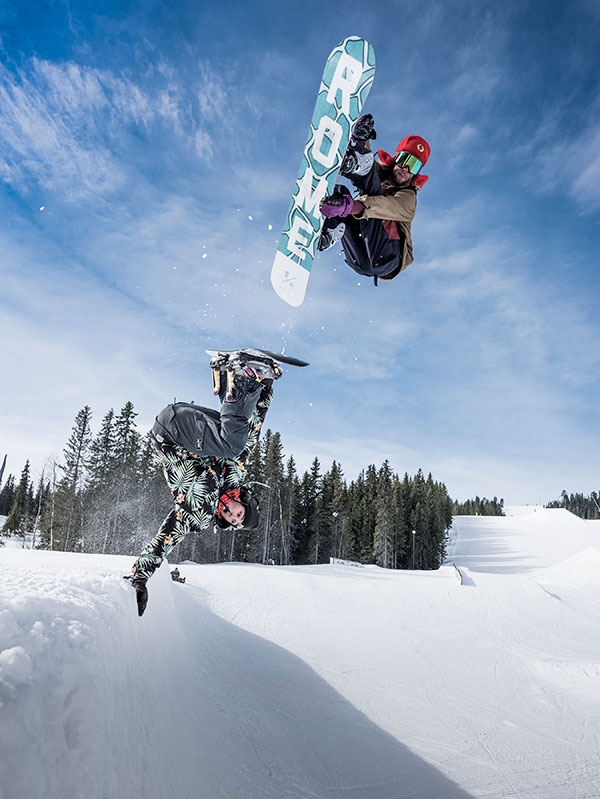 How does Tengs use his lighting? "I often look at the spot, determine what is interesting and what I want to enhance. Then I want to know the trick the snowboarder will do, because every trick has a perfect angle. Once I know the trick and I have the angle, I know the lighting."
He adds: "I usually use three flashes. One behind the takeoff, to see the snow spray, and the two other main flashes as rim lights. One of the rim lights also has to light up the spot."
For those unfamiliar with snowboarding, as Tengs explains, the "spot" is "the place where the athlete is performing, namely jumping, railing, powder spraying, etc."
Even available light shots take planning, he notes. "When it comes to ambient light we very much rely on calculating how the light is changing. If we have to build a spot, first we calculate how much time it takes to build a jump in the snow, rest, eat, and then perform the trick. That way we can know when the spot will be in the right light. As we are all snowboarders, we like sunset better than sunrise just because of the time of day."
To trigger these lights, Tengs employs a PocketWizard, because as he points out, "snow usually causes problems in transmitting radio signals, so the effective distance drops considerably."
Close Calls
Safety comes in part from being prepared, but also in understanding the sport you're tackling. Tengs has had a lifelong passion for snowboarding and knows the risks up front. As to how close he gets to the action, Tengs chuckles, "Sometimes too close."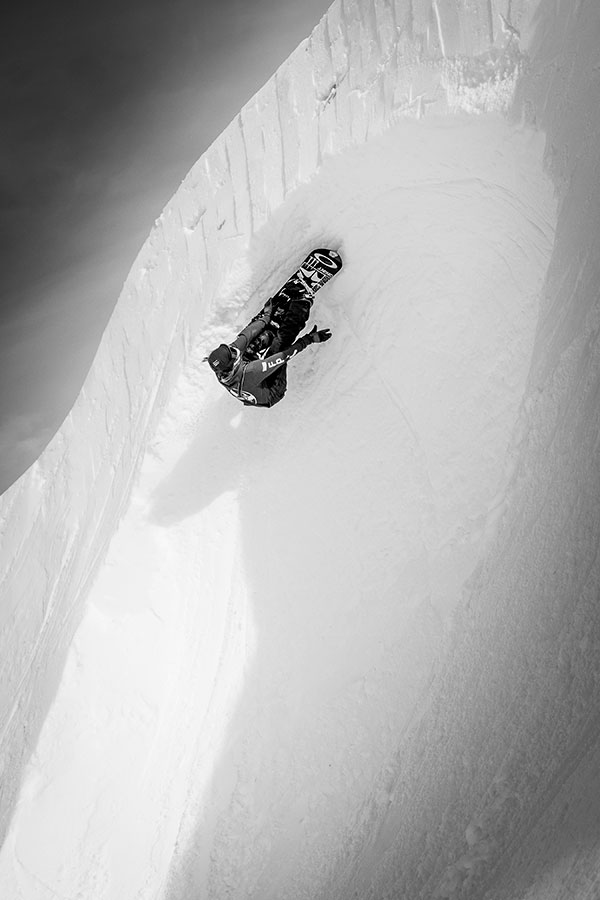 Getting serious once again, Tengs recalls one close call in particular. "I was shooting a skier spraying snow in the halfpipe. He came in with tons of speed. I asked him to get really close since I was shooting wide angle, and he did. I got my head out of the way, since I was leaning inside the pipe, but he hit the camera."
Shooting in the snow is part and parcel of what Tengs does routinely, but shooting in a blizzard is something else entirely. "Blizzards are rough. One time we had to endure temperatures of -10 Celsius, compounded by wind and rain at night. Everything freezes on the camera: it looked like one big ice cube, but the camera still worked."
Regardless of the camera format he chooses to use, Daniel Tengs's photographs of snowboarders appear effortless, yet are no less mind-blowing. Perhaps it's his dedication to both photography and the sport that sets him apart, or maybe it's just his cool attitude toward a lifelong pursuit. Either way, when viewing these photographs we can feel the bricks of snow hitting our faces as well.
What's in Tengs's Gear Bag
• Fujifilm X-T2 with battery grip and extra batteries
• Fujifilm X100F
• Fujifilm 50-140mm f/2.8 R LM OIS WR
• Fujifilm 35mm f/2 R WR
• Fujifilm 16-55mm f/2.8 R LM WR
• PocketWizards
• Polarizers in different sizes
• Memory cards
• Probe and shovel (avalanche equipment)
• Reflective survivor bag (in case of storm or injury)
• Sunscreen, energy bar, water
Daniel Tengs operates out of Oslo, Norway. To see more of his work, visit tengsphoto.com; or Instagram: @tengsphoto.
Jack Neubart (jackneubart.com) has authored numerous books and articles on photography over the years.
FEATURED VIDEO