How Are You Feeling?
It's widely known that a lack of photography in your diet can cause untold miseries. Symptoms include excessive cat photos, too many fresh-from-shower selfies and in some extreme cases, TikTok videos that practically beg for body shaming. Being housebound and isolated from photo ops can break any man or woman down. But don't despair! Shutterbug has the prescription to relieve your aches and pains.
It's not surprising. Once you've become accustomed to carrying five or six pounds of camera gear by a thin strap around your neck or over your shoulder, eliminating that weight can have repercussions. Your entire skeletal system could be suffering from unbalanced load withdrawals.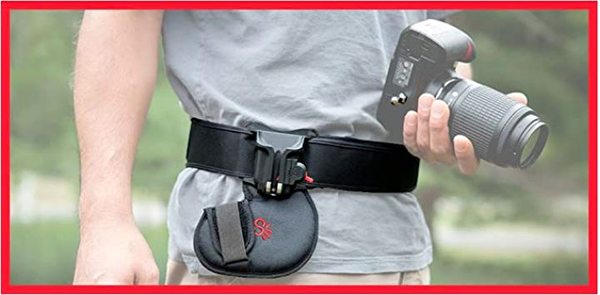 Here's a holistic remedy to remember: Spider Black Widow Holster Kit. The kit includes everything you need to tote a light weight DSLR, mirrorless or compact camera around your waist instead of around your neck. For larger cameras, you'll have to visit a specialist.
Available for $65 on Amazon.
We know—the pain starts in the shutter finger and gradually spreads all the way up to the wrist. You might not even notice it at first, but eventually it gets so bad you can no longer play Candy Crush on your phone. There is only one known cure: buy a 35mm film camera, the older and clunkier the better. Cock and fire the shutter over and over again. You'll get your mojo back in no time.
Take a look at UsedPhotoPro. They're a division of Robert's Camera in Indianapolis and a great source for fair and honest deals. The item you see on their website is the actual piece that you buy. Faster than a speeding Indy 500 racecar and totally safer than an online auction.
Cephalgia? Neuritis? Neuralgia? We don't know what any of those words mean, but we remember them from aspirin commercials when we were kids. And they sound quite impressive. Some folks just call a pain in their gourd a headache, but not us; we're fancy.
Here's the medicine for headaches. Visit the website of your favorite brands and search for tutorials or training modules. There are way too many to list here—many companies are providing classes and seminars for free or at reduced pricing during the lockdown period. Go ahead, learn something. Your gourd might still hurt, but at least you'll be smarter.
Anything else bothering you? Knees? Elbows? Ankles? Bellybutton? Probably caused by something you ate, but no matter. We know that the universal cure-all for whatever ails ya' is reconnecting with long lost friends. Social media can help, sure. But Google can find damn near anybody. Call. Send an email. FaceTime or Skype.
Or even—heaven forbid—write a letter on paper! You'll be amazed how good you'll feel and how magically those miscellaneous aches and pains disappear when you rebuild those lost relationships. And you know what? You just might make other people feel good, too.
—Jon Sienkiewicz
(As an Amazon Associate, Shutterbug earns from qualifying purchases linked in this story.)