Digital Innovations
Yes, But Is It Art? You Be The Judge
"Without contraries is no progression. Attraction and repulsion, reason and energy, love and hate, are necessary to human existence."--William Blake, 1790
One of the reasons I like shooting runway fashion is that you only have a few seconds to capture an image. This photograph was made with a Canon EOS-1D Mark II, 28-105mm lens, and 550 EX flash at ISO 800 during a charity fashion show sponsored by the Art Director's Club of Denver. All of the dresses, including this one, were made of paper!
© 2004, Joe Farace, All Rights Reserved
At the unveiling of a $40,000 mural at Livermore, California's new public library, people were surprised when the artist misspelled the names of Einstein, Shakespeare, Van Gogh, Michelangelo, and some other famous dudes. The artist's response was "...people who are into humanities and are into Blake's concept of enlightenment, they are not looking at the words." I'm the world's worst speller, just ask the editors, but as Samuel Clemens once told me: "Any man who can't think of more than one way to spell a word lacks imagination." Using Microsoft's Word Mac 2004, I've got more tools at hand than Mark Twain's Conklin fountain pen, but there's a lesson here for digital photographers, too. "Creativity" is never an excuse for sloppy and shoddy crafting of images. "I'll fix it later in Photoshop," is an unacceptable attitude. Always work to do your best by capturing the best possible image in the camera, be it film or digital.
Lexar's Professional Series FireWire and USB 2.0 card readers are made of hardened plastic and rubber and up to four USB 2.0 units can be connected to execute simultaneous downloads from four different CompactFlash cards.
Free Plug-In Of The Month
In the world of Photoshop compatible plug-ins, virtualPhotographer (www.optikvervelabs.com) is a double rarity--it is Windows-only and free. There are lots of free plug-ins out there, but virtualPhotographer is so good you would actually pay for it. (I would if they offered a Mac OS version.) The structure of virtualPhotographer should be familiar to traditional film photographers. It can simulate the film type as "Film" or "Slide," and adjust grain effect to match film speed. It also lets you apply digital filtration, as well as lots of cool darkroom effects and tints that can be applied via presets. The best way to use virtualPhotographer is to apply some of the presets to your image to see which ones look best. Then, fine-tune the other controls to get the exact results you want. To see the original image, click and hold the left mouse button down on the image in the Preview Window.
Camera Bit's Photo Mechanic 4.5 will feature ActiveMemory technology that allows users to store download preferences and IPTC (International Press Telecommunications Council) captions, including copyright information and database keywords.
Fast Cards, Faster Workflow
Lexar's (www.lexar.com) ActiveMemory enabled Professional CompactFlash cards store user preferences and device settings in a protected area on the card. These settings are preserved even when the card is formatted or other data files on the card are deleted, because the ActiveMemory data is stored outside the standard DOS and can only be modified by the application that created them and will automatically configure multiple ActiveMemory enabled products within a system (yup, that DOS, like the Terminator, it's hard to kill) file structure on the card. ActiveMemory is a system that includes Professional CompactFlash cards, Lexar's new Professional FireWire and USB 2.0 card readers, and Camera Bits' (www.camerabits.com) Photo Mechanic 4.5 image browsing software. When an ActiveMemory-enabled card is inserted into the Lexar Professional CompactFlash reader, Photo Mechanic automatically launches and begins to download the images on the card. During the download process the IPTC (International Press Telecommunications Council) information is automatically appended to each image.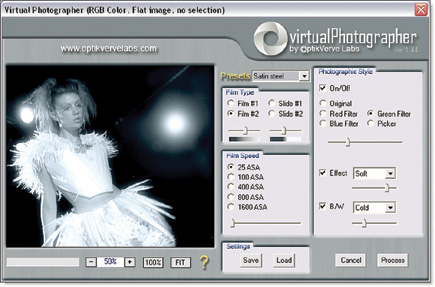 VirtualPhotographer is a fun and free plug-in, so all you users of the Windows version of Photoshop or Photoshop Elements, which is how I use it, should download it today.
FEATURED VIDEO