A Digital Auld Lang Syne: Start The New Year On The Right Foot
"I think I've discovered the secret of life, you just hang around until you get used to it."
—Charles M. Schulz
Mr. Schulz once said, "If you want to know who I am, read the strip. Everything I am is in the strip." I can't compare my scribbling to this great man's work but you will find who I am through my writing. One of the nicest things a reader ever told me when I was speaking at a NECCC (www.neccc.org) convention several years ago: "You're like a regular guy," he said with some surprise. Recently another reader e-mailed that he saw me at a local fast food joint but was afraid to say anything because he didn't want to disturb my lunch. In all the years that I've been doing this one of my greatest joys is meeting readers, either face to face or through e-mail. You're the reason that I do this and I want to say thanks for your support over the years.
Plug-In Of The Month
Want to add an arty touch to your photographs? Simplify 4 from Topaz Labs is the easiest as well as most fun way of creating digital artwork from your images. This latest version costs $39.99 and includes more than 100 presets collected into five categories—plus your own customized presets and favorites—to produce more or less instant artistic transformations. I say "more or less" because Simplify 4 offers sliders that you can use to tweak for adding depth and localized contrast, for example. There's also a set of edge-aware and selective brushes that can be used to dodge, burn, smooth, or brush out effects.
This new version also has histogram and curve tools as well as a Finishing Touches Tab with the ability to add vignettes, tone, and transparency. Simplify 4 uses a multi-level topological decomposition that lets you choose exactly what image features to keep and which ones to toss, all while retaining the original photo's integrity. This means you can customize the presets and controls to match a photograph, making it completely your own and even save customized presets for future use.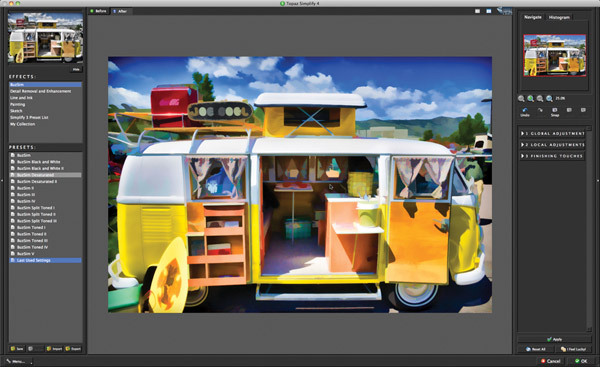 Micro Four Thirds Lens Adapters
I'm convinced that the Micro Four Thirds system and other mirrorless cameras are the future of photography. Maybe I'm wrong, but companies such as Sigma, Tamron, Zeiss, and Konica Minolta (yes, that Konica Minolta) have announced lenses for mirrorless cameras. Lens adapters, such as the Fotodiox adapter that I just added to my system, let me use Leica M lenses with Olympus PEN and Panasonic Lumix cameras, providing a gateway for photographers with film camera lenses into digital photography. Fotodiox has many affordable adapters—the Leica M adapter costs less than $20—for a variety of lenses to adapt to Micro Four Thirds cameras.
LEDs In A Macro
Specialized lenses, such as the Nanoha macro lens, are being offered for mirrorless cameras that offer a higher magnification than traditional macro lenses. Made by Japanese lens maker Yasuhara and distributed in the US by International Supplies, the Nanoha macro lens can achieve up to 5x magnification with a minimum aperture of f/11. The lens features 4x and 5x magnification and offers four aperture settings (f/11, f/16, f/22, and f/32). To reduce reflections, the Nanoha has 10 coated spherical lenses arranged in seven groups. Using a steel housing, the lens seems solidly built and weighs 11 oz.
The Nanoha macro lens has a built-in LED illumination system that uses three LEDs to assist when shooting small objects. The lighting system is powered when connected via USB cable to a computer or battery pack. The Nanoha lens is said to be ideal for macro, nature, and outdoor photographers and is available in Micro Four Thirds mount for Panasonic and Olympus cameras, as well as for the Sony NEX series. It costs $499.99 and comes with a USB cable, portable power supply, and one-year warranty.
Photoshop Action Of The Month
Totally Rad!'s Pro Retouch 2.0 is a set of 34 Photoshop Actions designed for natural-looking portrait retouching. The actions concept is built around the idea of making retouching skin easy, look natural, and, most importantly, leave the portrait looking human and not as if it was made of wax, something that's all too easy to produce when over-retouching. The 34 actions in Pro Retouch 2.0 are uncomplicated, easy to use, and, when running, display instructions to help you through the process so you're never left wondering how something works or, worse yet, what to do next.
The action names are straightforward (thank goodness!) to eliminate guesswork about what their function really is. Every action creates a new layer within Photoshop, allowing the effect to be tweaked to taste and applied in varying degrees by using the Layers palette's Opacity control. Actions run the gamut from subtle to extreme and don't require masking to work. A soft brush and a few seconds of painting is all that's required for realistic portrait retouching. Pro Retouch 2.0 costs $99 and actions are cross-platform by their nature.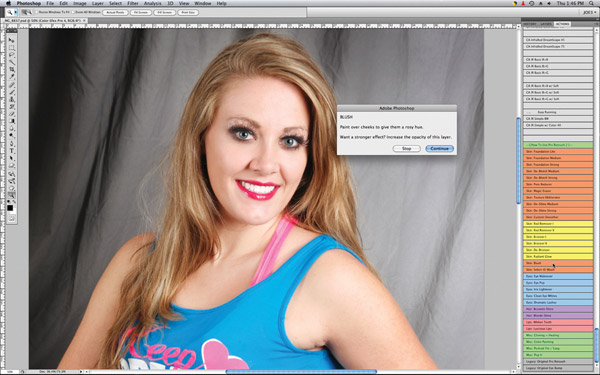 Get A Grip
Sooner or later, every photographer needs a grip and the EasyGrip clamp from Tether Tools lets you mount an iPad, camera, or any other piece of gear onto a pole, handlebar, table, or whatever. Most cameras (under 6 lbs) can be mounted to the EasyGrip and the bundled ball-and-socket mount provides a range of positioning and viewing angles. Three different—ST, LG, and XL—EasyGrip clamps ($27.99 to $39.99) are available and can be attached to round or flat surfaces up to 4" thick and include a ball head offering 360-degree pan adjustment, 90-degree tilt adjustment, and a 1/4"-20 receptor. The EasyGrip uses that standard tripod mount to secure an iPad with a Tether Tools' Wallee Connect or Connect Lite (sold separately).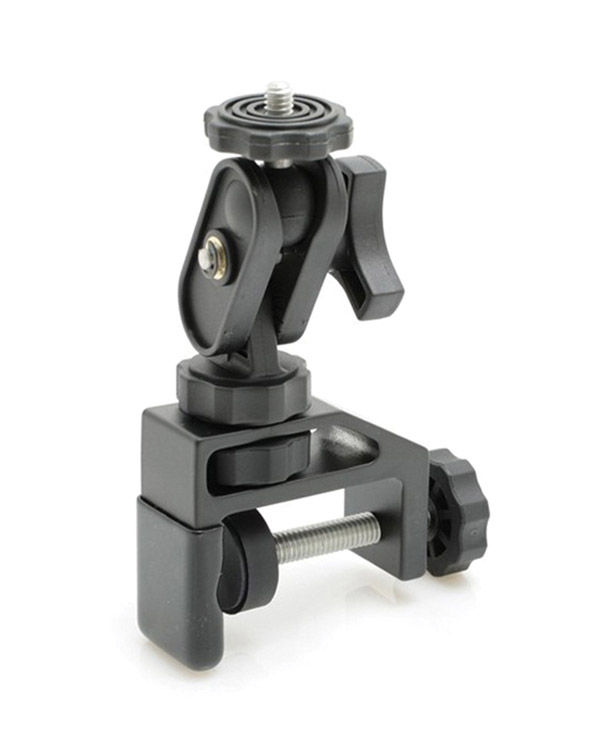 Instant Photo Magazine
Photozini is a clever new product/service for sharing all of those photographs languishing unloved on your hard drive. What stops most people from creating one of those hardbound books is that it takes lots of time, but Photozini has a simple process that even the most upload-phobic will love: you order a kit for $45, they send a USB drive and a mailing envelope, you drag up to 150 photos onto the USB drive, stick it in the prepaid envelope, and pop it in the mail. Photozini does all the hard work of creating a layout and printing a magazine of your recent trip, wedding, holiday, reunion, birthday party, or whatever! You can order additional magazines for $20 with lots of options for ordering and sharing copies.
App Of The Month
ShootLocal is a free iPhone app for photographers that can be used to scout, shoot, share, and discover locations. The app simplifies and enhances the process of finding and sharing new locations and connecting photographers to other shooters. It can help pros create location databases for present or future projects while reducing a shoot's resourcing costs. You can hunt for a particular element or location or send and review locations across the country to network with like-minded photographers. You can learn where to shoot and explore when you travel, share your favorite locations, and even find nearby photo enthusiasts. ShootLocal includes Twitter integration and most importantly is free. It's available on Apple's App Store.
Contacts
Fotodiox: http://fotodioxpro.com
International Supplies: www.internationalsupplies.com
Photozini: www.photozini.com
Tether Tools: www.tethertools.com
Topaz Labs: www.topazlabs.com
Totally Rad! Inc.: www.gettotallyrad.com
ShootLocal: www.shootlocalapp.com