Digital Tools For Capture And After: Creating Your Vision With Light And Software
"Photography is a kind of virtual reality, and it helps if you can create the illusion of being in an interesting world."—Steven Pinker
Aside from how to pronounce my name, the main question readers ask is about the workflow I use to process image files. I find it's convenient to work with two desktop computers, often at the same time, with a laptop computer used on the road and for testing new software. A Mac Pro handles my daily work with an iMac tasked for e-mail and research but also as a live backup when problems occur with computer number one. The iMac also runs Microsoft Windows 7 using Apple's Boot Camp. Since my laptop is used for experimentation, and that's where you'll find the latest OS and imaging software, I don't store anything critical on it. All this was running through my mind when testing Macphun's new Focus 2 software whose system requirements include Mac OS X 10.7 (Lion) or later and a 64-bit processor. My Mac Pro desktop runs OS X 10.6.8 but I know sooner or later I'm going to have to upgrade. Will Focus 2 push me?
In Focus = Creative Blur
Right now I'm running Macphun's Focus 2 on my laptop which runs Mac OS X 10.9 a.k.a. Mavericks. Focus 2 offers five aperture settings that are fine-tuned for specific kinds of photography such as Portrait, Landscape, Macro, and Tilt-Shift. A Custom Focus setting provides additional control when applying focus and blur to photographs. You can set the center focal point and amount of blur, while the software's Vividness and Vignette controls let you boost color and add a finishing touch.
When using its Portrait setting, Focus 2 even has facial recognition. You'll also find one-click auto enhancements to fix contrast, color, and brightness along with the ability to crop, zoom, straighten, and adjust aspect ratio. Images can be exported as JPEG, TIFF, PNG, or PSD file formats and shared on all the inevitable social networks, like Facebook, that we seem to not be able to live without. As I write this, Focus 2 is available from the Mac App Store for $9.99, which is expected to increase to $14.99. Even at $15 this is pretty clever software, especially for those of us who are not fond of using the cloud.
A New Take On Camera Bags
Adapting the simplicity and user-friendly design of a tote bag, Artisan&Artist's new camera bag doesn't look like a camera bag. The COV series is made from water- and stain-resistant #6 (21 oz) canvas, making this a rugged bag that's ready to use anywhere. With its combination of navy blue canvas with brown leather accents, handles, and straps, the special edition COV-7000SE bag is also stylish. There will also be a black version at the same price ($379).
The shoulder strap is detachable if you prefer to use just the handle. The bag measures 13-3/4x10-5/8x4-5/8" and weighs 2 lbs, 6 oz. The combination of style and function made it a natural for Mary who uses it to carry her Nikon system, including one digital SLR (D5100) plus three lenses, speedlight, and accessories. In addition to padded pockets for camera gear, there's an inside padded pocket for a laptop, but Mary keeps a collapsible reflector in this space. A zippered pocket and two small pockets hold small accessories, which she uses for a memory card holder and a charger.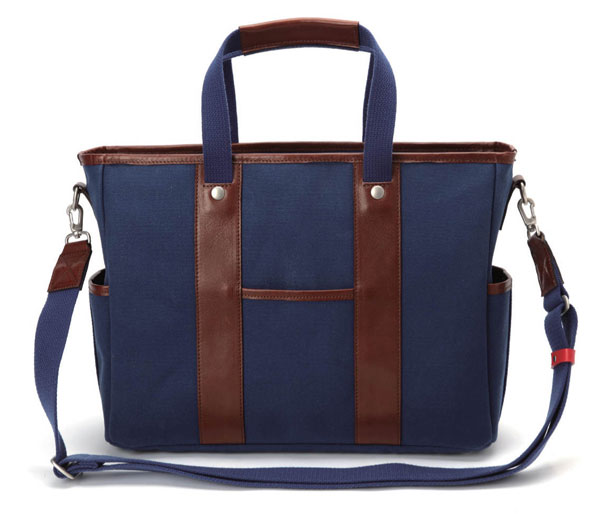 And A Different Kind Of "Camera Bag"
Nevercenter's CameraBag 2.5 is photo software for Mac OS and Windows users that lets users apply photo filters with the control of traditional photo editors. Some of the features added to the latest version include a major update to the library of styles, along with the use of nested tiles that let you combine or layer multiple effects onto a single adjustable tile. There are new photo effects, including Sharpen, Blur, and Circular Blur, as well as new color adjustments, including Color Temperature, Hue Shift, Hue Brightness, and Hue Saturation. You can also use CameraBag's automatic transparency detection to produce custom image borders. This version supports user watermarks and is integrated with Adobe's Lightroom, Apple's iPhoto, and other popular photo software. Play and have fun—think of it as a Tinkertoy set for image manipulation. CameraBag 2.5 is available at the Mac App Store for $19.99.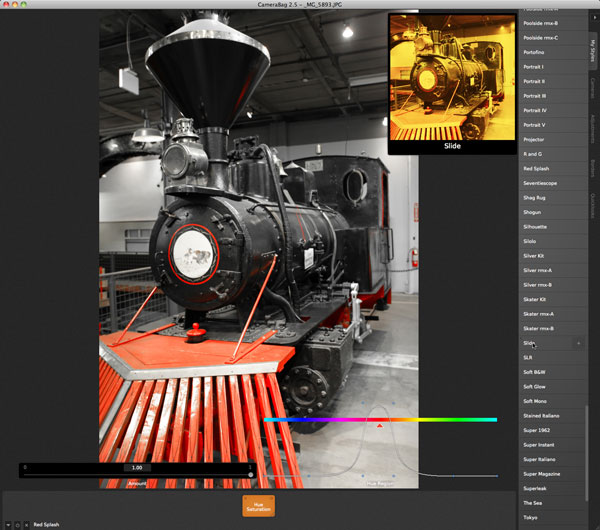 Long-Lasting Batteries
It's no secret that using Live View or just plain chimping puts extra drain on your digital SLR's batteries, and while OEM batteries do a good job that has not always been my experience with third-party replacement batteries. At least it was until I tested Hähnel's Extreme Li-Ion Batteries for Professionals that, because of their rugged and precision construction, are clearly designed for pros. Hähnel claims an average increase of 25 percent more shots as well as extended Live View time over Canon's or Nikon's OEM brand. In building these batteries, they use Panasonic cells, generally considered to be "the best," and prior to finishing production, inject silicon into the inner cavity of the battery, making it capable for cold as well as hot weather shooting environments. Each battery has a two-part rubberized outer cover that allows it to pass a 32-foot drop test.
Speedlights In The Studio
There are all kinds of ways to mount a speedlight so you can use it in the studio or on location to create studio-style lighting with lighting modifiers. The quality of these solutions varies from kludgey to slick, the latter of which best describes the Phottix HS Speed Mount II. The new version has a locking Bowens-compatible adapter, allowing you to mount softboxes or other accessories with compatible speed rings. The mounting system has been revised using an adapter and strap so speedlights can be mounted horizontally from the flash body, taking stress off the hot shoe. The mount is adjustable for different sized flash units.
The HS Speed Mount II also features a reversible L Bracket, allowing flashes to be mounted vertically, using the included cold shoe mount or directly to a trigger using the 1/4x20 mounting screw. It works with Phottix's Varos BG Umbrella Swivel but can be mounte d to other umbrella adapters that have a 5/8" lug. The Phottix HS Speed Mount II costs $70 and includes a carrying bag.
Umbrellas As Light Modifiers
Regular readers of my lighting reviews know I'm fond of using umbrellas because they are the simplest to use of any lighting modifier, making them an excellent starting point for aspiring portrait pros. Profoto's new umbrellas are available in 12 versions and two shapes, deep and shallow. Profoto's Deep Umbrellas offer better control of the light spread, allowing you to focus and shape light by simply sliding the umbrella shaft into its holder. Profoto offers six different deep umbrellas in two sizes and three fabrics: white, silver, and translucent. The downside of deep umbrellas is they take up more room, so Profoto offers Shallow Umbrellas in two sizes and three fabrics: white, silver, and translucent.
New Rugged SD Cards
Admittedly, I have never been a fan of the Wheat Thins-like SD memory cards, maybe because they're so small I have a tendency to lose them, but I have come to the inescapable conclusion that they're not going away and have taken them to my heart. With hybrid (video/still) photography becoming more important with the ascendancy of mirrorless camera systems, Leef Technology Ltd. offers a high-performance line of microSD and SD memory cards called PRO Cards that use the UHS-I (Ultra High Speed) format that has a processing speed of 300x, four times faster than standard cards.
Leef PRO Cards read and write data up to 45MB/s (megabytes per second) in 4-bit transfer mode. Leef PRO Cards are white with 100 percent functional memory die-sealed inside a thermoplastic casing, making the card waterproof and shock resistant to protect data from life's little accidents; as a bonus their white color should make them easier to find. Leef PRO SD Cards come with a five-year limited warranty and are available for $24.99 for 16GB, $44.99 for 32GB, and $84.99 for 64GB.
Contact
Hähnel: www.hahnel.ie
Leef Technology LTD.: www.2leef.com
Macphun Software (Focus 2): www.macphun.com
Minox (Artisan&Artist): www.minox.com/usa
Nevercenter Ltd. Co. (CameraBag): www.nevercenter.com
OmegaBrandess (Phottix): www.omegabrandess.com
Phottix: www.phottix.com
Profoto: http://profoto.com/us/home
R.T.S. Inc. (Hähnel): www.rtsphoto.com