Digital Innovations
Holiday Stocking Stuffers; Gizmos, Gadgets, And Gear To Produce The Ultimate Image
"You might as well do your holiday hinting early."--Anonymous
Submitted for your approval: A list of gizmos, gadgets, and gear for the digitally-minded who maybe thought they had everything but didn't know that they really needed lots more stuff to produce the ultimate image. You can use this month's column as a shopping list for your favorite photographer or grab a Sharpie Mini and circle all of the goodies you want and causally lay it near where your spouse eats his or her morning Wheaties. Hey, it worked for me.
Plug-In Of The Season
There's nothing better for your favorite Photoshop user than a brand-new plug-in. nik Sharpener Pro 2.0 (www.nikmultimedia.com) is a Photoshop compatible plug-in that sharpens images based on resolution, viewing distance, paper type, and printer resolution rather than the radius, amount, and threshold values used by most other sharpening software. The plug-in's Selective tool lets you apply sharpening to any part of an image using brush strokes and is a good reason to have a graphic tablet handy. The Advanced menu's five sliders can be associated with different colors and each slider lets you increase or decrease sharpening applied to image areas with that color! nik Sharpener Pro 2.0's Raw Presharpening filter is controlled through a preview window with a simple slider. The plug-in is designed to match the image-rendering characteristics of various printing processes (traditional halftone, dye sublimation, inkjet, and digital photographic) and even to the differences between inkjet printer manufacturers, such as Canon, Epson, HP, and Lexmark.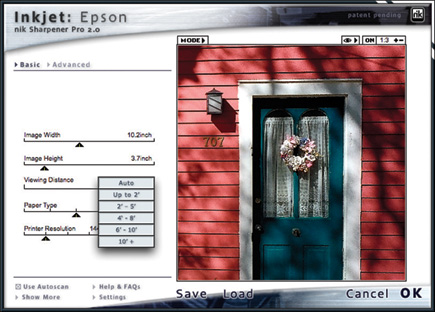 nik Sharpener Pro 2.0 is designed to address the image-rendering characteristics of various printing processes and even differences between inkjet printer manufacturers (Canon, Epson, HP, and Lexmark). It's offered in two editions: the Inkjet Edition for $169.95 and the Complete Edition for $329.95.
Get A Grip On Your Flower
If you make flower photographs indoors, how do you hold your posies in place? I used to just stick the flower in a bud vase, but found a better and more precise way. Adorama's (www.adorama.com) Rose Holder is a 13" long flexible aluminum rod with a large clamp on one end that's used to grip a tabletop, but I use a light stand for more precise control. A smaller clamp on the other end is designed to hold delicate items in exactly the "right" position. Flower children will be happy to know that there are indentations on the clamp to hold flower stems securely without damaging them. For less than $20 this makes a great stocking stuffer for the flower and nature photographer. Adorama tells me a longer model is planned.
Macro photography is tough enough without the flowers moving after you're in perfect focus. I placed this rose in an Adorama Rose Holder that was clamped to a light stand. Light was available from a north-facing window and a small reflector was held on camera right. Camera was a Canon EOS 20D with EF-S 60mm Macro lens in Aperture Priority mode. Exposure at ISO 100 was 10 seconds at f/32 and a +2/3 stop exposure compensation was applied.
I used the Panos Efstathiadis' 3D Real Photoshop Action that features realistic bending and shadowing techniques to produce a digital filmstrip with three images. The final images of model Tia Stoneman show how I captured her in black and white, digital infrared color, and full color using various Canon EOS digital SLRs.
Digital Film Strips
Panos Efstathiadis designs the most amazing Photoshop Actions I've ever used. Now his website (www.PanosFX.com) features all of his free and inexpensive commercial Actions. The newest is the $9.99 (that's not a typo) Film Machine that is a package of three different Action sets that lets you create 15 different filmstrip effects: The first set uses two images, the second set uses three images, while the third set uses four images to produce the final filmstrip. Each set contains the Flat Real Action, which produces a flat filmstrip in color with printed marks that make it look like a real strip of film. The Flat Black Action builds a flat black filmstrip with no marks, while the Flat Black Vertical Action produces a vertical filmstrip. My favorite, 3D Real, uses bending and shadowing techniques. A single mouse click launches the 3D Black Action, creating a 3D black filmstrip. The software also provides interactive coaching on what to do next to get the effects you want. Film Machine Actions are designed for Mac OS or Windows versions of Photoshop 7.0 and higher.
Panos Efstathiadis has created the most amazing Photoshop Actions I have ever used. Now he has a website (www.PanosFX.com) that features all of his free and inexpensive commercial Actions.
Paper Hanger
The Hawk Mountain Papers company (www.hawkmtnartpapers.com) is nestled in the hills of central Pennsylvania, near the Hawk Mountain Sanctuary. It's a family-owned business dedicated to development, manufacture, and supply of acid-free, 100 percent cotton papers to the fine art, photography, and scrapbook markets. My current favorite is Condor (they have a thing for bird names), which is printable on both sides. Condor is 330 gsm (grams per square meter), 0.020" thick, 100 percent cotton, acid-free, and coated on both sides. The coating provides excellent color gamut reproduction and resolution, making it a good choice for reproducing photos and artwork. It works well with pigment inks--both color and black--and is available in Natural or BriteWhite, if you want a sharper image. It's available in sheets in letter, 13x19, and 17x22 size as well as rolls. Try a Desktop Sampler for $20. It's a perfect stocking stuffer. The sampler includes two 8.5x11" sheets of Grayhawk1 Photo, Grayhawk2 BriteWhite, Merlin (Natural, Photo, BriteWhite), Peregrine Velvet, Condor (Natural and BriteWhite), and one sheet each of Aerie Canvas and Sharpwing.
Holiday greetings from Colorado. This image was made in historic Georgetown, Colorado, after a snowfall a few years ago. The wreath hangs in the window of the town's candy store that, believe it or not, makes the best saltwater taffy this side of Atlantic City. Image shot on Kodak slide film, scanned with Microtek ArtixScan 120tf film scanner, enhanced with Craigs Actions (www.craigsactions. com), and printed on Hawk Mountain Papers' Condor Natural paper..
FEATURED VIDEO