Classic Cameras; More Greatest Cameras Of All Time; Five More Nominations To The Top 20 List Offered By Shutterbug's Knowledgeable Readers
A while back I had picked my top 20 cameras of all time, a topic that still draws comment on the Shutterbug Forums. While few Shutterbug readers venomously assailed my choices or impugned my historical accuracy, practically everyone posting on The Top 20 Cameras of All Time Forum was rooting for their favorite cameras, or complaining that their gems weren't included.

This brings us back to the fundamental question: how do you define a "great" camera? Ultimately, both the criteria and the selection process are inherently subjective, and that's why I expected the uproar. For the record, I had given special priority to cameras that are the first of their kind and have, in my judgment, had a profound influence on camera design, technology, and marketing. But I had also included "ultimates" of particular types of cameras, and others that have served as influential exemplars for the photographic industry. That said, here's a quintet of worthy alternatives, each of which was proposed by several Shutterbug readers, a group that's pretty savvy about cameras and their history.
Exakta Varex—1950
This landmark camera pioneered the development of the system 35mm SLR. A lineal descendant of the waist-level-viewing Kine Exakta of 1936 (the first successful 35mm SLR), the Varex had the improved finder of the '49 Exakta II, but added a key feature, the first interchangeable eye-level penta-prism. With the inclusion of numerous other accessories and lenses, it eventually grew into the Exakta system, a concept later emulated by dozens of Japanese and German SLR manufacturers. The Varex was also the first to use the 35mm f/2.5 Angenieux Retrofocus R1 lens, the first wide angle for SLRs. A later version of the Varex (the Varex VX of '54) added preset and externally actuated semiauto-diaphragm lenses. The Varex features a cloth focal-plane shutter with speeds from 12 seconds to 1⁄1000 sec set via two dials, a left-handed film-wind lever, and two flash-sync terminals below the front-mounted left-handed shutter release. The original '50 Exakta Varex is scarce and collectible (later models are more plentiful) and sells for about $350 with a 58mm f/2 Zeiss Biotar lens.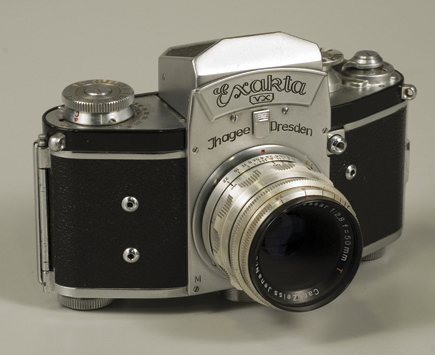 Speed Graphic (Anniversary Model)—1940
If any camera epitomizes American newspaper and war photography from the 1930s though the '50s, it is the Speed Graphic, a rugged folding press camera made in 4x5 and 31⁄4x41⁄4 versions by the Folmer & Schwing Division of Eastman Kodak. Though early Speed Graphics go back to '15, the Anniversary model of '40-'47 is considered the most classic. Its features include a cloth focal-plane rear shutter with separate slit width and spring tension controls; an interchangeable lensboard with leaf-shutter lens in front; a metal drop bed with two focusing knobs; a rising/shifting lens standard; an optical finder; and a front telescoping sportsfinder. Most were fitted with separate-but-coupled Kalart or Meyer rangefinders. Common lenses include the 135mm f/4.7 Graflex Optar (by Wollensak) and the 127mm f/4.7 Ektar (by Kodak). This was the unrefined-but-indestructible camera used by such great photojournalists as Weegee and Joe Rosenthal to raise newspaper photojournalism and war photography to a high art. It was produced in modified form as the Super Graphic until '73. It's rare to find an Anniversary Speed Graphic without a few battle scars, but reasonably clean, functional ones are often reasonably priced at around $250-$300.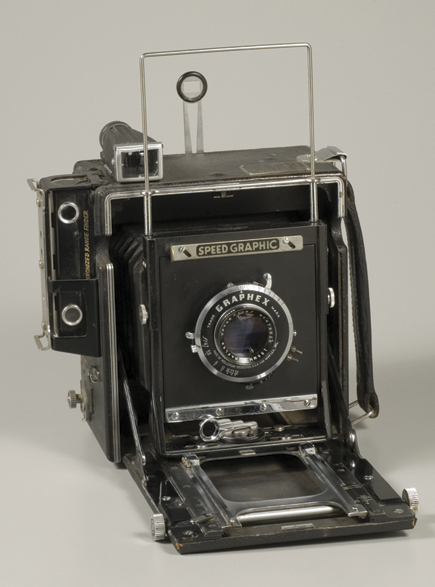 Pentax Spotmatic—1964
The Spotmatic was the first Through-The-Lens (TTL) metering 35mm SLR that took exposure readings off the finder screen, by means of two CdS cells placed on either side of the finder eyepiece. This brilliantly simple TTL metering system was adopted by almost every other SLR manufacturer, and is still the dominant system in use today. The Pentax system, far less complicated and more flexible than Topcon's clever mirror-mounted meter cell (introduced a year earlier in the 1963 Topcon RE Super), has been refined to allow the sophisticated multi-pattern metering systems in current AF SLRs. In other respects, the Spotmatic (misnamed because it actually had an averaging meter pattern) was quite conservative, providing match-needle metering at working apertures and using the traditional 42mm threaded lens mount pioneered by Praktica. Nevertheless, it was a fairly compact, very attractive design and was one of the hottest-selling, most influential SLRs of its era. It was eventually developed into the similar-looking, full-aperture-metering Pentax Spotmatic F of '74. Features include: a cloth focal-plane shutter with speeds from 1 second to 1⁄1000 sec plus B, a single-stroke wind lever, and a meter switch that stops down the lens and doubles as an auto/manual diaphragm switch. The original Pentax Spotmatic is a nice user-collectible that holds its value well, and sells for around $150 with a 55mm f/1.8 or 50mm f/1.4 Super-Takumar lens.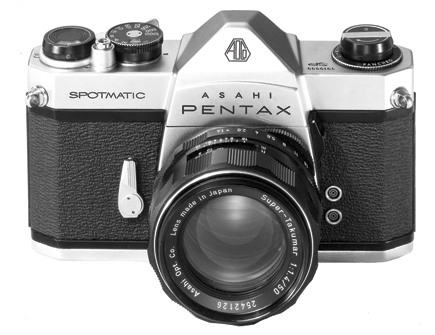 Argus C3—1939
Perhaps the best-selling, longest-running 35mm camera of all time, the C3 or "brick" as it's affectionately known due to its boxy shape was a product of Argus, Inc. of Ann Arbor, Michigan (originally International Research Corporation). If you count the very similar Argus C2, basically a C3 without built-in flash sync, introduced in 1938, the camera, with minor variations, was in production for 38 years until '66 (!), and over the decades many millions were sold. A sturdy, reliable Bakelite-bodied camera of simple design, the C3 was, especially from its introduction to the late '50s, responsible for getting more Americans into 35mm photography than any other camera, hence its iconic cultural status. Essentially, it is a coupled rangefinder camera with a separate optical viewfinder, a manually cocked leaf shutter with speeds of 1⁄10 sec to 1⁄300 sec plus B, film advance by left-handed knob, and a hinged back. The standard 50mm f/3.5 Cintar lens is actually interchangeable, but inconveniently so—you have to remove the external rangefinder-coupling gear and its cover plate before removing the lens, then replace them after screwing in another lens. Other inconveniences: a primitive film-stop mechanism (you must push a button on the back before winding to each successive frame) and no double-exposure prevention.
Despite its foibles, the C3 has its charms. While not a great picture taker, it was decent, dependable, and cheap. By the mid to late '50s, it faced formidable competition from Japanese rangefinder 35s that were far more advanced technically, much better optically, and equally inexpensive. It is a tribute to its enduring qualities that the humble American-made C3 was able to soldier on for another decade.

A classic black C3 with a 50mm f/3.5 Cintar lens is a nice collectible selling in the $25-$40 range in clean working condition. The two-tone Argus C3 Matchmatic, which uses a color-coded, single-number system for exposure settings, sells for a bit more.

Nikon F—1959
The legendary Nikon F was the first truly professional-caliber SLR, and was conceived, from its inception, as the basis for a high-quality professional SLR system. The Nikon F remained in production, with relatively minor changes, for nearly 14 years, and during that time it established Nikon as the leading professional 35mm camera, a position not seriously challenged (by Canon) until the autofocus era. A handsome, rugged, and reliable camera of modular design, its removable penta-prism and external meter-coupling system allowed the Nikon F to be retrofitted with the latest advances in metering technology by upgrading the meter prism, and its F mount has endured, with some operational changes, even until the present digital era—a remarkable example of non-obsolescence.
While the Nikon F is not really a technological landmark (other than its being the first SLR with an accessory electric motor drive, and first to offer a perspective-control lens), it is the camera that really marked the coming of age of the 35mm SLR. Its features include: a titanium foil focal-plane shutter (early models had cloth shutters) with speeds from 1 second to 1⁄1000 sec plus B and T, interchangeable finders and screens, and a removable back. An extensive range of lenses and specialized accessories was available. The Nikon F is a fine user-collectible, but models in excellent cosmetic condition that have not endured the rigors of professional use are hard to find. The price of a clean, functional Nikon F with an original 58mm f/1.4 Nikkor lens is about $500-$600; an early model with cloth shutter, unmodified to take the later meter prism, is $3000 and up.
FEATURED VIDEO