The Top 20 Greatest Cameras of All Time
Selecting the greatest cameras of all time is inherently subjective, and a great way to start arguments. In compiling the list below for Shutterbug of the "20 Greatest Cameras of All Time," I tried mightily to temper my own preferences and prejudices by vetting it with a handful of bona fide camera experts, but I take full responsibility for any errors of commission, omission, or ruffled feathers. I've split my "greatest hits" list squarely down the analog/digital divide, with 10 film cameras and 10 digital models making the cut. They're all great cameras, and many are of historical significance, but if you beg to differ with my choices, or want to suggest additional worthy models for inclusion, please do in the comments below. Indeed, if we receive enough thoughtful responses we may do a follow-up article on those cameras we didn't include here. In the meantime we sure hope you enjoy reading about those we picked.
(Editor's Note: If your favorite camera did not make this list, read our follow-up story, 10 More of the Greatest Cameras of All Time.)
10 Greatest Film Cameras
1. The Kodak, 1888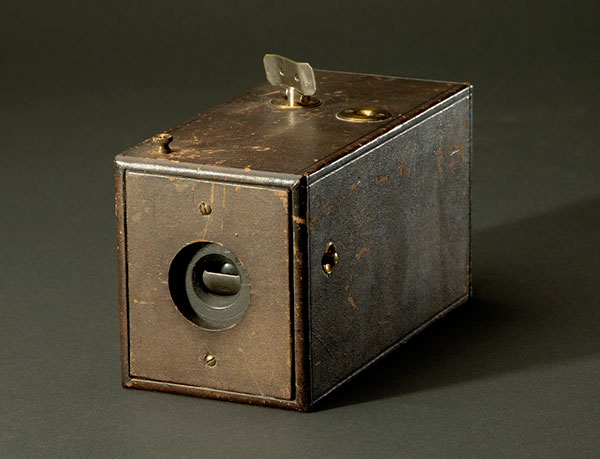 The first camera marketed by the Eastman Dry Plate & Film Co. of Rochester, New York, the Kodak may be the most historically important series-production camera ever made. For the first time it enabled ordinary people having no particular technical skill to capture satisfying photographs. Sold for the then-handsome sum of $25, it was an easy-to-use, portable box camera with no adjustments, that was pre-loaded with rollfilm sufficient for 100 exposures. When you finished the roll, you shipped the camera back to Eastman in Rochester, along with $10. They developed the film, transferred each negative to a sheet of glass for contact printing, made one print from each good negative, reloaded the camera with film for 100 more exposures, and returned it to the owner. In effect, the Kodak was the world's first successful point-and-shoot camera and it also created the modern photofinishing industry.
The Kodak produced circular pictures 2-1/2 inches in diameter on 2-3/4-inch-wide flexible rollfilm, had no frame counter (you had to count the number of turns when winding the film-advance key!) and no viewfinder—you aimed it with the aid of two lines, in a V pattern, engraved into the top. The lens, contained in a unique barrel-type shutter, was a 57mm f/9 Rapid Rectilinear. The shutter, which was manually cocked with a pull cord, provided a single shutter speed of about 1/25 sec, but a felt plug fitted over the lens could be used for making time exposures. The shutter-release button was on the left, a tripod socket oddly placed on the top – but with no viewfinder this hardly mattered! An original Kodak Camera is one of the holy grails of camera collecting and now verges on being a museum piece.
2. Leica I (aka model A), 1925

This is the camera that really put 35mm photography in the forefront. The Leica was not the first 35mm still camera, and it wasn't even the first to employ the 24x36mm format, but it was the first high quality 35mm camera to be mass produced, and it established the basic shape and control layout of 35mm cameras, and the viability of the 35mm format. Its exquisitely compact, magnificently integrated, supremely ergomonic design had something to do with its success, but its fine performance as a picture taker was equally important. Its features incude a self-capping, horizontal-travel cloth focal-plane shutter with speeds of 1/20-1/500 sec plus T, a non-interchangeable, scale-focusing, collapsible, 4-element, 3-group 50mm f/3.5 Elmar lens, a film-wind-knob with concentric frame counter, a rewind knob, a small optical viewfinder on the top, and bottom loading by means of a removable baseplate. One of the Leica I's best loved features was automatic blank- and double-exposure prevention—state-of-the-art in 1925. Today, the Leica I is the sine qua non of well-heeled Leica collectors.
3. Kine Exakta I, 1936

The Kine Exakta I (early models had an "Exacta" nameplate), made by Ihagee Kamerawerk, Steenbergen & Co. Dresden, Germany was the first widely distributed 35mm single-lens reflex camera and its basic configuration influenced the legions of 35mm SLRs that succeeded it. It was called Kine because it used 35mm cine film. Its distinctive design is based on a trapezoidal-shaped body with left-handed single-long-stroke film-advance lever, left-handed shutter release and flip-up waist-level viewfinder, but it still works like a modern 35mm SLR. Its horizontal-travel, cloth, focal-plane shutter has speeds from 12-1/1000 sec, the non-removable waist-level finder has a convex ground-glass screen with round flip-down, critical-focusing magnifier (the second version of c1937 had a rectangular magnifier). Other features: Removable back, self-timer, built-in flash sync with two front -mounted terminals, film-cutting knife(!), shutter-locking safety device on folding finder, and a removable take-up spool. Early lenses had manual or pre-set diaphragms. Despite its charming quirks, the Exakta was a pioneering camera and its impressive aggregation of lenses, finders, and accessories made it the first 35mm SLR to evolve into a true system camera.
4. Rolleiflex Automat, 1937

One of the most beautifully integrated optical-mechanical creations of all time, the landmark Rolleiflex Automat of 1937 provided the solid foundation upon which all subsequent Rolleiflex 6x6cm (2-1/4 square) twin-lens reflexes (TLRs) were built. It also had a great influence on TLR design worldwide. The Automat's impressive feature array includes: milled aperture- and shutter-speed-setting wheels nestled in between the lenses that read out conveniently in a little window atop the viewing lens, right-hand film-wind crank with automatic first frame positioning and frame counting via an ingenious friction roller system built into the camera, waist-level viewfinder with automatic parallax compensation at all distances by means of a moving frame under the focusing screen coupled to the focusing mechanism, and a left-hand focusing knob with adjacent depth-of-field scale. An original Rolleiflex Automat in clean working condition is still a great user-collectible.
5. Polaroid 95, 1948

The first Polaroid Land Camera, it was the first commercially successful instant-picture camera that developed the photo inside the camera with no user intervention. The brainchild of Dr. Edwin Land and manufactured by Polaroid Corp. of Cambridge, Massachusetts, it created a sensation when announced in 1947 and became an instant success when it went on sale in 1948. It was a robust, beautifully made, brown-leather-covered folding camera providing eight 2-1/2 x 41/4 "pictures in a minute" per roll using the patented diffusion transfer process. After loading the film and pulling out a paper leader to position the first frame, you took the picture, then pulled the paper leader again to draw the exposed negative along with the print paper, through the rollers. This burst a pod of viscous processing agent (combined developer and fixer) and spread it evenly between the two strips, developing the negative image. The unused silver salts, made soluble by the fixer, diffused into the receiving layer of the print paper, where they were reduced to silver. The whole process took one minute and, at the end, you opened a flap at the back of the camera and peeled the deckled-edge, sepia-colored print away from the negative strip, which was discarded. In 1950, a new orthochromatic black-and-white Polaroid film with more neutral tones replaced the earlier brownish material, but it required a protective coating after removal from a camera, so an applicator with neutralizing lacquer was furnished with each roll.
The Polaroid 95 was so successful that it remained in production with only minor changes until 1961. All models feature heavy cast-aluminum construction and folding bed. The original Polaroid 95 (1948-1953) has a 135mm triplet lens with apertures from f/11 to f/45, and shutter speeds from 1/8 to 1/160 sec, both controlled by a single dial calibrated in Polaroid's own light-value system (1 to 8). Other features: Flip up optical viewfinder, focusing lever on bed, and built-in flash sync. The phenomenal success of the Polaroid 95 made Polaroid a household name and a legendary stock market phenomenon and paved the way for what became the world's most successful film-based system of instant-picture photography.
6. Leica M3, 1954

Widely hailed as the finest interchangeable-lens 35mm rangefinder camera ever made, the Leica M3 was the most advanced rangefinder 35 of its day. Its most significant advances: a magnificent long base (68.5mm) nearly life-size (0.92x) combined range/viewfinder with true projected, parallax-compensating, auto-indexing framelines for 50mm, 90mm, and 135mm lenses, the M-type bayonet mount, a two-stroke film-advance lever (later modified to provide single-stroke operation), and a hinged back section to facilitate cleaning, shutter checking, and film loading. A translucent light-collecting window in between the rangefinder and viewfinder windows provides illumination for the bright, crisp white finder framelines, and a frameline-selector lever below the front viewfinder window lets you previsualize the effect of mounting other lenses. The integration of its components is brilliant. It's rubberized, 1-1/1000 sec plus B, cloth focal plane shutter is whisper quiet. Its contours mold seamlessly to your hands, and its shutter release, wind lever, and focusing mount operate with silky precision. It is hardly surprising that the Leica M10, the latest digital version of the M-series Leica, hews closely to the original Leica M3 design concept.
7. Nikon F, 1959

The legendary Nikon F was the first truly professional caliber SLR that was conceived, from its inception, as the basis for a high quality professional SLR system. The Nikon F remained in production, with relatively minor changes, for nearly 14 years, during which time it established Nikon as the leading professional 35mm camera, a position not seriously challenged (by Canon) until the autofocus era. A handsome, rugged, and reliable camera of modular design, its removable pentaprism and external meter-coupling system allowed the Nikon F to be retrofitted with the latest advances in metering technology by upgrading the meter prism, and its F mount has endured, with some relatively minor changes, into the present digital era—a remarkable example of non-obsolescence. While the Nikon F is not really a technological breakthrough (other than its being the first SLR with an electric more drive accessory, and first to offer a perspective-control lens), it is the camera that marked the coming of age of the 35mm SLR. Its features include: Titanium foil focal-plane shutter with speeds from 1-1/1000 sec plus B and T, interchangeable finders and screens, and removable back. An extensive range of lenses and specialized accessories was available.
8. Olympus OM-1, 1973

This is the ultra-compact 35mm SLR that initiated the compact SLR revolution of the '70s and '80s, a movement that caused all SLR makers to downsize their cameras, especially those not specifically aimed at the professional market. The jewel-like OM-1, first released as the M-1, is a handsome and beautifully made, through-lens-metering, match-needle camera generally conceded to be the first full-featured, full-frame (24x36mm) modern ultra-compact SLR. Designed by a team headed by the legendary Y. Maitani, its features include a cloth focal-plane shutter with speeds from 1-1/1000 sec plus B, two-CdS cell metering system, fixed pentaprism with interchangeable viewing screens, single-stroke wind lever, mirror lock-up and motor/winder compatibility. Standard lens in OM bayonet mount is a 50mm f/1.4 or f/1.8 Zuiko, and an extensive system of lenses (8mm to 1000mm) and accessories was available.
9. Pentax K1000, 1977

The Volkswagen Bug of 35mm SLRs and perhaps the most successful basic SLR of all time, this simple, elegant, straightforward manual, match needle SLR is basically a Pentax Spotmatic F with Pentax K-type bayonet mount. Competent and affordable, it was in production for over 20 years, first in Japan, later in China, and it was made in huge numbers. Features include: Single-stroke film-wind lever, fixed eye-level pentaprism, cloth focal-plane shutter with speeds from 1-1/1000 sec plus B, two-CdS-cell, through-the-lens, centerweighted metering at maximum aperture. Standard lenses: 55mm f/2, 50mm f/2, 50mm f/1.7 or f/1.4 SMC Pentax. It still a great shooter and pupular among 35mm SLR fans.
10. Minolta Maxxum 7000, 1985

The world's first fully integrated autofocus SLR with the AF system built into the body, the Maxxum 7000 created a sensation when it was first announced, and was a phenomenal sales success that catapulted Minolta into the technological forefront. Today's DSLRs all have autofocus capability, a clear indication of the Maxxum 7000's profound influence on the photo industry. The Maxxum 7000s impressive specs include an in-body, passive CCD array, phase-detection AF system and an autofocus motor that couples to the focusing mounts in the AF lenses via a keyed shaft, motorized wind up to 2 fps, auto rewind, full-info finder and LCD panel, pushbutton electronic controls, three program AE modes plus aperture-priority, shutter-priority and metered manual, TTL SPD cell for centerweighted readings and a second cell for OTF flash, continuous and single shot AF, plus manual AF assist, electronically controlled Copal focal-plane shutter with speeds of 30-1/2000 sec plus B, DX coding, audible AF OK, and dedicated flash. Minolta's technlogy and lensmount were acquired by Sony and live on in current Sony mirrorless and translucent mirror DSLT digital cameras.
10 Greatest Digital Cameras
1. Nikon NC2000 AP, 1994

Designed as a photojounalist's camera for the Associated Press Agency (AP), the Nikon NC2000 was based on the highly regarded Nikon N90 body and incorporated a 20.5 x 16.4mm, 1.3 MP (1268 x 1012) M3 Bayer-pattern CCD image sensor, provided sensitivity settings from ISO 200-1600, and stored its images on removable Type III PCMCIA (PC) cards. Removable cards that allowed recorded images to be removed from the camera was probably the NC2000's most important innovation because the photographer could hand off the card, insert another, and keep on shooting. Images shot at high ISOs had considerable "digital grain" and coarse detail, and the image buffer was quite limited by contemporary standards, but press photographers and news agencies were thrilled with the instant turnaround. Despite its limitations, the NC2000 was, in effect, the first professional DSLR and a great success. It was over 7 inches tall, weighed 3.6 pounds (body only), was assembled at Kodak's venerable Elmgrove plant in Rochester, NY, and it cost $17,950.
2. Apple QuickTake, 1994

Launched in 1994 by Apple Computer and sold for 3 years, it was made by Kodak and had a resolution of only 0.3 MP, and is considered by many experts to be the first consumer digital camera. It could capture 8 photos at 640 x 480-pixel resolution, 32 at 320 x 240 or a mixture of both sizes, all at 24-bit color. The QuickTake had a built-in flash but no focus or zoom controls, and there was no way to review or delete the photos via the camera—you had to download them to a computer. There was a "trash" button that let you delete all images at once. The original autoexposure-only QuickTake had an 8mm f/2.0 (50mm equivalent) lens, and provided apertures to f/16, and shutter speeds from 1/30-1/175 sec. It was powered by 3 AAA batteries, and had a list price of $749. Neither it or its more advanced successors, the QuickTake 150 and 200 sold very well, but they certainly were influential in advancing digital imaging.
3. Sony Mavica MVC-FD5, 1997

This is that camera that inaugurated Sony's line of Mavica cameras that used 3.5-inch floppy discs for image storage. A true digital camera as indicted by its Digital Mavica logo, it captured a nominally 640 x 480-pixel image and its 4.8mm f/2.0 lens provided 35mm-equivalent coverage. It did not zoom or autofocus, but it had a macro-range switch for subjects in the 3-9-inch range. The 61k-dot (approximately 124 x 165 pixels) rear screen measured 2.5 inches diagonally and the camera was powered by a InfoLITHIUM rechargeable battery with a CR2025 button cell backup to retain camera settings. Sony simultaneously offered a more expensive alternative model, the Mavica FD7, which added an autofocusing zoom lens, a cutting-edge feature at the time. The FD5/FD7 yielded images that looked good on its small screen, but not so hot when printed out in larger sizes. However it piqued the imagination of techies and educators and set the stage for the consumer digital camera.
4. Nikon D1, 1999

The first Nikon-branded DSLR to challenge Kodak's dominance in the professional DSLR arena, the D1 featured a 2.7MP DX-format CCD image sensor, had an impressive maximum burst rate of 4.5 fps, and accepted the full range of Nikon F-mount lenses. Its general configuration and controls, closely based on the Nikon F5, enabled Nikon shooters to make a seamless transition to digital, and its AF speed was impressive. The D1 also used the NTSC color space instead of the more conventional sRGB or Adobe RGB color spaces. Other features: ISO settings 200-1600 in 1-EV steps, removable Compact Flash (Type 1 or Type 2) storage media, maximum 2GB, 5-area AF with Multi-CAM AF System, 256-segment Matrix Metering, shutter speeds 30-1/16,000 sec plus B. The development of the Nikon D1 is generally accepted as one of the major milestones in the development of the digital camera, especially the pro-caliber DSLR.
5. Canon EOS-1Ds, 2002

Canon's first full-frame DSLR was a high-end pro model featuring a then state-of-the-art 11.1MP CMOS sensor, a glass pentaprism viewfinder, a 2-inch 120k-dot LCD, an electronically controlled focal-plane shutter with speeds to 1/8000 sec, a 45-point AF system, and a 21-zone autoexposure (AE) system. The ability to use 35mm lenses at their designed focal length was a huge advantage for photograhers then transitioning to digital, and at its inception the 1Ds was capable of shooting at a wider angle than any of its competitors. With its superb molded magnesium alloy body, comprehensive weather sealing at every compartment door, terminal, connector, and button, 3 fps full-res burst rate, and outstanding imaging performance, the 1Ds helped to cement Canon's fine reputation among pros in the digital era.
6. Canon EOS Digital Rebel, 2003

The first DSLR with a retail price under $1000, complete with 18-55mm f/3.5-5.6 Canon EF-S lens (equivalent to a 29-88 mm lens in 35mm format), the Digital Rebel was the opening salvo in a trend that revolutionized the photo industry by moving the DSLR squarely into the mass market arena. Attractively finished in silver and styled along the sleek lines of the highly successful 35mm EOS Rebels, it incorporates a 6MP CMOS image sensor, and features an illuminated LCD control panel, 1.8-inch TFT color LCD, and two separate arrays of pushbutton playback and operating controls on the back. Other features: partial or centerweighted average metering, shutter speeds from 30-1/4000 sec, 7-zone AF system, and burst capacity up to four images at 2.5 fps. Though the Digial Rebel lacks the overwhelming solidity and sophistication of pro-level DSLRs, it it truly a camera that redefined the DSLR breed and pointed the way to new directions in digital photography.
7. Panasonic Lumix DMC-G1, 2008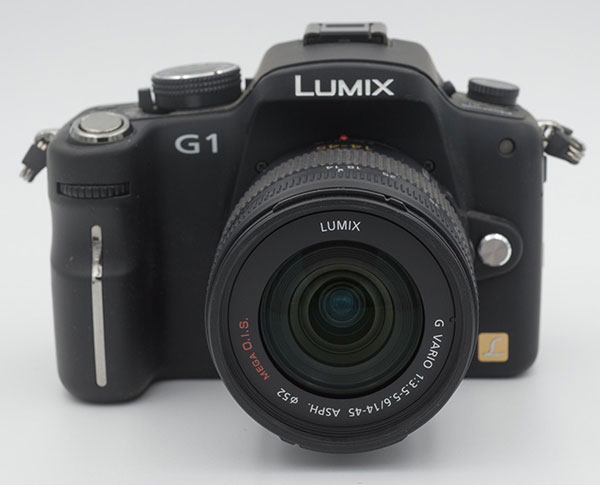 The first mirrorless interchangeable lens camera (MILC) built to the Micro Four Thirds (MFT) system design standard, it dispensed with the SLRs optical viewfinder, reflex mirror, and complex mechanical components, substitutng an electronic viewfinder (EVF) that displays a live view image diectly off the 17.3 x 13mm Live MOS sensor. Eliminating the mirror box results in a smaller, lighter camera, and the smaller image circle of the MFT format allows for smaller, lighter lenses that are interchangeable with all MFT cameras. The G1 used a contrast-detection AF systen that pefromed on a par with the phase-detect systems in contemporary DSLRs, and has the advantage of providing full-time AF before, during and after the exposure. The G1 is considered a landmark camera because it kicked off a robust new market for mirrorless interchangeable lens system cameras.
8. Nikon D90/Canon EOS 5D Mark II, 2008

The Nikon D90, released in August 2008 edged out the Canon EOS 5D Mark II released in September 2008, as the first DSLR with HD video recording capabilities. The D90, an attractive, well integrated middle-tier DSLR, represented a notable advance over its predecessor, the Nikon D80. Features included a 12.3 MP DX-format RGBG sensor, extended light sensitivity to ISO 6400 in high-boost mode, Live View, automatic correction for lateral chromatic aberration, a maximum full-res burst rate of 4.5 fps, and HD 720p video capture with mono sound at 24 fps. The high-end pro/enthusiast 5D Mark II, the first EOS with video recording capability (Full HD 1080p at 30 fps) featured a full-frame 21.1MP CMOS sensor, sensitivity settings extendable to ISO 25,600, a 15-zone AF system, a 35-zone evaluative, partial, and spot metering system and a maximum full-res burst rate of 3.9 fps. The 5D Mark II established Canon's 5D line as a professional mainstay and has evolved into the current Canon EOS 5D Mark IV.
9. Leica M9, 2009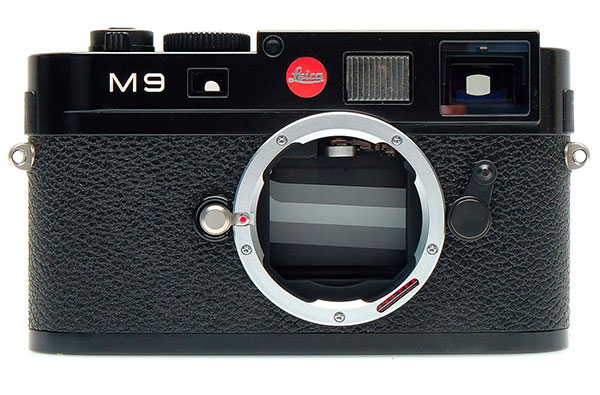 Produced from September 2009 to July 2012, the Leica M9 is and always will be the first full-frame digital Leica M. And though this 18.5MP classic has since been surpassed by the subsequent Leica M type 240 and the latest M10, it's still capable of impressive performance. Its superb 0.68x range-viewfinder automatically displays 6 parallax-compensating frame-lines in pairs depending on which lens you attach, 35 and 135 mm, 28 and 90 mm, or 50 and 75 mm. Any of the paired bright-line frames can be displayed via the frame-selector lever. It provides metered manual exposure, and aperture-priority TTL auto-exposure with center-weighted or averaging pattern, has ISO settings 80-2500, a 2.5-inch, 230,000-pixel LCD, and a vertical travel metal focal plane shutter with speeds on 32-1/4000 sec. Perhaps the best thing about the M9 is that it accepts virtually the full range of Leica M lenses, widely acclaimed as the best in the world.
10. Sony A7R II, 2015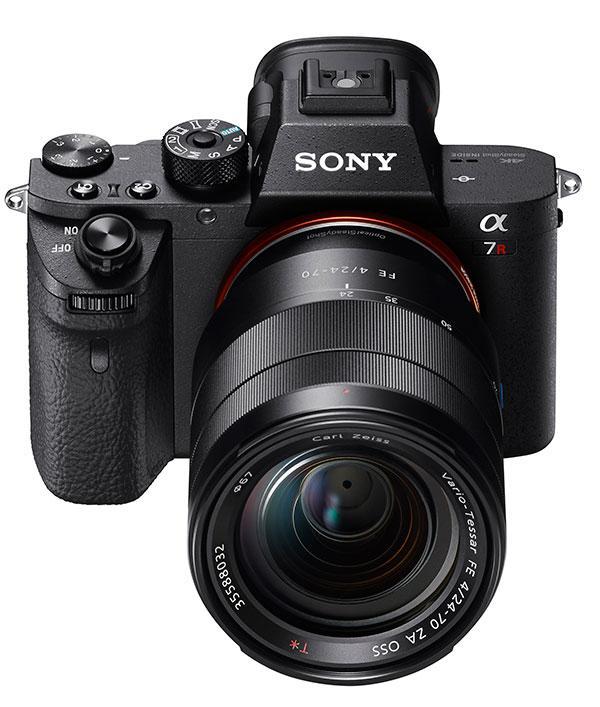 At the time of its release, the full-frame A7R II had the the largest back-illuminated CMOS sensor of any camera on the market, and at 42.4MP it also set the standard for highest resolution in its class. Other pro-aimed features: a 3.0-inch, 1,228k-dot tilting LCD monitor plus a 2.36 M-dot XGA OLED Tru-Finder EVF, a 399-point AF system, an advanced BIONZ X image processor, sensitivity settings to ISO 102,400, a maximum full-res burst rate of 5 fps, shutter speeds 30-1/8000 sec, 4K UHD video recording capability at 30 or 24 fps in XAVC S format plus S-Log2 Gamma, a built-in 5-axis SteadtShot image stabilzation system that compensates for vertical, horizontal, pitch, yaw, and roll movements, and Wi-Fi connectivity with NFC. All this and more are housed in a robust dust- and moisture-sealed body with a magnesium alloy top cover and a high-strength metal lens mount. The A7R II's impressive performance and specs helped position Sony as a top-tier choice among pro photgraphers.
(Editor's Note: If you liked this story, you should also check out our 10 Favorite Film Cameras of All Time. You should also read our follow-up story, 10 More of the Greatest Cameras of All Time.)