Our 5 Favorite 35mm Rangefinder Cameras (+1 Digital Rangefinder)
I'm a fanatic when it comes to classic 35mm rangefinder cameras. And based on 50+ years of hands-on experience, I'm confident that the very best analog rangefinder cameras do embody something special that's mostly lacking in today's digital marvels.
Rangefinder cameras are compact masterpieces of mechanical precision that have the look, feel, and balance of fine scientific instruments. And when they're fitted with the best age-appropriate lenses, they're capable of capturing images of exquisite detail that have a vintage look. They're not as optically versatile or easy to use as a current DSLR or mirrorless models, all lack modern conveniences like auto-exposure, autofocus, auto-bracketing, etc., and all but the last one in my list of favorites requires film. On the plus side, none of my analog favorites requires batteries, and they don't have electronic components that might be impossible to replace down the road.
And so, without further ado, here are my five favorite 35mm-format rangefinder cameras of all time, plus one full frame digital rangefinder I just can't live without. (You should also check out my recent buying guide to my favorite classic cameras of all time.)
1. Leica M3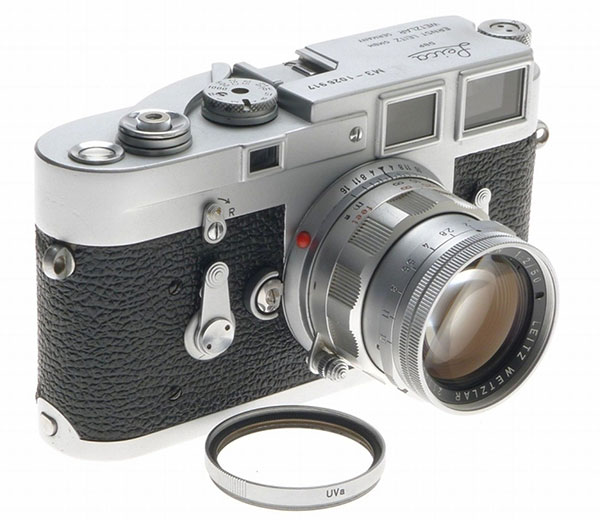 This landmark rangefinder camera of 1954-1966 was an audacious new design that took the Leica to an entirely new level. Innovations include the M-bayonet mount still in use today, a magnificent combined 0.92x range/viewfinder with projected parallax-compensating field frame lines for 50, 90, and 135mm lenses, a film-wind lever in lieu of a knob, a single 1-1/1000 sec plus B shutter speed dial, a built-in self timer, and a removable base plate plus a hinged back door for easier loading. Later M3 models upgraded from double-stroke to single-stroke film advance, and added a finder frame preview lever. Built to the highest standards of mechanical and optical excellence, the Leica M3 is widely regarded as the best interchangeable-lens rangefinder 35 ever made and I concur, especially since I'm a 50mm shooter.
Alternative Leica Ms for 35mm wide-angle fans
The Leica M2 of 1958-1967 is essentially the same camera as the M3 minus a few trim flourishes, a manually set rather than self-zeroing frame counter, and a 0.72x range/viewfinder with frame lines for 35mm 50mm, and 90mm lenses. The Leica M4 of 1967-1975 added a combined set of frame lines for 35mm and 135mm lenses bringing the total to four, and added an angled rewind crank in lieu of the traditional rewind knob. Otherwise both are very similar to the M3.
2. Canon VI-L/VI-T

These gorgeous late-model Canon screw-mount rangefinders that debuted in 1958 are the same except that the VI-L has a conventional top-mounted film-wind lever and the VI-T has a hinged left-hand trigger that nestles in the base plate when not in use. The trigger makes the VI-T body about 5mm taller and 55g heavier than the VI-L, which is why the VI-L is my personal favorite. They both have horizontal travel, metal blind focal-plane shutters with single non-rotating 1-1/1000 sec plus B shutter speed dials, and X-sync at 1/55 sec. The viewfinder has three click-stopped magnification settings—0.65x corresponding to 35mm lens coverage, 1.0x for 50mm lenses, and 1.55x (labeled Mg) for enhanced focusing accuracy. There are also reflected parallax-compensating bright frames for 50 and 100mm lenses, and an ingenious accessory shoe mechanism that elevates the front of accessory finders as you focus to compensate for parallax. Other features: a self-zeroing frame counter and a folding rewind crank. Both models are very well finished and very reliable and the precision and quality of their internal mechanics is in a par with the Leica M3—high praise indeed. Other excellent choices for Canon fans: The Canon P, a lower cost sister of the VI-L and the Canon 7s and sZ of 1965-67 both of which have built-in non-TTL CdS meters, albeit with film speed settings that top out at ASA 400.
3. Nikon S2

Call me a contrarian, but I've always preferred the austere classic S2 of 1955-1957 (which has a large 1.0x finder with a single, stationary reflected frame line for 50mm lenses) over the legendary Nikon SP of 1957-1960, which famously has dual viewfinders providing parallax-compensating frame lines for 50, 85, 105, and 135 mm lenses and non-parallax corrected viewing for 35 and 28 mm lenses. The S2 has a very bright, crisp secondary rangefinder image, a nicely contoured, ratcheted single stroke wind lever, a rapid rewind crank, a smaller, lighter die-cast body, and a more convenient back lock than its predecessors. Its shutter is a horizontal cloth focal plane with speeds of 1-1/1000 plus B and T, and it features a Nikon S bayonet lens mount that's a clone of the Contax mount. It's beautifully made and finished, operates with silky smoothness and is a great picture taker when fitted with any of the outstanding S-series Nikkor lenses of its era. The Nikon SP is a better choice for accessing the full Nikon S lens system, but the S2 is my personal favorite because it is drop dead gorgeous.
4. Contax IIa/IIIa

Based on the iconic prewar Zeiss-Ikon Contax II and III, then the world's most advanced interchangeable lens rangefinder 35s, the Contax IIa and IIIa of 1950-1961 used a simpler, more reliable version of the Contax signature vertical roller blind shutter, had a single shutter speed dial with speeds of 1-1/1250 sec plus T and B, incorporated a modified version of the superb Contax long base combined range/viewfinder, and retained the classic Contax dual bayonet mount. I favor the beautifully proportioned meter-less IIa over the IIIa, which has a clunky built-in uncoupled selenium cell meter housing on top that mars its lines. However, either one is a superbly crafted, exquisitely finished camera that accepts an extensive line of coated Zeiss-Opton and Carl Zeiss lenses that were unsurpassed in their day, and still capable of impressive performance. The IIa and IIIa were offered in earlier "black dial" and later "color dial" versions. The latter had its 1/50 sec X-sync shutter speed in yellow numerals, shutter speeds from 1/100-1/1250 sec marked in red, and a standard PC socket. Sadly, Zeiss-Ikon never upgraded the Contax to compete with the likes of the Leica M3 and Nikon SP, but the IIa and IIIa are still among the finest 35mm rangefinder cameras ever made.
5. Konica IIIA

Perhaps the best, most advanced non-interchangeable-lens rangefinder 35 ever, the Konica IIIA of 1958-1961 incorporated a spectacular life-size 1:1 range/viewfinder, which has large, bright projected frame lines that not only compensate for parallax over the entire focusing range but also correct for the decrease in angular coverage (field frame size) as you focus closer! The IIIA was originally fitted with Konica's superlative 48mm f/2 Hexanon lens, and later a 50mm f/1.8 Hexanon was offered as an extra-cost alternative. Both versions had a Seikosha MXL leaf shutter with speeds of 1-1/500 sec plus B, Konica's distinctive front-mounted, left-handed, two-stroke, film-advance lever, and a built-in self timer. The 50mm f/1.8 Hexanon is purportedly a tad better than the 48mm f/2 wide open, but the latter is more in keeping with the camera's handsome proportions. The camera's quirky film advance and coupled LVS aperture and shutter-speed rings take some getting used to but to paraphrase an old Konica ad, "The lens and viewfinder alone are worth the price!"
Favorite Digital Rangefinder: Leica M10

The latest full-frame digital Leica is the first and only digital M with a slim body profile that's virtually the same as 35mm M-series Leicas of the past and present and that's why it tops my digital rangefinder list. Its superb 0.73x range/viewfinder shows parallax-compensating projected frame lines in pairs, covering focal lengths from 28mm to 135mm, and there's a frame line selector. Its 24MP CMOS sensor is coupled to a high-performance Maestro II Image Processor to deliver exceptional image quality, it has a 1.04m-Dot LCD with a Gorilla Glass cover, provides sensitivity settings of ISO 100-50000, burst rates up to 5 fps, and has built-in Wi-Fi, all housed in a weather-resistant brass construction body. Unlike other current Digital M's the M10 is a stills-only camera, but that's not a deal breaker for me.
FEATURED VIDEO