Canon Celebrates 80th Anniversary of Company's First Camera, The Kwanon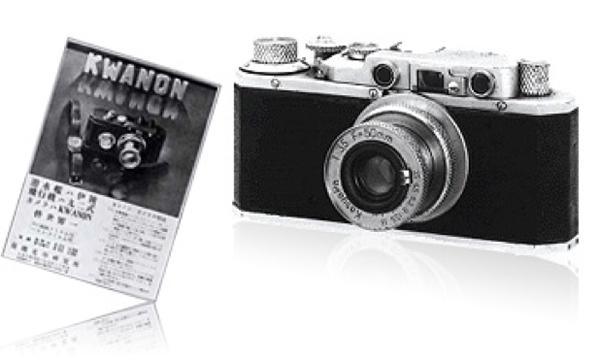 Canon announced today it is commemorating the 80th anniversary of its very first camera: the Kwanon. Initially produced in prototype form in 1934, the Kwanon was Japan's first 35mm focal-plane-shutter camera.
Accoring to Canon, the original Kwanon camera was the embodiment of the hopes and dreams of Canon's engineers who wanted to match the quality of cameras produced in Europe—the leading presence in the camera industry at that time. In the hopes that the gods would favor this new creation the Kwanon was named after the Buddhist goddess of mercy (Kwan Yin) and the lens was named Kasyapa (after a disciple of Buddha) and it featured an engraving depicting the thousand-armed Kwanon on the top portion of the camera's body.
In 1936, after a period of trial and error, the Hansa Canon was introduced—their first commercial 35mm focal-plane-shutter camera. In 1959 Canon then produced their first Single Lens Reflex (SLR) camera, the Canonflex. In 1961 the Canonet rangefinder camera took the world by storm, selling out a week's worth of inventory in just 2 hours. After the success of the Canonflex and the Canonet the company continued to lead the industry with a variety of popular models such as the F-1 (a 35mm SLR, 1971) and the AE-1 (1976).
In 1987 Canon launched the EOS 650, the world's first Auto Focus (AF) SLR camera with a fully electronic mount system. In 1995 the EOS entered the digital world and in 2012 Canon released the Cinema EOS System, a line of pro digital cinematography cameras and lenses. In the 80 years since the birth of the Kwanon Canon has continued to innovate in order to fulfill their goal to create the world's finest cameras.
More info on Canon here.
FEATURED VIDEO