Broncolor Move 1200 L Outdoor Kit 2: On The Road And On The Move
There is something quietly satisfying about working with finely crafted tools. It's a feeling I remember having back in the film days when making photographs with my first Hasselblad 500C/M camera and one I had again while shooting with Broncolor's Move 1200 L Outdoor Kit 2. It made creating all of the images that you see here easier and fun to shoot, and it's in this spirit of play where creativity lives, inspiring a photographer to try new ways to make better photographs. Broncolor's Move Kit is just that kind of lighting system.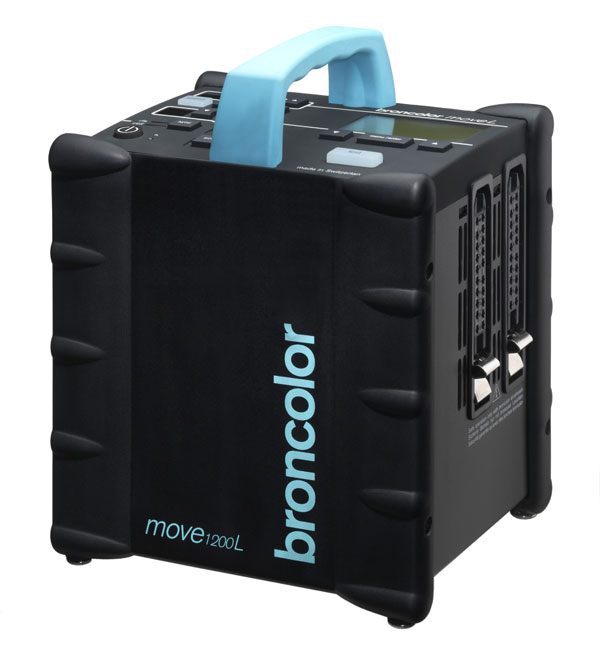 What's New
Depending on your battery-powered lighting needs, Hasselblad Bron Inc. offers three versions of the Move 1200 L Kit: the Move Outdoor Kit 1 ($6525) includes the Move 1200 L power pack, MobiLED lamp head, MobiLED continuous light adapter, 28x28" Flex softbox, and RFS 2 wireless transmitter, all of which fits into a trolley—it's got wheels—backpack. The Move Outdoor Para Kit ($9545) is another single-light kit that includes the backpack, power pack, and one lamp head along with a Para 88 adapter P and Para 88 reflector, a 34" parabolic reflector with 24 ribs that's built like an umbrella and has a specular silver interior coating. The Move Outdoor Kit 2 ($7888) I tested is a two-head kit that includes a 28x28" Flex light bank and a 32" umbrella. The kit also comes with a backpack that, when packed, weighs 38 lbs.
The heart of Broncolor's Move 1200 L Outdoor Kit 2 is the battery-operated power pack that has a rechargeable plug-in lithium battery and charger. The pack produces 1200 ws of output while tipping the scales at 13.7 lbs. The power pack fits inside the backpack but has its own separate and waterproof case with flaps for inserting cables from each head so it can be used (and protected) when shooting on location. Even the light bank's bank vault-like speed ring has its own padded case. In this day and age of "build to a price point," it's nice to see something that's built to a standard.
The Move 1200 L has full asymmetrical output across both lamp connections with a control range up to nine stops and flash duration times down to 1/20,000 sec. In Speed mode—press an illuminated button to activate—recycle times are 0.02 to 0.9 seconds. Each of the 5500K MobiLED lamp heads has an integrated pan/tilt head with locking lever for one-handed operation and fast set up. You can reverse the lamp head's protective cap and use it as an umbrella reflector (more later) and the lamp head's built-in bayonet mount provides access to Broncolor's comprehensive assortment of accessories.
When used in combination with the MobiLED lamp head and included Continuous Light Adapter (CLA), the Move doubles as a power source for continuous lighting when shooting video for more than two hours. The CLA plugs into the lamp head cable outlet on one side and the Mobil A2L charger on the other side. Once connected, the lamp head provides LED light output for shooting video or can be used as a utility light during a shoot's set up and knockdown, or maybe just whenever you might need a little extra light.
In The Studio & On Location
Some press and demo products I receive have a tough life before they get to me and this kit was missing its 32" Broncolor umbrella. Before a replacement arrived, I grabbed a white 32" umbrella that was lying around my studio and ran into the difference between European spec (7mm) vs. American (8mm) shaft sizes. While 1 millimeter doesn't seem like much, most of my bumbershoots would not fit the MobiLED head's integrated umbrella holder, but Westcott's umbrellas have a tapered 7mm tip on their 8mm shaft, allowing them to fit Euro-spec lights and for my first shoot I mounted a 32" Westcott silver umbrella.
The Move 1200 L power pack has a built-in optical slave and radio receiver and a button lets you switch between using the optical or RF slave. Using an adapter cable that's available from PocketWizard you can trigger the Move with one of their devices. Broncolor's RFS 2 wireless transmitter slips onto a hot shoe and has 99 channels, so there are no worries about interference, but it was DOA and required a $5.45 replacement battery from Best Buy to get it up and running.
Tip: Having a backup battery for the RFS 2 will keep you from using the beautifully made and red 16-foot sync cord that's packaged in the kit. The sync cord plugs into the left-side top of the power pack and performed flawlessly when I tried it.
The meticulously crafted power pack has a digital display, allowing you to set parameters, such as duration of modeling light, much like setting preferences on a digital SLR. And like a camera, the Move 1200 L is software upgradable. The battery takes two hours to charge and after that you can expect to get between 170 flashes at full power and here are the keywords—without using the modeling light—but you can get 230 flashes in Eco mode with reduced recycling times. The head's power cords measure just shy of 11 feet and depending on your shoot it may not be long enough, which is why Broncolor offers optional ($656) 16-foot head extensions.
The MobiLED heads have an off/on switch, LED modeling light, and a built-in fan, but it only kicks on when needed to save battery power. I know LEDs are supposed to be cool, but while running a few tests with Mary we both noticed my studio warming up when both modeling lights were left on for an extended time. Not uncomfortably so but noticeable in a normally cool studio. Caveat: If you leave the 30w LED modeling light on for 40 seconds it costs one full-power flash at 1200 ws. (Note: 30 watts during 40 seconds equals 1200 watt seconds.) In practice the modeling light is there if you need it but if you're somewhere where you won't be able to recharge your batteries and want to get the most out of your battery life, it's a good idea to use it sparingly.
Tip: If you need an extra battery for long shoots they're available for $599.
The 28x28" Flex light bank is relatively simple to mount onto the speed ring but knocking it down can be a challenge because the support poles fit tightly into the speed ring's holes. Easy in, not so easy out. The kit comes with everything you need to get started except light stands, so in the spirit of keeping it backpackable I used a pair of 6.2-feet Manfrotto Nano light stands that weigh a little over 2 lbs each and perched the lamp heads atop them.
In theory, the Broncolor Move 1200 L Outdoor Kit 2 seems ideally suited for headshots or for use in small shooting spaces like my 11x15-foot studio, but in practice it should also be ideal for making family portraits in a client's living room or for wedding portraiture in a church where you can never seem to find a nearby AC outlet and extension cords are an invitation for a groomsman to trip over. You can plop the Move 1200 L power pack down in the middle of an aisle, use one head with the light bank mounted, and by using the power pack's optical slave, trip it using an on-camera speedlight as fill.
Conclusions And Recommendations
I put the Move through its paces using a number of setups. Check the images and captions for details. In all, Broncolor's Move 1200 L Outdoor Kit 2 is an amazing piece of technology and brings the traditional power pack and head lighting system into the 21st century. Adjusting its power output over nine stops is as easy as pushing up and down buttons. The amount of control available and the quality of the components used—down to the smallest item—show that Broncolor has drawn a bead on their opponents in the coming gunfight between traditional flash and LED systems.
LED offers continuous light, but so does the Move Kit and it has the brute force of electronic flash power to back it up. A $7888 price tag means the Broncolor Move 1200 L Outdoor Kit 2 is not for everyone, but if you demand the best and want a battery-powered pack and head lighting system that will provide a career-long working life, this Broncolor kit is hard to beat.
For more information, contact Hasselblad Bron Inc. at www.hasselbladbron.com.
Quick Specs
Broncolor Move 1200 L Outdoor Kit 2
Power: 1200 ws
Flash Duration: Min: 1/20,000 sec; Max: 1/1000 sec
Charging Time: 0.02 to 1.9 seconds (Speed Mode: 0.02 to 0.9 seconds)
Control Range: Nine f/stops in
1/10 stops
Weight: 13.7 lbs (power pack)
Size: 8.3x6.7x9" (power pack, excluding handle)
Price: $7888
FEATURED VIDEO