Book Reviews
The Education Of A Photographer; edited by Charles H. Traub, Steven Heller, and Adam B. Bell; Allworth Press, 256 pages; $19.95; (ISBN: 1-58115-4450-X)
In order to become a great photographer one must acquire many skills but it takes much more than technical expertise to rise above the competition. This informative book contains 51 comprehensive essays from Henri Cartier-Bresson, Diane Arbus and many more talented photographers and teachers. They offer valuable insight into the past, present, and possible future of photography. Their words are certain to provide a great deal of inspiration on your quest to embrace this amazing art form.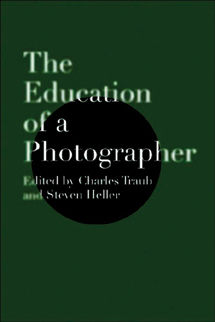 The Sun; by Steele Hill and Michael Carlowicz; Abrams, 240 pages; $19.95; (ISBN: 0-8109-5522-9)
Photo researcher and media specialist for the Solar and Heliospheric Observatory, Steele Hill and science writer Michael Carlowicz have combined their unique talents to create this educational book. Their in-depth knowledge and passion for the Sun fills it with informative text on the science and myth of the star that warms our planet. A dramatic collection of images captured by photographers, observatories, and satellites depict the Sun as seen from the Earth's surface and in space. Together they make The Sun an entertaining learning experience for all ages.
The Colors Of Lobstering; by Greg Currier; Down East Books, 56 pages; $14.95; (ISBN: 0-89272-731-4)
What does it take to get that delicious lobster from the ocean depths to your plate? Photographer and Maine resident, Greg Currier captures the quiet natural beauty of the region and the unexpectedly vibrant hues associated with its hardy fishing industry. His 40 years of experience has produced a fine collection of 64 color images that expertly highlight the story of those who bring you that fabulous crustacean.
The Best Of Wedding Photography: Third Edition; by Bill Hurter; Amherst Media, 128 pages; $34.95; (ISBN-13: 978-1-58428-208-2)
Have you ever wondered what sets pros like Monte Zucker and Melanie Nashan apart from the crowd? If so, the answers can be found in the pages of this book. Bill Hurter provides a wealth of valuable tips on everything from attracting new clients to lighting, equipment, posing, photojournalistic style, and even how to create the perfect wedding album. All aspects of the art and business of wedding photography are explored and explained in a manner that is easy to understand and simple to apply to your own work.