ArcSoft's PhotoStudio 6; An Affordable Image Editor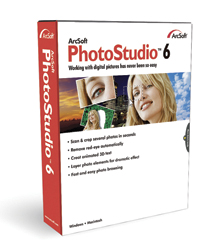 ArcSoft's PhotoStudio 6 is a consumer-friendly image editor—and, it's priced that way as well; $80 is a drop in the bucket compared to the full version of Adobe's Photoshop CS4 at $700. Yet, with one of the best de-noising filters I've used, new support for raw images, and a plethora of the usual and some unusual effects, PhotoStudio 6 might be just what some photographers need.

PhotoStudio 6 is a feature-rich application in its own right; for instance, you can create layers for image editing, paint on the image with a variety of brushes, and apply artistic effects. The latest version comes with a photo organizer called ArcSoft's Darkroom, which handles some of the tasks offered in Adobe's Lightroom or Apple's Aperture. PhotoStudio 6 runs on either a PC or Mac.
(Top): The Auto De-Noise filter is the bread-and-butter feature for a photographer's workflow, mostly because it actually works—here on a close-up shot in harsh outdoor lighting. (Center): This photo of a concert setting—before the performance started to test lighting conditions—serves as an excellent example of rather abrasive noise in an image. (Bottom): The results of running the Auto De-Noise filter on a band concert photo—notice the noise on the music stands is completely eliminated like it was never even there.
All Photos © 2009, John Brandon, All Rights Reserved
One of PhotoStudio 6's best features is when photos are taken with a high ISO to solve a lighting issue (e.g., concert photos or outdoor images in poor lighting), but objectionable noise results. PhotoStudio 6 uses a pro-level de-noise filter that actually works. I tested this de-noise process at a band concert setting where the lighting was nonuniform. At ISO 6400, the image was just passable as far as brightness and contrast, but had way too much noise. I ran the Auto De-Noise filter in PhotoStudio 6, and the noise disappeared entirely, smoothing the image. I also tested a high ISO close-up shot and ran the Auto De-Noise filter, smoothing the pixilated effect on a child's face. It should be noted that the program runs the noise filter automatically for any shot with an ISO setting over 400, saving you a few clicks in the menus. In Photoshop CS4, I ran the Reduce Noise filter on the same images. No matter which settings I used or which percentage for noise reduction, Photoshop did not nearly match the noise reduction that PhotoStudio 6 performed with one menu option for Auto De-Noise.
I also tested a helpful macro feature. With it, you can record a series of editing tasks such as brightness adjustment, color correction, re-sizing, and even a new layer. With any saved macro, you can then open another image and apply the same macro in one step. In my workflow, I set one brightness adjustment and re-sized for web use to a series of images I knew were too dark and found that the macro worked perfectly and saved me about 10 minutes of manual editing time. You can adjust the recorded macros so that the brightness adjustment is performed before the re-sizing, for example.
In a print production environment where the colors must match between the scanner, display, and printer, the ICC support in PhotoStudio 6 will be a welcome addition.
PhotoStudio 6 supports the raw form for about 15 different camera makers such as Canon, Panasonic, and Nikon (including the Canon EOS 5D Mark II I tested). The program is not exactly speedy when it comes to this file format, however. In opening shots I took with a Canon EOS 5D Mark II at a resolution of about 5Kx5K, PhotoStudio 6 would pause for about one minute trying to read the large file. In Photoshop, the same operation was almost instantaneous. This makes the raw support a bit negligible, though it's worth noting that the ArcSoft Darkroom program included with PhotoStudio 6 also supports raw for image browsing. The program also supports 48-bit images, with all the features available.

Despite the slow speed of operation, it's a bit surprising that PhotoStudio 6 also supports very high-resolution images upward of 10Kx10K. Again, these images are slow to load, and it would surprise me if someone who owned, say, a RED ONE camera that generates massive poster-sized images would use PhotoStudio 6 and not a more powerful tool (such as Photoshop or Phase One's Capture One). It's one of those features that's good to know you have available if the opportunity arises, but probably won't become part of your workflow with it because PhotoStudio 6 just doesn't run fast enough.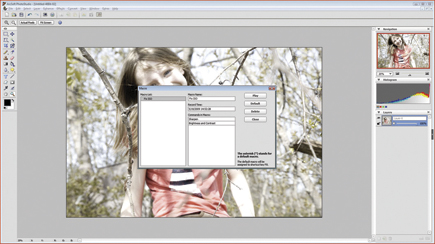 (Top): Macro recording means creating a kind of script that performs a series of editing tasks, which you can reuse with each new image and save serious editing time. (Above): Support for 48-bit images—such as those captured with a scanner or shot with a camera that supports HDR—is a nice surprise.
Conclusion
Along with the usual editing tasks PhotoStudio 6 works great as a "de-noiser," with very high megapixel and 48-bit images, and as a program that offers macro recording for reuseable functions you apply to a batch of photos. It will not give Photoshop a run for its money, but it did impress me overall at the tasks I performed.

For more information, contact ArcSoft at: www.arcsoft.com.