Adobe Photoshop Elements 9: It Might Be All You Need For Image Editing
Mention digital image editing and it's likely that the first word you'll hear is Photoshop. It's become a general term, like Xerox. For many, the full-blown version of Photoshop (currently at CS5) is either overkill, with features that you'll never need or use, or just too expensive. Adobe realizes this and has produced a more streamlined version for years. This "entry-level" version of Photoshop, named Elements, is priced like a basic editing program, but filled with features you'd expect to pay quite a bit more for. The latest version, Elements 9 has added several new features that photographers have been requesting for years, making this release an even more attractive option, and further blurring the line between CS and Elements features.
What's New
There are normally a couple of new features in each release that make upgrading an attractive option for current users, and in this regard Elements 9 adds some interesting items in the sharing area, and a major feature that has been requested for years. Let's take a look at what is new in Version 9.
Organizer For Mac Users
While Windows users have always had the Organizer, Mac Elements users have been supplied with Adobe Bridge in previous versions. With Version 9 that all changes and Organizer is now in both applications (#1).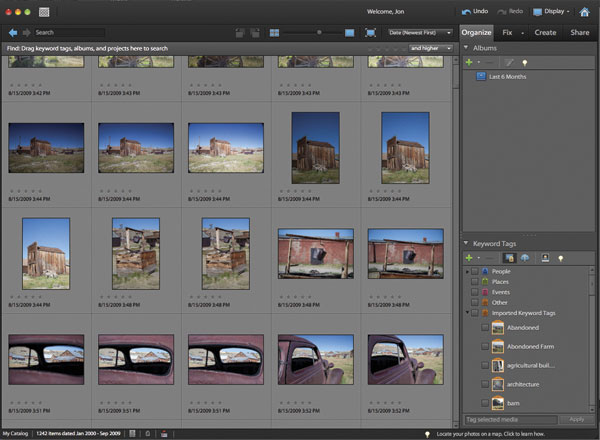 Organizer has a few advantages over Bridge when it comes to ease of use, especially for tagging and finding images, but also ease of access to Photoshop Elements for editing and creating different types of projects, such as calendars and cards. If you've previously used iPhoto, you can import your library directly from iPhoto into Elements (of course, you can also continue to use iPhoto and set Elements up as an external editor for making your adjustments).
If you post to Facebook, Organizer will let you upload photos and videos directly from within the application, posting to existing or new albums.
Layer Masks
If there is one feature that has been asked for more than any other, it's likely to be layer masks. This is the one thing that has forced many users to either upgrade to the full version of Photoshop, or look to other editing programs. If you don't know how layer masks work, when you create a new layer on your image, you can select where and how that adjustment is applied. By painting with a black brush, you can hide the adjustment, or by painting with white, you can show the adjustment. This makes it possible to selectively apply, for example, a warming filter to just those areas of the image that you want to affect (#2).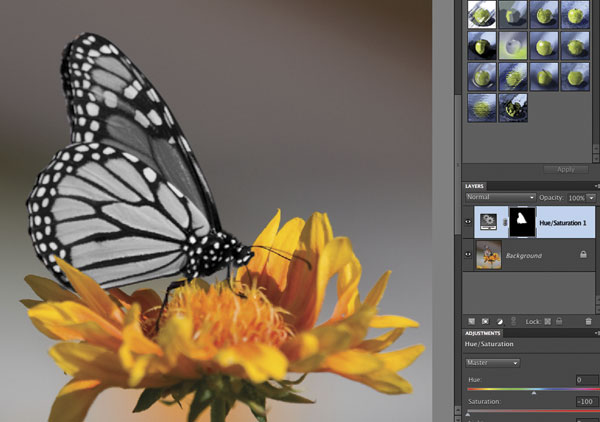 Elements now has much of the editing power of Photoshop when it comes to making complex selections and adjustments to specific areas of your image, letting you make final images that would have been extremely difficult and time consuming before (#3).
Style Match
One of the features I looked forward to playing with was Style Match. You open the image you want to adjust, and then select a photo style from one of several included by Adobe or that you've added yourself. I applied a contrasty black-and-white adjustment to a color image and was impressed with the results (#4 and #5).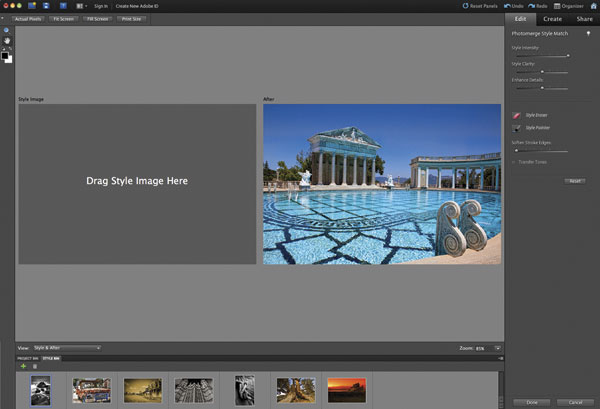 Photo Effects
Elements has had simple photo effects for a while now. Version 9 does bring some new ones to the table, most notably the Lomo and Out of Bounds effects (#6). The Lomo effect lets you apply both cross processing and vignetting to your images at selectable levels (#7).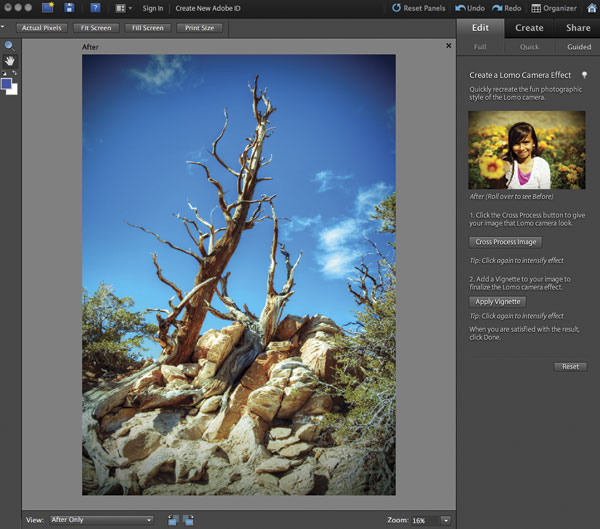 The Out of Bounds effect is a fun one that used to take a considerable amount of work to do manually in Photoshop. Here, you select the area you want to draw a frame around, then optionally distort it to add some perspective. Next, select the area to be "out of bounds," or outside of this frame. Finally, add a drop shadow and gradient background if you wish (#8).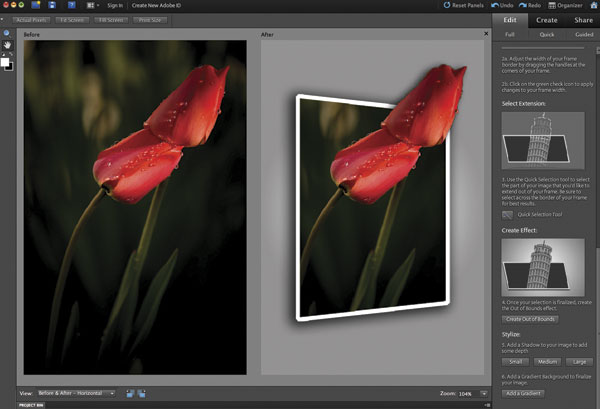 Multitouch On Mac
Macintosh trackpad users—both MacBook and desktop systems with a Magic Trackpad—can now use gestures and multitouch in Elements. Using a pinch gesture lets you zoom in or out, and a twisting motion will rotate your images.
Creation Layouts
The Creations area has been improved dramatically with Basic and Advanced modes. Basic, as expected, is a quick and easy way to create a project. In Advanced mode, you have full control of both the layout and editing features. A word of warning: the Advanced mode will leave you frustrated with its slow response times. Changing the layout on a collage took well over a minute on an iMac with an Intel i7 and 12GB of RAM. Being able to customize a creation, albeit slowly at best, is a welcome addition and adds a great deal of flexibility to your output.
Print Yourself
Prior to Version 9, creations were printed by sending them in and paying for the card, calendar, or other project. Now it's possible to print these creations directly on your own printer (#9).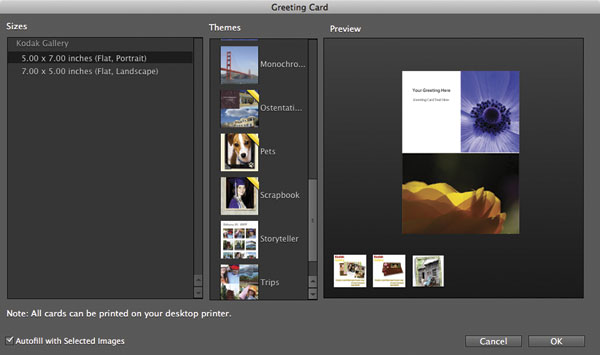 While you do have control over color management when printing, letting Elements mange color if you wish, and selecting the paper profile, you still are limited to either Adobe RGB or sRGB—no soft proofing is available.
Improved
Along with the new features, Elements 9 has enhanced some of the more popular existing features. Photomerge Panorama now fills in edges when stitching multiple images together. The blending of images has also been improved with this
latest release.
The Spot Healing Brush has been updated to do a better job with content aware fills over edited areas, blending with the background elements in a more natural way that leaves less fine-tuning to be done (#10 and #11).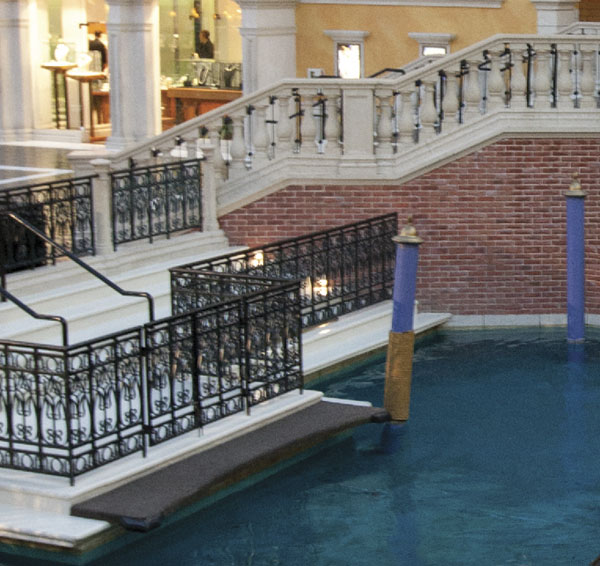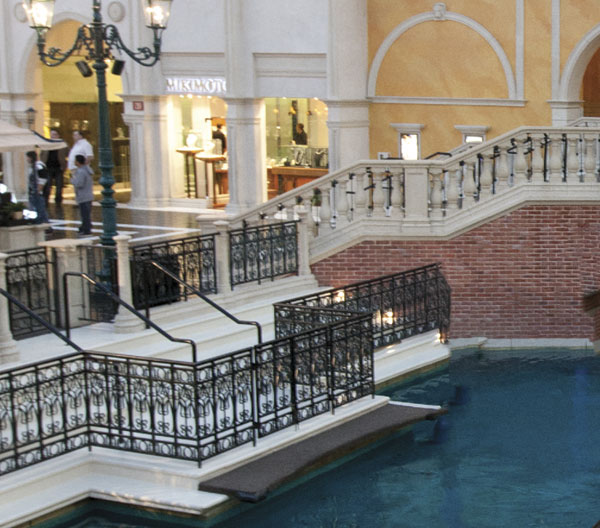 Is Photoshop Elements worth the upgrade for those who own the previous version? That depends on whether you're using it on a Mac or a PC. Mac users will see the most benefit thanks to the new Organizer, which duplicates much of the functionality of iPhoto and adds in some niceties such as the ability to use the Adobe Camera Raw converter. The other features, such as Style Match, Lomo and Out of Bounds, are all fun and do some great work, but they aren't things you'll likely be using all of the time. If you've been frustrated about not being able to print your own creations, or have control over their look, you'll welcome this new enhancement as well.
For new users, at $99, or $149 for a bundle with Photoshop Elements and Premiere Elements for video editing, it's a solid value that should be considered if you're looking for a new or more advanced editing tool, but don't need or can't afford to splurge on Photoshop CS5.
System Requirements
• Windows XP with Service Pack 2 or later
• Mac OS X 10.5.8 through 10.6; multicore Intel processor
• 1GB of RAM
• 3+GB of hard disk space
• DVD drive
For more information, contact Adobe Systems Inc. at: www.adobe.com.
FEATURED VIDEO