Adobe Photoshop Elements 2020 Software Review
Adobe just released Photoshop Elements 2020, the most powerful entry-level software derivative of Photoshop to date. Designed for beginner and aspiring photographers and available for $99 (or bundled with also-new Adobe Premier Elements for $149 retail), the latest version of Photoshop Elements features automation powered by Adobe Sensei, the company's amazingly potent AI engine, and three access levels to suit Beginners, Intermediate Users and Experts.
If you haven't tried Photoshop Elements recently (and I suspect many of you fall into that category) you will be surprised by the range and capabilities of this inexpensive photo editor. What follows here is my first look review of Photoshop Elements 2020.
What's New?
Before we go there, do yourself a favor and download the 30-day trial version. Even if you're a hardened Photoshop user (and especially if you currently use Lightroom only) you are going to like what you see.
Open Adobe Photoshop Elements 2020 and you're greeted by a redesigned Home Screen that displays what's new since your last version of Elements and other useful information. It's a great jumping off point.
Start clicking and you'll discover a host of new features powered by Adobe Sensei. The emphasis is on automation, but not at the expense of creativity or personal expression. Several effects, including B&W Selection, Pattern Brush, Depth of Field and brand new Painterly can be applied by AI or by you.
One of the most striking new features automatically colorizes images in a way you may have never seen before. It's especially effective on monochrome shots. There is also a new One-Click Subject Selection that handles most of the heavy lifting when making selections. And you can opt to Smooth Skin in portraits in a natural and attractive way.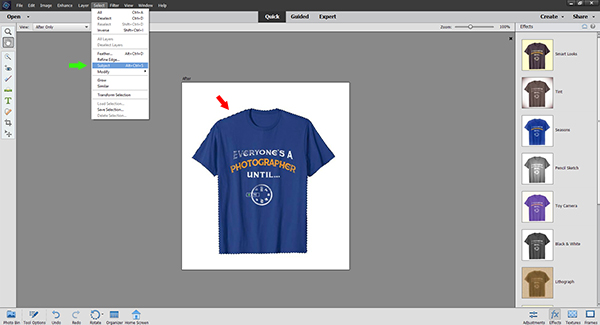 Other new features include improved methods of removing unwanted objects from a scene, and pattern brushes that let you apply things like stars or hearts to an image if that's your thing. And you can create memes, collages and animated GIFs.
On a more technical bent, Adobe Photoshop Elements 2020 supports HEIF files. (Adobe Premier Elements 2020 supports HEVC video files.)
What is HEIF?
HEIF, or High Efficiency Image File Format, was created by the Motion Picture Expert Group (MPEG – sound familiar?). Although it sounds like a cat sneezing when you try to pronounce it, HEIF promises to store more data than a JPEG image of the same size. The HEIF specification also defines HEVC (High Efficiency Video Codec) for video files. Is it the future? Hard to say. We'll break it down scientifically at a later date. For now be assured that both Adobe Elements products accommodate this up-and-coming technology. Download Windows 10 HEIF extensions here.
Order Printables Online
According to reliable sources, as many as 1.7 trillion images will be captured in 2019. Many of them will be lost in the vapor of apathy, but many others will be printed on what's often called gift/décor products: you know, calendars, mugs, tee shirts, phone accessories, wall art and other durable but nontraditional objects. Users can order such items right inside Photoshop Elements from Fujifilm Prints & Gifts service. Choose from more than 140 options.
Digressing for a moment, it's hard to comprehend one trillion. Here's the best analogy I've ever heard. I wish I thought of it, but in truth I heard it on WGN radio in Chicago. One million dollars worth of one-hundred dollar bills makes a stack about 12-inches tall. In comparison, one billion dollars worth of Franklins is taller than the Empire State Building. And one trillion dollars is 1,000 times taller than that!
Operation and Performance
The feature that makes Adobe Photoshop Elements 2020 universally appealing is the three-level interface.
There is a dialog box at the top of the Home Screen that prompts you to answer: What would you like to do today? The screen offers a few enticing suggestions on scrolling menu panels and provides quick links to open Organizer, Photo Editor, or (if you have Premier installed) Video Editor.
Select Photo Editor and you're given the option of three operating levels: Quick, Guided and Expert.
The Quick option displays four intuitive, self-explanatory activities in a menu at the bottom right: Adjustments, Effects, Textures and Frames. Click one and you're shown examples of each parameter as a thumbnail on the right side. Each thumbnail expands to display additional options. Make your selection and watch the magic. This level requires zero experience and may seem too dumbed-down for seasoned users, but it's still fun to play with, trust me.
At any time you can level-up by selecting Guided or Expert from the top menu bar.
Click Guided and you're greeted by a batch of scrolling examples that are grouped as follows: Basics, Color, Black & White, Fun Edits, Special Effects and Photomerge. Again, these are intuitive options, and each function is aptly described by its label.
On the Guided level the user is literally guided through the steps necessary to achieve a certain effect. This is great, I think, for beginners, intermediates and even some advanced users. No one is born knowing how to use every feature of Photoshop. The Guided level teaches you new tricks, even if you're a veteran user.
At Expert level, the interface strongly resembles full-blown Photoshop, but it also displays some fast-access icons that lead to choices like Layers, Effects, Filters, Styles, Graphics and more. The menu bar at the top is nearly the same as PS but there is an Enhance tab and more emphasis on automated tasks, things like Auto Sharpen, Auto Shake Reduction, Auto Haze Removal and Auto Smart Fix.
Conclusion
Adobe Photoshop Elements 2020 costs $99. You can buy it in a combo with Adobe Premier Elements for $149. Premier, which is not covered here, is the video editing equivalent of Photoshop. One hundred bucks isn't exactly lunch money, but it's small change considering what you get.
If you are a beginner, you can use PSE2020 to do some terrific things with your images, even if you never intend to progress beyond basic editing. And if you do get the bug, Elements lets you grow at your own speed and master more and more effects and functions.
Intermediate users can use PSE2020 to acquire new skills and learn new techniques through actual performance tasks, which is much better than passively watching a video. If you use Lightroom but do not own Photoshop, then Elements is a very natural fit.
Photoshop whiz kids may sneer beneath their Unsharp Masks. Shame on them. Elements offers a very enjoyable way to work with your images and maybe even learn a thing or two. I've never met a photographer—or artist of any ilk, for that matter—who didn't need a little inspiration once in a while.
So my advice to you proficient Photoshop specialists is this: download the trial version. Select a half-dozen of your best images and save them in a separate folder. Then open them in PSE2020 and explore all of the features, at all three levels. You'll have fun, and there's an outstanding chance that you'll create something new and worthwhile.
—Jon Sienkiewicz
FEATURED VIDEO