The #1 Rule of Sports Photography: Use Your Camera!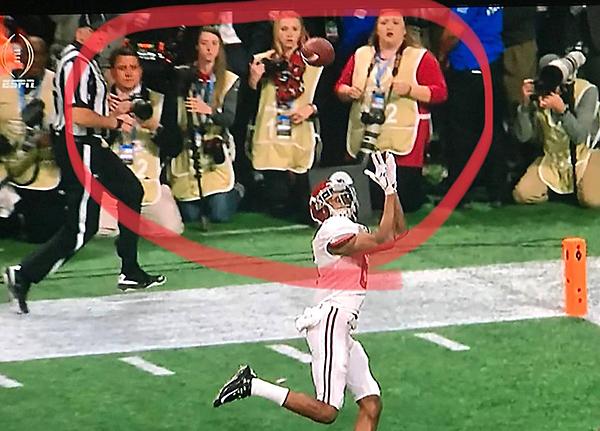 If there's one universal rule of sports photography, it's that you have to actually use your camera if you want to get the shot. Evidently these sideline photographers at last night's College Football National Championship game between Alabama and Georgia missed the memo, because none of them has a camera eye up to their eye as the ball is in the air.
The epic game was full of action, and culminated in a thrilling walk-off touchdown in overtime, so perhaps these photographers were caught up in the moment. But sideline credentials are few and far between, and we would have expected a better effort from anyone lucky enough to get one—especially at a critical moment in overtime.
The hilarious image was grabbed off the TV screen and posted to Facebook by Mike Carlson, a freelance sports photographer who shoots college and NFL games for Getty Images and the Associated Press. He also works for the Tampa Bay Buccaneers, shooting PR and game-time photos.
Because of the young age of the photographers in this embarrassing shot, there's speculation that they may be journalism students, rather than working pros. In any case, it isn't a photo they're likely to cherish.
If you want to see the proper way to shoot sports from the sideline, take a look at Carlson's website. You may also want to check out our recent story with solid advice from pro sports photographers.
LATEST VIDEO