Wedding Photography Roundtable; Four Top Shooters Give Us Their Take
If you are a wedding photographer, you already know what I'm about to tell you. The advent of inexpensive digital cameras that can produce amazingly good photos has shaken up the wedding market. With that and other matters in mind, I interviewed four of the top wedding photographers in the US and asked them some hard questions about where the wedding market might be headed. Our top shooters for this discussion include Andy Marcus, president of the venerable Fred Marcus Photography in New York City; Cherie Steinberg Coté, who is located in Los Angeles but does weddings worldwide; Doug Gordon, one of the most recognized names in the US as a top wedding photographer and educator; and JB and DeEtte Sallee, a young couple from Dallas whose fresh style has attracted wedding clients from the US and beyond. To see more of the great work of these photographers, check their websites which are listed at the end of this article.
© 2010, Andy Marcus, All Rights Reserved
Shutterbug (SB): The transition from film to digital photography has greatly impacted all areas of photography. What would you say is the greatest impact it has had on wedding photography?

Doug Gordon (DG): While I agree it is a problem, I believe there are ways to combat it. Being a true wedding/portrait photographer requires skill. My studio has survived and prospered because we have never left our basic foundation of creating the moment. We are and always will be a studio that poses the clients. You can either capture the moment or create it. We choose to create it so we can dictate the results and, more importantly, make a guarantee to our client that their images will look as good or better than the sample images they see when they first visit us.
© 2010, Andy Marcus, All Rights Reserved
JB & DeEtte Sallee (JB&DS): The greatest impact is that the gate to enter this market is a wide and easy entry to make. This can be deceiving to people starting out in this market. Many try and might fail because they see the ease of shooting digitally and handing over the images, but they might not understand the value of charging the right price for this kind of service.

Andy Marcus (AM): First, new photographers don't seem to learn the process of making great photographs by understanding lighting. Using light to create wonderful images is the first thing I learned getting into this business. The second impact has been on quality. Just the other day a client came to me with an album that we printed from film. The images jumped off the page at me. Today the catchphrase from many photographers is "it's almost as good" or "my client won't know the difference." That's sad, because I know the difference.
© 2010, Andy Marcus, All Rights Reserved
Cherie Steinberg Coté (CSC): Everyone wants to have their images immediately but fails to understand that there is a process after capture. I think it has lowered the bar in many ways. The old "learn photography 101" is dead. Many new photographers do not know anything about the basics of photography, and for some that works because they are brilliant marketers but not very good photographers. It is not just the digital camera, it is the digital everything!

DG: Just about everybody who picks up a camera thinks they are a wedding photographer these days. It seems the better technology and more simplistic they make automated features, the more people you see popping into the professional market who probably shouldn't be there.
© 2010, Doug Gordon, All Rights Reserved
SB: Many established wedding photographers are saying that the ease of use and immediate feedback of digital has hurt their business because it allows so many more unskilled amateurs to enter the market. Do you agree with this opinion?

AM: I think that wedding photography is a kind of sacred trust between photographer and customer. As a dad about to have a daughter be married, I want her to have the best images to remember that day that I can provide. This area of photography, unlike so many others, cannot be recreated. You have one chance to capture those special moments and then they are gone. I know I would want someone who knows exactly what they are doing to be there for me.
© 2010, Doug Gordon, All Rights Reserved
CSC: I completely agree with this statement. It used to be really cool to be a photographer when I started, and also being a girl photographer was really, really cool. Now everyone wants to be a photographer and for $1000 and a business card they can! So the thrill of saying and being a photographer has kind of become a bit sticky, especially here in L.A. There are so many paparazzi, and we do not want to have anything to do with people even for a moment thinking we are paparazzi! People are beginning to say that there are as many photographers here as actors, and that is not a good thing!
© 2010, Doug Gordon, All Rights Reserved
SB: There are now several options for delivery of the final product with wedding photography. Can you describe your approach?

CSC: Right now we deliver our wedding images on DVD (low res) and then later an album. I also encourage large prints as artwork for their walls even more than albums. I want our work on the wall, not in the drawer. I still shoot film for the same reason.
© 2010, Cherie Steinberg Coté, All Rights Reserved
JB&DS: We try to choose the most unique albums available and the best quality printing that we can. We use the high-quality albums from Kambara and use Miller's Imaging for our printing. In all of our wedding packages we include a wedding album, and the top two packages also include a CD with the wedding day files. Brides have come to expect the files from their wedding day because of all the studios offering them and from the bridal magazines that tell them so. We realize, though, that if our studio said "no" they would move on with their search. We only include files from the wedding day, not any other sessions we may have done. We have a great average because we have the clients treat these sessions separately and in turn purchase gorgeous wall portraits and portrait albums from us.

AM: If you are asking am I a "shoot-and-burn" photographer, the answer is no! Shoot and burn would leave the quality control of our images in the hands of Ofoto, Snapfish, or any of the other mass-market printers out there. Our business, Fred Marcus Photography, started by my dad almost 70 years ago and now being continued by my son, Brian, is in business to deliver only the highest-end product to our customers. We use the finest albums on the market and I guarantee our product for years. Our clients come to us for the experience, customer service, and quality that only we deliver.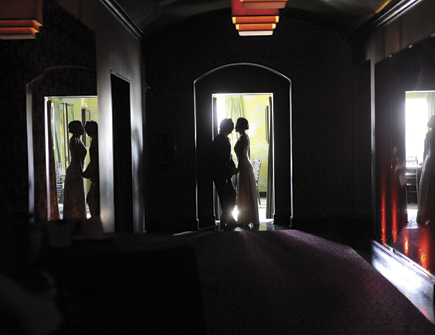 © 2010, Cherie Steinberg Coté, All Rights Reserved
FEATURED VIDEO