The Ultimate Light Box From Harbor Digital Design: Affordable And Customizable
Like most photographers, I'm always trying to see just how versatile I can make my dedicated speedlights. In my case that would be Nikon SB-800 Speedlights. And when I really want to create a unique look I'll sometimes use off-camera flash so I can vary the exposure on my subject in relation to the overall scene. That usually involves me adding light to my subject to either match or overpower the ambient light. When I do that I like to have a little more control over the quantity and quality of the light than what I'd have if I just aimed my flash at my subject with no modification.
Enter Harbor Digital Design's self-dubbed "Ultimate" Light Box system. Ultimate? I wasn't quite sure what they meant until I opened the box and started discovering all the goodies inside. Most flash modifiers have one goal in mind—soften the light coming from that little flash head. This system gives you the tools you need to soften, broaden, narrow, spread, and even increase the light output. And it looks a lot more professional than that little business card secured with a rubber band that you've been using for a bounce card for the past 10 years.
First off, you need to know what kind of flash it's going to be mounted on. Instead of touch fasteners or rubber bands, the Ultimate Light Box system has a press-fit adapter that slides over your flash. Just push it on and it's a nice snug fit created for that flash unit. Even with the tapered head of my Nikon SB-800, I never worried about it falling off.
But before even sticking that on your flash, you'll want to attach it to one of the many accessories. If you just want a simple small diffuser, slip on the small dome. Next, try the big white softbox. You can try it with or without the dome inside or use some of the included colored and diffusion filters. You can also aim it toward the ceiling and attach the big white card. As you're starting to see, you can adjust the light to your taste pretty easily. But there is plenty more. Because in addition to providing several ways to soften and spread the light, you can also control, narrow, and even increase the light from your small flash unit.
You can start small and pop on one of the two supplied grids to direct the light and narrow the spread of light. Or you can switch out the translucent white box for the black box. You can snap on the white diffusion cover in an instant with or without the dome inside. Using gels with the black will have more saturation than the white. This is very versatile, but I'm saving my favorite for last.
That would be the XT Flash Extender, and here's how it works. The XT is a plastic Fresnel lens that you can snap on the end of the black box. The lens will focus the light and can add up to two stops of light to your output. It also makes the beam much more defined. I find this extremely useful. Off-camera flash is all the rage right now. From basic uses like just adding a little more light to the subject to using high-speed flash for unique looks in the sun, small dedicated flashes are more sophisticated than ever. But no matter how sophisticated they are, there always seems to be one issue holding them back—power.
From putting the flash as close to your subject as possible while still being out of frame, to combining multiple flashes, to putting flash heads right in the photo and cloning it out later, the need for power is ever present. This extender gives you more power to overpower the sunlight. It puts less stress on all those multiple bursts when using high-speed flash, so your flash doesn't start smoking.
If you're looking for a versatile, well-made flash modifier system, I can highly recommend this one. It slips right on, things snap on and off with confidence, and you can create many different looks from your small flash unit. My only reservation was that it takes up a lot of room in your camera bag because of its solid construction that doesn't collapse. Then I saw on Harbor Digital Design's website where you can just store your flash right inside the light box! Problem solved!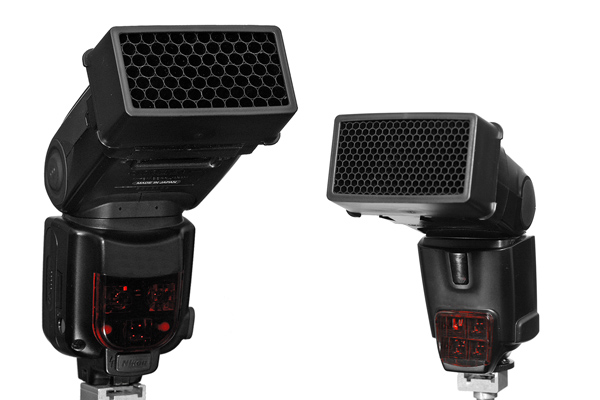 There are numerous pricing combinations for the Ultimate Light Box and accessories, all reasonable and ultimately customizable for your flash. The best bet is to check for information and pricing by visiting http://harbordigitaldesign.com.
Steve Bedell has been a portrait photographer for over 25 years. To subscribe to EPhoto, a free e-mail newsletter with tips for photographers, contact Bedell via e-mail at: sb@stevebedell.com. Also ask about his lighting DVDs.
FEATURED VIDEO