Truckin' On A Tundra Buggy; Photographing Polar Bears Near The Arctic Circle
"An adventure is misery and discomfort, relived in the safety of reminiscence." --Marco Polo
With the wind chill factor it's 35ÞF below zero. I've only been standing on the small, snow-covered deck of a Frontiers North Adventures Tundra Buggy (a vehicle specially designed for polar exploration) for about 5 minutes, and already my hands, face, and especially my feet feel numb. Looking through my camera's viewfinder, I am framing a mother polar bear and her two adorable cubs strolling across the ice at a leisurely pace, as if it were mid-summer.
With her two cubs tagging along behind her, a mother polar bear leads the way across the newly frozen ice along the shore of Hudson Bay, Canada.
All Photos © 2005, Rick Sammon, All Rights Reserved
Photographing these magnificent polar bears, who don't lose any body heat even when it is this cold, is the reason why I am subjecting my body to these extremely harsh conditions. I have never been colder in my life--and that includes the time I went ice diving in Lake Baikal, Siberia.

My fellow photographers--some beginners, some experienced pros--are warmer in the heated cabin of the Tundra Buggy in which I am riding. They are probably getting the same pictures that I am, but I want to be out here on the deck experiencing life on the tundra--as these bears experience it.
Getting to this location in Churchill, on Canada's Hudson Bay, was not an easy task. From Chicago, the flight to Winnipeg took about two hours. After an overnight stay in Winnipeg, the charter flight to Churchill, arranged by Frontiers North Adventures, took about three hours--and that includes the 10 minutes it took to unfreeze the passenger door of the small plane after it landed in Churchill.
Tundra Buggies, heated vehicles with a window for each photographer, leave the Lodge early each morning in search of polar bears. The Buggies return just after sunset, making for a full day of photographing.
After a welcome lunch provided by Frontiers North Adventures, our group journeyed for about half an hour by bus to get to the Tundra Buggy departure station. The best way I can describe a Tundra Buggy is that it is somewhat like an oversized school bus with big windows that open for easy photo shooting and viewing. Once we boarded the Tundra Buggy, which would be one of our three shooting Buggies for the week, our group of 30 men and women traveled for about three hours over the frozen tundra to the mobile Tundra Buggy Lodge, which would be our home for the next six days.
The "lodge-on-wheels" consists of two 20 bunk bed units, a lounge unit, a kitchen/dining unit, and a party unit called the "muk tuk," which was the place to hang out, dance, and party after dinner.

Each morning at 8am the three Tundra Buggies took our group out looking for polar bears and other wildlife, including the arctic hare and the arctic fox. We photographers shot throughout the day, had lunch in the Buggies, and were back at the Lodge by 4pm, shortly after the sun had set. The Tundra Buggy adventure is not for the faint-hearted, nor is it for the impatient: long, cold, and often monotonous hours are spent exploring the tundra looking for subjects.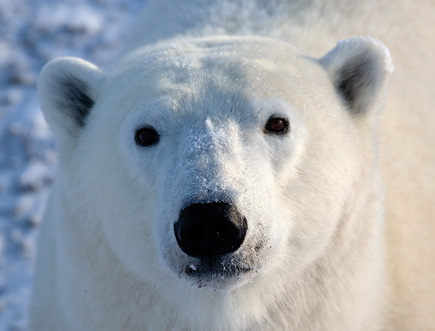 As on all my photo treks, I try to "tell the whole story" with my pictures. This headshot (above) and paw shot (below) help to tell the story of my polar bear adventure.
Our group was lucky. On the first two days of our adventure we spent nearly the entire time photographing several different polar bears--some who strolled right up to our Tundra Buggy, stood on their hind legs and tried to peer into the windows. How cool is that?

As a wildlife photographer, those times were some of my most rewarding experiences of the trip--but things would get even better.
I took most of my pictures with my Canon EOS-1D Mark II using my Canon 100-400mm IS (Image Stabilization) zoom lens or my Canon 400mm DO (Diffractive Optics) IS lens. Like some of my fellow photographers, I used a beanbag to help steady my camera on an open window; a few of the other photographers used window mounts for steady shots. On a few occasions, such as when I was photographing arctic hares, I used my 1.4x or 2x Canon tele-converter on my long lenses for even tighter close-ups. For my near-to-the-Buggy shots, I photographed with my Canon 17-40mm zoom.


FEATURED VIDEO