Locations; Sand Dune Parks; Tips For The Shifting Sands Page 2
The last series of questions is also the first. How's the light? Actually this question is foremost in my mind (regardless of subject) and permeates all the other questions. How will the changing light affect the photo? Sidelight and backlight create more contrast, deeper shadows, and more depth; consequently I prefer these types of light. The light shortly after sunrise and shortly before sunset has a wonderful angle and beautiful color. Sweet light—occurring for roughly the 30 minutes before sunrise and after sunset—can be spectacular as well. Depending on cloud conditions, this light can be soft and warm (lots of magentas, reds, and oranges), and yet directional. In addition to sidelight, this is one of the few times I look for compositions illuminated with front light.
Oregon Dunes National Recreation Area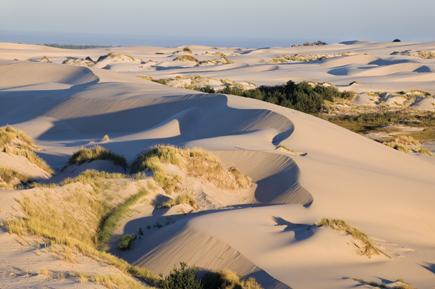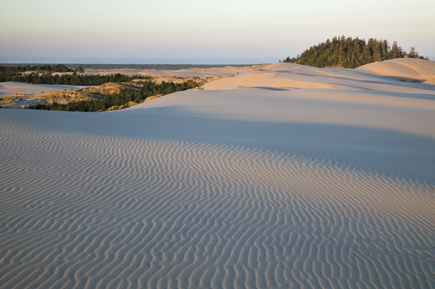 (Top): Umpqua Dunes, Oregon Dunes National Recreation Area, Oregon; sidelight, shortly after sunrise, telephoto lens. (Bottom): Umpqua Dunes, Oregon Dunes National Recreation Area, Oregon; sidelight at sunrise, short telephoto lens.
Wind is a common and integral part of sand dunes; without wind there would be no dunes. To the photographer, wind is the best friend and worst enemy. The best time to visit dunes is immediately after a day or two of strong winds as wind removes blemishes and makes the dunes appear fresh, clean, and sharp. As I've personally experienced, for the photographer's comfort and safety of camera equipment, the worst time to visit dunes is during a day or two of strong wind! That said, there are unique photographs to be made of saltating (moving) sand during windy times. The good news here is that sand usually doesn't rise very far off the surface, even during strong winds, so it's possible to keep the camera out of the worst of the sand by using it at eye level.
Imperial Sand Dunes

(Left): Imperial Sand Dunes, North Algodones Dunes Wilderness, California; shortly before sunset, normal lens. Notice all the critter tracks. (Right): Imperial Sand Dunes, North Algodones Dunes Wilderness, California; front light, morning sweet light, wide-angle lens.
Some Of My Favorite Dune Locales
Great Sand Dunes National Park and Preserve, Colorado: The dunes are magnificent and provide unlimited photo opportunities. Sunflowers bloom out of the sand in August and frost occasionally covers the dunes during winter months, both adding an element of weirdness and beauty to an already unearthly landscape. Climbing to the top of the dunes is very strenuous, especially with pounds of camera gear, and weather can change rapidly. The top of these dunes is the last place one would want to be should a lightning storm develop, so check at the visitor's center before heading up.

White Sands National Monument, New Mexico: This area covers 115 square miles of the largest pure gypsum dune field in the world. The glistening white sand is incredible and extremely photogenic. The area is only open during the day, which is the only drawback to photographing here. I usually visit in the early spring when the hours of operation come closer to sunrise and sunset times. Additionally, during wet springs, pools of water sometimes form in the lower areas, creating the opportunity to photograph reflections of stark dunes.

Death Valley National Park, Nevada/California: This national park contains two stunning dune fields, Mesquite Flat Dunes and Eureka Dunes. The Mesquite Flat Dunes are the easier to access and consequently the more visited, but the setting in the valley is simply beautiful. Eureka Dunes take more effort to visit, but they vie for the title of North America's tallest and are home to five species of beetles and three species of plants that occur nowhere else in the world. Death Valley is the hottest, driest, and lowest place in North America, so I prefer to visit in the winter when a warm jacket is required or in the spring in hopes of catching a wildflower spectacular as well as dunes.

Imperial Sand Dunes, California: This is one of the most expansive dune complexes in North America, and while most of these dunes are open to Off-Highway Vehicles (OHVs), the North Algodones Dunes Wilderness provides nearly 26,000 acres of unspoiled dunes. I visited these dunes the day after a major wind event, and was surprised to see the myriad of tracks all over. No human tracks, but insect and reptile tracks were everywhere, giving clear evidence to the abundant life in these dunes.

Coral Pink Sand Dunes State Park, Utah: This area includes the most beautifully colored dunes I've seen, but since this area is also open to OHV use, the challenge is to visit immediately after a major wind event or early in the spring, before the busy season. I haven't succeeded at either, so my photographs show the dunes as a part of the larger landscape.

Oregon Dunes National Recreation Area, Oregon: This area contains the largest expanse of coastal sand dunes in North America. Towering up to 500 feet above sea level, they run 40 miles along the Pacific Coast and offer the opportunity to juxtapose barren dunes, forest, and ocean.

Grand Sable Dunes, Michigan: This area overlooks Lake Superior in Pictured Rocks National Lakeshore in the Upper Peninsula of Michigan. These dunes contain both vegetated areas and active sand areas where the struggle between active dunes and colonizing plant communities can be observed. In addition to grand landscapes, look for the patterns that windblown grasses leave in the sand.
Grand Sable Dunes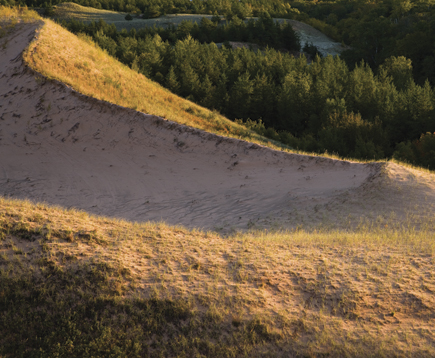 (Top): Grand Sable Dunes, Pictured Rocks National Lakeshore, Michigan; early morning sidelight, normal lens. (Bottom): Grand Sable Dunes, Pictured Rocks National Lakeshore, Michigan; early morning sidelight, short telephoto lens.
To see more of Clint Farlinger's photos, visit his website at: www.agpix.com/farlinger.
FEATURED VIDEO