Tamron's AF28-300mm F/3.5-6.3 XR Di VC LD Aspherical [IF] Macro; The First Tamron Lens With Vibration Compensation Stabilizer
Tamron's various 28-300mm "ultra" zooms have been best sellers since their first model of this type was introduced in 1999. Each subsequent version featured improvements and this latest "4th generation" product is the most desirable to date, since it includes a Vibration Compensation stabilizer aside from a wealth of advanced optical technology. A digitally optimized, multi-platform model, this compact and versatile zoom is suitable for many Nikon and Canon 35mm and digital SLRs with a sensor of any size. While traveling in the Caribbean and during events in my hometown, I sometimes left my heavy pro system behind, carrying only this single 10.7x zoom mounted on a Canon EOS 40D D-SLR.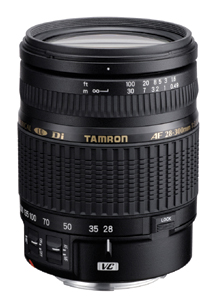 VC Technology And Performance
While other companies also make lenses with a stabilizer mechanism, Tamron's proprietary system is unique. The Vibration Compensation (VC) device features three driving coils and slide balls around the compensator group of the lens' optical system. A gyro detects shake and a 32-bit RISC CPU shifts optical elements as required for the Anti-Shake effects. The incoming light rays are refracted (bent) and the projected image is returned to the center of the frame, increasing the odds of sharp photos.

An Anti-Shake system is a valuable amenity since it allows for shooting at longer shutter speeds, reducing the need for a tripod or for a high ISO level. (Both film and digital sensors provide superior image quality at lower ISOs.) A stabilizer offers a secondary benefit useful in bright to moderately bright light. It allows us to shoot at small apertures for extensive depth of field--and also the best optical quality--without worrying about the longer shutter speeds when hand holding the camera.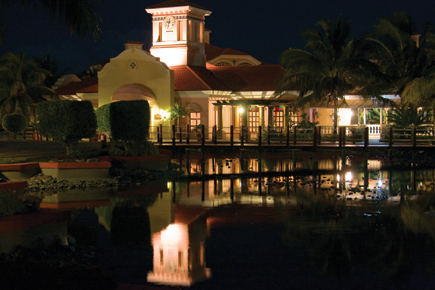 The primary new feature of Tamron's 4th generation 28-300mm zoom, the Vibration Compensation (VC) system is very effective. While no stabilizer can work miracles, the VC mechanism allowed me to make sharp photos at surprisingly long shutter speeds, particularly when I was able to brace the camera, or my elbows, on some solid object. (Image made at a 1/2 sec shutter speed at a 39mm focal length, with elbows braced on a concrete railing, using an EOS 40D.)
All Photos © 2008, Peter K. Burian, All Rights Reserved
Construction And Design
Slightly larger and 5 oz heavier than the previous 28-300mm XR Di model, this VC lens is still very portable. (Overall length has increased by only 0.7" while the diameter has expanded by a mere 0.2".) When zoomed to the 300mm end, the lightweight internal barrel extends by 3.3", but overall handling is not affected to any obvious extent. It's solid, too, with a polycarbonate barrel with pearl-black coating and a metal lens mount. The 1.3" wide rubberized zoom ring and 1/2" wide focus ring are quite well "damped": with enough friction for a familiar feel. Even so, zoom creep can occur when the lens is pointed downward or upward, since the zoom lock switch can be set only at the 28mm focal length.
While this 28-300mm zoom is ideal for travel photography when you want to carry only a single lens, its versatility makes the lens a fine choice for other types of subject matter as well, including events where the great range of focal lengths can be very useful. (EOS 40D in Continuous AF mode; ISO 400; Hoya Pro 1 Digital Circular Polarizer.)
Other switches include a selector for AF/MF and another for Vibration Compensation On/Off. A ring with gold lettering adds a touch of class to this well-built but affordable lens. Note, too, that the diaphragm mechanism contains extra blades (for a total of nine) in order to enhance the blurred background effect; out-of-focus highlights are closer to circular than hexagonal in shape.

Thanks to Internal Focusing (IF), the internal barrel does not rotate so the effect of a polarizing filter remains constant. The IF mechanism also helps minimize loss of light at the sensor or film plane and maximizes image brightness at the corners of the photo. During autofocus operation, the focus ring does rotate, creating a low-pitched hum that's barely noticeable in most circumstances. A rotation of a mere 30° changes focus from 19.3" to infinity, for quicker focus acquisition in AF or MF mode. A distance scale shows both feet and meters but there's no depth of field scale, a typical omission with variable aperture zooms.

Optimized for digital photography, this Di-series lens includes superior multilayered coatings to minimize flare and ghosting that can be caused by a highly reflective sensor. The optical formula is particularly impressive, including five distinct types of glass: XR (high refraction index), GM (Glass-Molded aspherical lens) elements, hybrid aspherical elements, LD (Low Dispersion), and AD (Anomalous Dispersion). This diverse combination was intended to minimize the various types of optical aberrations at short and long focal lengths and also in close focusing; it also helps to control distortion.
This digitally optimized zoom lens is remarkably well corrected for flare caused by the highly reflective camera sensor and by external light sources. The lens hood (included) is also quite effective. Except in strong backlighting, that combination assured snappy contrast without any evidence of flare. (Photo made with an EOS 40D using a Hoya Pro 1 Digital Circular Polarizer that is also multilayer coated.)
The minimum focusing distance is 19.3" at all focal lengths, providing maximum magnification of 0.33x, higher than average for a lens of this type. The actual working distance--from the front of the lens to the subject--is a generous 12" when shooting at 300mm. While a true Macro lens is preferable for tiny subjects, I was able to fill the frame with a couple of blossoms. I was pleasantly surprised at the high image quality even at longer focal lengths--especially in the f/11 to f/16 range that's useful for a suitable range of sharp focus. Although the VC system minimizes the need for a tripod, no Image Stabilizer can prevent blur caused by wind-induced motion; that still requires a high ISO level for fast shutter speeds.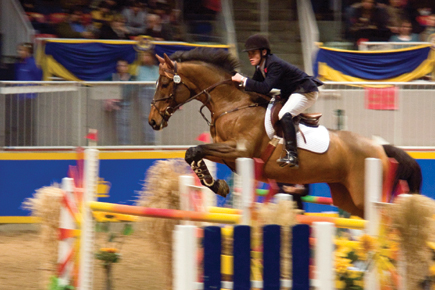 A wide aperture Tamron lens such as the new 70-200mm f/2.8 model is preferable for low-light action photography since it allows for using faster shutter speeds at a lower ISO level. However, the latest D-SLR cameras produce decent image quality even at ISO 1600; hence, I found f/5.6 quite suitable for many shots during a horse jumping competition. (Image made at the Royal Winter Fair, Toronto, at f/5.6, at a 129mm focal length; EOS 40D.)
Performance Evaluation
During the test period, I made over 600 images with this lens and found that all of the high-tech EOS 40D features--including Live View--functioned perfectly. Autofocus was fast enough for just about any subject encountered in travel photography, particularly in the 28-260mm range. By about 270mm, the maximum aperture diminishes to f/6.3, reducing the amount of light that can reach a camera's AF sensor. (This is typical with most of the "all-purpose" zooms.) While autofocus continues to operate, it's obviously slower.
While this lens was not designed for tracking erratic, high-speed motion in sports photography, the AF system had no difficulty with other types of subjects particularly at moderate focal lengths where the wider maximum aperture allows plenty of light to reach the camera's AF sensor. (At f/10 at 1/200 sec with a Canon EOS 40D in Continuous AF mode; Hoya Pro 1 Digital Circular Polarizer.)
This "ultra zoom" was not intended for serious sports photography enthusiasts, but autofocus was suitable for tracking the motion of more typical subjects, such as marching bands. During a hockey game and equestrian events in an arena, I used shorter focal lengths whenever practical. Pre-focusing on a spot that a moving subject would reach also helped increase the number of sharp photos in a subsequent series of action shots.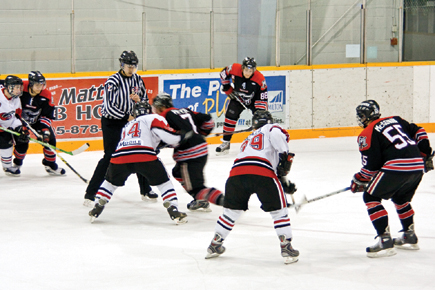 During this amateur ice hockey game I was able to shoot from a position close to the ice, so I generally worked at focal lengths around 50-100mm where the wide maximum aperture allowed plenty of light to reach the camera's AF sensor. Consequently, autofocus performance (using an EOS 40D) was quite suitable for action photography in spite of the erratic motion of my subjects. (Photo made at 100mm at ISO 800.)

LATEST VIDEO