Tamron's AF28-300mm F/3.5-6.3 XR Di VC LD Aspherical [IF] Macro; The First Tamron Lens With Vibration Compensation Stabilizer Page 2
While reviewing my images on a professional monitor, and after making some inkjet prints, I made the following observations:
· Peak performance is provided in the 28-135mm range at f/8 to f/13: adequate for a very sharp 8.5x11"print. Even images made at the widest apertures produced good 8x10" glossies; center sharpness is high but stopping down to f/8 improves edge sharpness.

· Image quality remains quite high in the 135-200mm range especially at f/8 to f/13.

· At longer telephoto focal lengths, center sharpness is fine at f/8 but there's more obvious softness in all other areas. When using the 200-300mm range, a bit of extra sharpening (in camera or during post-processing) can be useful. After applying Smart Sharpen in Photoshop or Elements, my best long telephoto shots made for 5x7" glossies that look great in our family album.

· Distortion of lines is very well controlled. Darkening at the corners (shading) is also minimal, barely noticeable even at wide apertures. In both aspects, this is better than average performance for a 28-300mm zoom.

· The multilayered coating plus the corner-cut lens hood (included) combine to provide very effective control against flare from external light sources. That was certainly a benefit when shooting on very bright days on tropical islands.
Edge sharpness is highly acceptable at wide apertures particularly in the 28-200mm range, making f/4.5 or f/5.6 a "useable" f/stop for images to be printed in sizes up to 5x7". By f/8 however, image quality is even better, suitable for making fine 8.5x11" prints. (Image made at f/4.5 at ISO 800, at a 55mm focal length at the Canadian Aboriginal Festival, with electronic flash.)
Like most all-purpose zooms, this one provides the best edge-to-edge sharpness and brightness at mid-size apertures. By comparison, the expensive pro lenses are optimized for high performance at wide apertures. That's a benefit because it allows for using faster shutter speeds at low ISO levels where any camera provides the "cleanest" images. On the other hand, this Tamron zoom's VC stabilizer reduces the need for fast shutter speeds to prevent blur from camera shake. That makes ISO 100 adequate for most daylight photography, although ISO 400 can be useful when shooting at small apertures when using a polarizer or on very dark, overcast days. Most of today's D-SLR cameras produce excellent image quality at ISO 400, making this level a fine choice even for general picture taking.
| | |
| --- | --- |
| | |
| Image made at moderate telephoto focal lengths in the f/8 to f/13 range made for excellent letter-size prints suitable for framing. (At 50mm, f/8; ISO 400 using ISO 400 and a Hoya Pro 1 Digital Circular Polarizer; raw capture optimized for printing with Photoshop CS3.) | While slight barrel distortion or pincushion distortion is visible in images made of a test pattern at very short or long focal lengths, that's rarely relevant in real-world photography. What's really worth noting is that sharpness is high across the entire frame, particularly at f/8 to f/13. (Image made at f/13; ISO 400; EOS 40D; Hoya Pro 1 Digital Circular Polarizer.) |
The Bottom Line
I can certainly understand why the 28-300mm range has been so popular, particularly among owners of 35mm film cameras. On a D-SLR however, the equivalent focal length range is roughly 32-450mm (most Nikon cameras) or 44.8-480mm (most Canon EOS models). Digital shooters who enjoy wide angle picture taking should check out the digital-only Tamron 18-250mm f/3.5-6.3 Di II while those who prefer telephoto photography will want the newer zoom instead. (You can find my 18-250mm Di II Test Report using the Search feature at www.shutterbug.com.)

The Vibration Compensation feature adds real value. Because the stabilizing effect is most valuable at long focal lengths, it's understandable that Tamron decided to install their new system in this particular lens. (Presumably, the company will employ the VC mechanism in other products as well.) As my tests confirmed, VC is very effective in minimizing the effects of camera shake, the primary cause of unsharp photos. Families who are looking for a versatile zoom with all of the latest technology should certainly find this one to be a very attractive choice.
A fine choice for a lens to be used by the entire family, the Tamron 28-300mm zoom is useful for a great range of subject matter, including people, nature close-ups, moderately wide angle city or landscapes, and tightly framed shots of distant subjects. (This photo was made in P mode with an EOS 40D at ISO 400, using a Hoya Pro 1 Digital Circular Polarizer.)
VC Effectiveness
Note: Although this lens is available in Canon and Nikon AF mounts, the Vibration Compensation system will not operate with the original EOS-1Ds or with some discontinued 35mm bodies: EOS 100, 10, 650, 620, 630, 850, 750. That may be problematic in theory but very few families today are using one of those cameras. However, the Nikon mount version will provide VC with all Nikon digital and 35mm SLRs; it will also autofocus with cameras such as the D40/D40X since the lens is equipped with the necessary focus motor.
1
2
3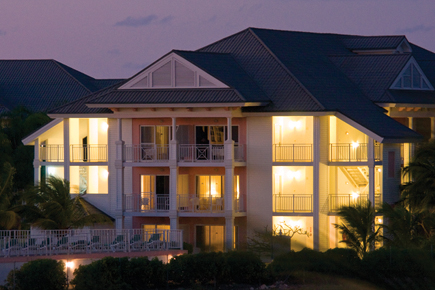 4
1 - Although the VC stabilizer is most valuable for making sharp photos, the system was also useful when I wanted to use long shutter speeds for intentional blurring to emphasize subject motion. Note that the background is quite sharp in spite of the 1/4 sec shutter speed; only the subject is blurred. (At the Canadian Aboriginal Festival; 45mm equivalent; EOS 40D with electronic flash.)
2 - Particularly in low light and at long focal lengths, the Vibration Compensation stabilizer proved to be very valuable. During this stage show, the system allowed me to make many sharp images at a 480mm equivalent focal length at a shutter speed of 1/125 sec. (This photo was made at ISO 1600 with an EOS 40D.)
3 & 4 - The VC system is a fine alternative to a tripod. These images--with VC on and off--were made with my elbows braced on a balcony railing at a 1/3 sec shutter speed and confirm the effectiveness of the optical stabilizer mechanism. (These photos were made at a 200mm equivalent focal length at ISO 1600 with an EOS 40D.)
I was often able to get sharp photos at a 1/125 sec shutter speed at the 300mm end--a 480mm equivalent focal length--instead of the 1/500 sec speed required with a conventional lens. Occasionally, even images made at 1/90 sec were adequately sharp for nice 8x10" glossies. By bracing the camera or my elbows on a firm support, I made some sharp photos even at a 1/2 sec shutter speed at a 65mm equivalent focal length. Everyone's personal stability differs, so others will get different results, but the bottom line is that the VC system is very effective.
Technical Specifications
Angle Of View (Diagonal): 75°23'-8°15' (with APS-C size sensor)
Construction: 18 elements in 13 groups
Minimum Focus Distance: 13.9"
Maximum Magnification: 1:3 at 300mm
Filter Size: 67mm
Dimensions/Weight: 3.06x3.9" (78x99mm); 19.4 oz (555g)
Mounts: Available for Canon and Nikon (35mm or digital) SLRs
Street Price (Average): $649
For more information, contact Tamron Lenses USA, Inc., 10 Austin Blvd., Commack, NY 11725; (800) 827-8880; www.tamron.com.
A long-time "Shutterbug" contributor, stock photographer Peter K. Burian (www.peterkburian.com) is the author of "Mastering Digital Photography and Imaging" and several "Magic Lantern Guides" to SLR cameras. He is also the co-author (with Tim Grey) of "Photoshop Elements 5 Workflow" and teaches two online digital photography courses at BetterPhoto.com.