How He Got the Shot: One Ball And One Striking Photograph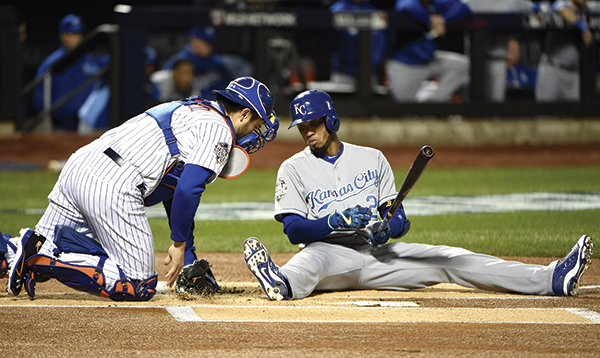 Sports shooters live for moments of key action; they also cherish players' reactions to those moments. Mike Corrado caught the latter at the start of the third game of the World Series, as New York Mets pitcher Noah Syndergaard sent a message to Kansas City Royals leadoff hitter Alcides Escobar, who is known for crowding the plate and swinging at first pitches.
From the photographers' box on the first-base side of the diamond, Corrado was ready for the pitch. "Something was going to happen," he says. Indeed, it's likely everyone at Citi Field expected the Mets, down two games to the aggressive Royals, to have a resolute response.
"When the pitch sailed high, tight, and over Escobar's head, I hammered on the shutter release," Corrado says. The camera's 11 frames-per-second advance and Escobar's reaction did the rest.
"I got both the stunned look on Escobar's face," Corrado says, "and his interaction with [Mets catcher Travis] d'Arnaud, with d'Arnaud's glove seeming to mark the safe zone of the plate."
Escobar ultimately struck out, and the Mets won the game. But the Royals sent the final message, taking the series in five.
"Every pitch and every play in a World Series game is important; you have to be ready for them all," Corrado sums up. "But some are more important than others, and every photographer on that field was ready for that pitch."
Even if the hitter wasn't.
View the variety of Mike Corrado's images at corradophotography.com.
FEATURED VIDEO