Student Union - Michael Randolph
Photos © 2001, Michelle Best, All Rights Reserved
San Joaquin
Delta College
Stockton, California
Under Construction
It's not digital manipulation, just work with 4x5 negatives in the old-fashioned darkroom, which Michael Randolph prefers to the computer version.
A night student majoring in art at San Joaquin Delta College, Michael works days in the construction industry, but hopes to make photography his career in the near future. Ideally, he'd like to see his ideas and images used for rock band album covers. "For the past few years I've been building up a collection of 16x20 prints so I could get a gallery exhibit that will call attention to my work."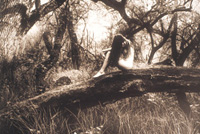 Photos © 2001, Michael Randolph, All Rights Reserved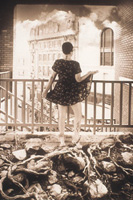 Michael Randolph was recommended by Greg Goodman, an instructor at San Joaquin Delta College.
Do you know a student whose work deserves recognition? If so, contact our editorial department by e-mail: editorial@shutterbug.net or call (321) 269-3212.