Student Union - John Gallino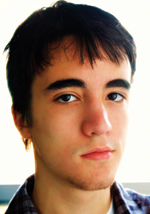 John Gallino
Ramapo College
Mahwah, New Jersey
Street Scenes
John's studies at Ramapo, where he is beginning his freshman year, are aimed at his goal of establishing his own photography business. He doesn't plan on waiting until he graduates to start that business, either. While in high school, where his photographs were prominently featured in the 2006 yearbook, he worked as an assistant to a wedding photographer, learning the imaging craft and enough of the business side to realize its importance. "I know that the `photography business' is 10 percent photography and 90 percent business," he says.

John's entry into the business right now is through his website, www.johngallino.com, where he offers his services as an event photographer and is beginning to promote his photography of local
rock bands.
All Photos © 2007, John Gallino, All Rights Reserved
The photos here are something different, though. They are the result of a trip last spring to Uruguay, where he visited family. "I made a little book of the photos and posted it to blurb.com...it's not a photo essay, but just a look at two towns, Montevideo and Colonia, and my family."
If you know a student whose work deserves recognition, contact our editorial department by e-mail at: editorial@shutterbug.com or call (321) 225-3121.
LATEST VIDEO