Student Union - Gabby Salazar
© 2002, Paul Salazar, All Rights Reserved
Southeast High School
Greensboro, North Carolina
Photos © 2002, Gabby Salazar, All Rights Reserved
Preserve Protect
Although Southeast High School offers a photo course, Gabby a sophomore, has learned her skills from her father, a professional photographer; by attending seminars and workshops with outstanding nature photographers like George Lepp and Rod Planck; and through her own efforts.

She plans to major in environmental studies in college--she hopes to attend Duke University--and will use photography in connection with her studies and her concern with environmental protection and preservation.

In 2001 she was one of 10 students chosen nationally for a North American Nature Photographers Association foundation scholarship, and in January, 2002, attended a week-long photography workshop at the NANPA Summit in Jacksonville, Florida.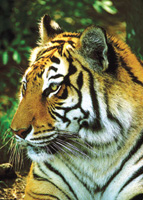 "Right now I'm working with NANPA's environment committee," Gabby says. "We're trying to put together a program to educate people about the environment, and we hope to use photographs by the members and by students in a slide show that we hope will travel the country and be shown to high school students."

Do you know a student whose work deserves recognition? If so, contact our editorial department by e-mail: editorial@shutterbug.net or call (321) 269-3212.

LATEST VIDEO