Sony Launches Compact and Lightweight 24mm F1.4 Prime Lens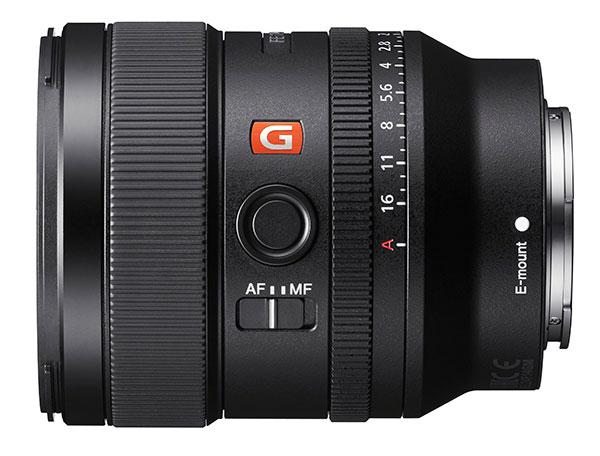 Sony just launched a new 24mm F1.4 prime lens in its G Master series for its full frame E-mount mirrorless cameras. Sony says the new FE 24mm F1.4 GM (model SEL24F14GM) is "the most compact and lightweight in its class," measuring approximately 3 inches x 3.64 inches, and a weight of 15.7 ounces, with a filter diameter of 67mm.
The lens is aimed at "landscape or photographers that are hiking, climbing or traveling over long distances," according to Sony, and is designed to complement Sony's well-reviewed A7 and A9 full frame mirrorless cameras. (Read our review of the Sony A9 here, our review of the A7 III here and A7R III review here.)
The Sony FE 24mm F1.4 GM features a new optical design comprised of 10 groups with 13 elements, including two XA (extreme aspherical) and three ED (Extra-low Dispersion) elements. The incorporation of two XA elements is designed to suppress sagittal flare to help ensure that point light sources such as distant stars can be accurately reproduced, making the FE 24mm F1.4 GM suited for astrophotography as well, Sony said. Sony's Nano AR Coating is designed to reduce lens flare and ghosting, including in landscape shots where the position of the sun can be challenging for a normal lens.
Sony has been able to achieve the lightweight design of this new 24mm F/1.4 lens because of the development of a new high power DDSSM (Direct Drive SSM) that the company says delivers "approximately three times greater thrust than the previous focus system, enabling fast response, high positioning accuracy and quiet operation for both stills and movie shooting."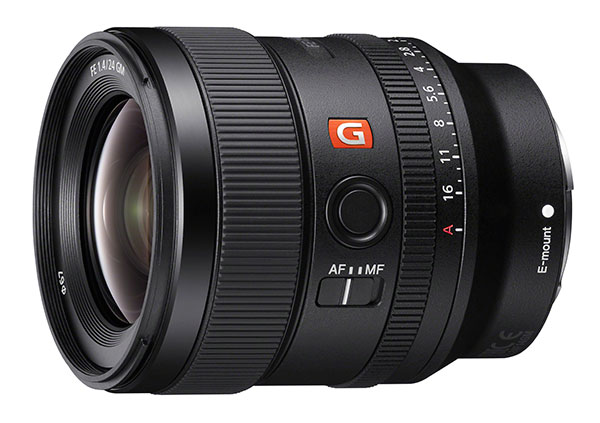 The new 24mm lens can also be used with Sony's APS-C sensor-based mirrorless cameras such as the A6500 and A6300 but at a 1.5x crop factor.
The new Sony FE 24mm F1.4 GM also has a close up performance of 0.24 meters (0.79 feet) and is designed to deliver soft and natural bokeh. This is achieved, Sony said, by "extreme control over factors like spherical aberration, and axial and lateral chromatic aberration, at the design and manufacturing stages, as each lens is individually tested and adjusted to achieve maximum performance."
The new Sony FE 24mm F1.4 GM also includes pro-level controls designed to aide ease of operation for both stills and movie shooting. These include an aperture ring that allows direct, intuitive aperture control, and a focus ring that features Linear Response MF for fine, responsive manual focus control. There is also a customizable focus hold button, and a focus-mode switch that makes it possible to quickly select auto or manual focus to match changing shooting conditions.
The Sony FE 24mm F1.4 GM will go on sale in October 2018 for approximately $1,400 US and $1,900 CA.

LATEST VIDEO