Social Media—A New Sales Strategy; Today It Takes More Than A Website
Today's new technology and social media are bringing a change to the business and marketing of photographic services. The question is—how can it work for you? It is a very different means—one that you join and participate in rather than direct and control, as you often can with your traditional marketing media. New technology and the changing and developing expectations of your clients are driving this change. As with every major technological change, it is up to you to figure out how to adapt and leverage these tools into new marketing resources.

To get a sense of how this might work for you I interviewed several photographers who are at the beginning of this process and several who are well advanced in this new technology. At the end of this column we will include all their communication links. The bottom line is that today there is more to marketing your photography than just having a website.

Shutterbug: What were your goals and expectations using new technology and social-media tools and how have they worked for you?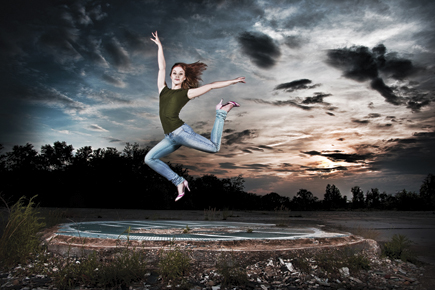 © 2009, Christopher Winton-Stahle, All Rights Reserved
Margo Taussig Pinkerton: Frankly, since this is new technology for someone my age, I didn't know what to expect. I was shocked to find I had well over 100 friends after barely a week on Facebook. We are using Skype to promote our business and it has been a boon for overseas travel and keeping in touch with friends "across the pond." It's so cheap! I'm not sure how Twitter is going to work, but I do tweet and have been told I'm being followed by a number of people. I get the most referrals to our website from LinkedIn, then from Facebook, and finally, from Twitter. It will be interesting to see how that develops over the coming months, as I do more active promoting on Facebook.

John Mutrux: I have been very reluctant to get involved with Facebook. I'm just not that crazy about everyone knowing what I'm doing all the time. That said, under intense family pressure, I have established a small Facebook presence. I find that it is interesting, on a personal level, but I haven't invited any clients except for a few who have become friends. Recently I got an iPod touch and am now experiencing the addictive nature of mobile e-mail and web access and the realization of how relatively scarce open Wi-Fi networks are.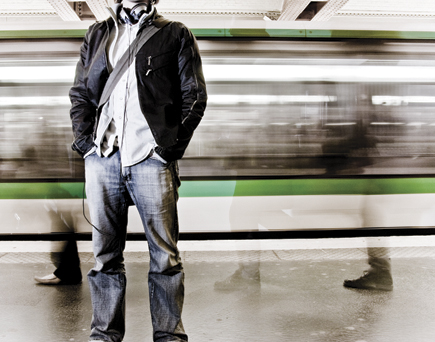 © Chase Jarvis, All Rights Reserved
LinkedIn is the one social-networking tool that I feel more or less comfortable with. I have built a modest network and find it useful to connect with some folks who are not that accessible otherwise. LinkedIn feels more sedate and professional, more compatible with my self-image, I guess. After all, I am a baby boomer, and seem to get reminded more and more of the fact of my "seniority."
Chase Jarvis: The concept of using these tools for "marketing" is the real discussion. It changes the marketing concept from selling to having a conversation. For me, it's the largest cocktail party on the planet and it's going on 24/7…you can step in the room and out of the room. It is fun when you're at a cocktail party to tell stories about what it is you are doing. In some cases it's more fun to really listen to what other people are doing and to ask them questions. Social media is an umbrella we can put all these tools under. It's a conversation and I'm listening and finding out about what other people are interested in. It's through that kind of "gift" economy, where I'm putting what I like out there and listening to the people who are following me, that an audience grows. And over time it's understandable a larger audience does give you this "marketing potential."
© Chase Jarvis, All Rights Reserved
Christopher Winton-Stahle: My goal has been to create a network of information about my company, my work, and myself. Every site that I have links to the other regardless of where you start. Potential clients who are interested in working with me can dig deeper by finding my links to LinkedIn, Facebook, and Twitter on my website and learning more about me. I began with my website because that is an online representation of my portfolio but I didn't have a good way of really making it "personal" and sharing with people who I am as a person.

I added a blog shortly after because it was a way to add something more personal and where I could let people know what was currently happening with my business. I specifically used Blogger.com software because of the way that it is identified by search engines and the traffic that it was more likely to get. Then I added a LinkedIn page as a way of connecting with professionals in the advertising community as well as with photographers who are members of the ASMP.
© 2009, Christopher Winton-Stahle, All Rights Reserved
Things really started happening when I set up a Facebook page. It has been a process of getting to know my clients as just people and establishing friendships with them. By taking an interest in their lives, I've been able to step beyond the role of "just a vendor" and into the role of being the guy who they can trust to call when they need to get something done. I have recently begun to use Twitter as well to send very brief little blurbs about work that I'm doing and linking it to my blog, which also links to my Facebook and LinkedIn pages. The business of photography is as much about who you are as a person as it is about what you can do with a camera or how you perform on a photo shoot. If people can see that you're a cool person and are going to be fun and easy to work with, then you're more likely to develop a following of people who want to work with you.
© 2009, Christopher Winton-Stahle, All Rights Reserved
Chase Jarvis: I really want to underscore the motive and the means rather than the end result. I think that's kind of the crucial distinction and it doesn't really get talked about enough. For me, it was the creative outlet at first and then my desire to share with the world what I have coined as "the black box of photography." Early in my career, I was criticized by a lot of the then high-end pros for revealing what historically had been considered trade secrets, but for me it was just kind of sharing what went into creating pictures. But when the social media really picked up speed, I was able to tell that story to a larger audience and then in turn that audience shared it with their friends and their family and collaborators. It is a new model for marketing photography that reflects the ability to self-publish your creativity and get it out there.
FEATURED VIDEO