Shooting Wildflowers At Anza-Borrego Desert
Anza-Borrego is reportedly the largest desert state park in the contiguous U.S. It contains 500 miles of dirt roads, two huge wilderness areas--comprising two-thirds of the park--and 110 miles of riding and hiking trails. If you enjoy photographing flowers, this park often yields a colorful display of annuals in the spring. Borrego Palm Canyon Trail is a popular trek, and baby ocotillo, Wishbone in bloom, Sacred Datura, Fillaree, Phacelia, and Barrel Cactus can frequently be seen.

Other points of interest include Butterfield Overland Stagecoach Road, the Carrizo Badlands, Font's Point, Split Mountain, and Seventeen Palms Oasis.
Tips From Local Photographer, Sam Webb
The 600,000-acre Anza-Borrego Desert State Park is a great destination for photographers. The vastness and stark beauty of this desert region, with its unobstructed views of distant horizons, can easily overwhelm you. Anza-Borrego is a very popular outdoor destination, especially during the spring wildflower bloom. These wildflower displays can blanket acres of sandy soil in and around the community of Borrego Springs, where the park's Visitor Center is located. Because of above-average winter rains, this year's wildflower display may be especially spectacular.
If you're looking for desolate desert landscape locations to photograph, you may want to leave the paved highway. The park has more than 500 miles of dirt roads that provide four-wheel drive access into the most remote locations. There are also many hiking trails that you can follow into rock-lined canyons or to palm oases or badland overlooks--all offer great photo opportunities.
The desert's vast vistas are a compositional challenge, best photographed during the early morning or late afternoon hours. The sun casts long shadows over the rocky terrain, which adds depth and contrast to your images. Desert plant life and wildflower photography can sometimes be done midday. I like to tightly crop my wildflower and cactus bloom close-ups, and include other natural elements such as rocks and dried wood in my photographs.
Getting There
Anza-Borrego Desert State Park is located on the eastern side of San Diego County, with portions extending east into Imperial County and north into Riverside County. It's about a two-hour drive from San Diego, Riverside, and Palm Springs. Many people approach from the east or west via Highways S22 and 78. From the coast, these highways descend from the Peninsular range of mountains with beautiful views of the great bowl of the Colorado Desert. Highway S2 enters the park from the south off Interstate 8.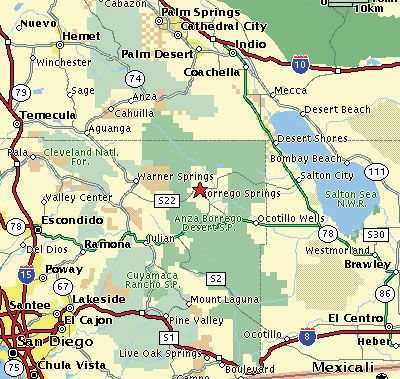 LATEST VIDEO