Rotolight Interview Lighting Kit: LED Lighting In Your Pocket
One trend much in evidence for lighting these days is the use of LED as a light source. Rotolight, distributed in the US by R.T.S. Inc. (www.rtsphoto.com), has several new products in this space, beginning with their RL48-B RingLight. As a continuous light source, the Rotolight is useful for video or still photography. The basic RL48-B includes a filter holder and a Lee Filters Calibration Filter Kit (CTO: 205, 223, and 285; ND/Diffusion: 298, 209, and 216).
This compact LED light source produces shadowless light at a default color temperature of 5600K (daylight) with 6300K, 4300K, and 3200K (tungsten) available by using the color correction filters. The RL48-B does not use a rheostat to control light output because the company feels that dimmers not only lower the light's intensity but also can affect color temperature. By using the bundled Lee Neutral Density filters (ND one stop, ND 0.5 stop, and 216 Diffusion Screen), Rotolight's RL48-B is controllable over a range of 1.5 stops.
Unlike the 55˚ coverage produced by some LED light sources, the LEDs used in the RL48-B have a wider 140˚ beam so that the light wraps around your subject. Because of this wide-angle source, the Rotolight can be mounted on your SLR's hot shoe to produce a shadowless ringlight effect without producing annoying redeye. Using continuous light sources like the RL48-B also maximizes the number of "open eye" shots for subjects who are prone to blinking during portrait sessions.
The Kit
The RL48-B is available as a single light but I tested Rotolight's Interview Kit that includes two RL48-B RingLights along with a Lee Color FX Filter Kit with eight Color FX filters (020 Medium Amber, 052 Light Lavender, 063 Pale Blue, 128 Bright Pink, 182 Light Red, 712 Bedford Blue, 730 Liberty Green, and 765 Sunlight Yellow) and two Cosmetic filters (184 Cosmetic Peach and 791 Moroccan Frost) for skin tone enhancement. The two stands included in the kit have a standard 1/4" tripod screwmount, allowing you to attach it to a tripod, light stand, rail system, or a camera's accessory shoe. A well-crafted storage pouch has a partition for the color effects filters, two lights and stands, plus a cell phone and six spare AA batteries. In addition to what's in the kit, Rotolight offers a full line of swivel mounts, clamps, and articulated arms that provide lots of flexibility when working with the system.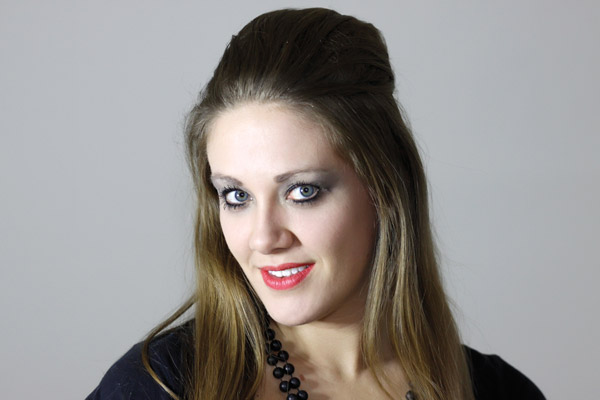 In The Studio
While the RL48-B is round, contains 48 LEDs (145 lux output, if you're counting) that fill the housing, and even has a hole in the middle, it's not really a ringlight in the classical sense where you can poke your lens through that hole. Nope, that hole was designed for a microphone when the RL48-B is perched atop a video camera. If you mount the light on your camera's hot shoe and use the included stand, a red aluminum drum uses that same hole to attach the stand to the light housing. The stand has two knurled plastic, adjustable collars that let you adjust its orientation to fit on the hot shoe but the stand I used had those collars so tightly meshed that it took two pliers—one on each collar—to break them loose.
Tip: A good but not overtly tight grip on those pliers is required so as not to damage the collar's knurling.
The RL48-B's main housing consists of three major components, a round shell that separates into two parts and a clear plastic protective cover that also serves as a filter holder. Assembling the light and putting it to work is simple. The front half of the shell contains the LEDs and opening the back half, where the color correction filters are stored, gives you access to the three AA batteries that power the RL48-B.
Tip: When mating front and back halves, gently rotate the back until you feel it hit an anchor point, and then lock it closed. It's a bayonet fit so don't try to force the back on or off. Then slip on the clear cover, positioning filters in place, if any.
According to specifications, the RL48-B's range is approximately 15 feet and after that light begins to fall off, so my tests were made of close-up and three-quarter length portraits. During the first session, I wanted to try to see if the unfiltered RL48-B produced true daylight color balance so I selected the one SLR (that I own) that displays the most neutral color balance on its LCD screen—the Canon EOS 50D. I started my initial tests by having model Amber Nicholson sit in front of my Multiblitz BD Silver Gray seamless paper background that is as close to 18 percent gray as I have in my studio.
Hopefully the magazine's reproduction will bear this out, but keep in mind that the final evaluation was done with a recently color corrected monitor: with the camera set for Daylight color balance the image appeared ever so slightly warm. When switching to Auto White Balance the background became perfectly neutral, but skin tones were somewhat cool, leading me to prefer the Daylight color balance setting for the rest of my shoots.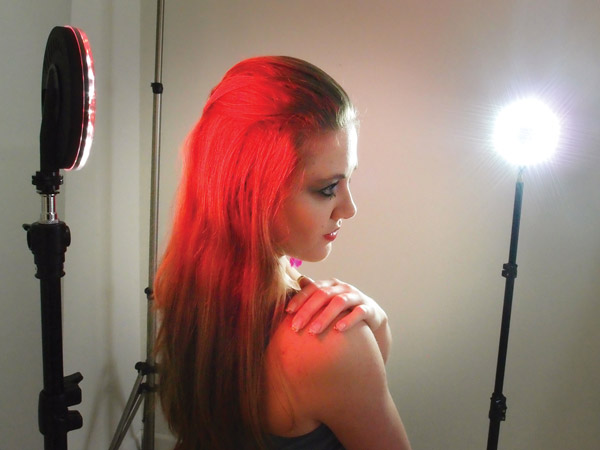 Tip: Before any serious work, you might want to shoot a test with your camera using the bundled Lee color correction filters to come up with a color balance combination that produces results that you like. Alternatively, you could just set a custom white balance with your camera; whatever works for you.
The use of small LED light sources like the Rotolights are not without a few adjustments to your normal way of shooting. As the state of the LED art changes, I'm sure this process will change, but right now high ISO settings and fast prime lenses are the name of the game. Photographers with the newest SLRs featuring noiseless high ISO capabilities should be able to jump in with both feet and just keep shooting. Others, like me, with slightly older gear, will need to find your SLR's high ISO/minimum noise sweet spot. For my initial tests with the EOS 50D I preferred shooting at ISO 640 in a relatively low ambient light environment. Again, make your own tests.
When working with the Rotolights the first thing I noticed is that there's no waiting time for a flash to recycle; I could just keep shooting. I initially found this odd and so did the first model I photographed with the lights, but we quickly embraced this new and faster style of working that encourages experimentation. For additional shoots with model Stevie Weisbeck, I felt liberated by the easy and quick method of working. For portraits of Stevie I took one Rotolight off the camera and moved it to a light stand so I could move both lights around.
I also found that instead of using neutral density gels to change the light's output it was easier and faster to simply move it closer or further away from the subject. Moving these small CD-sized lights around takes no time so set up takes you literally seconds. For run-and-gun photographers, time matters and I think wedding shooters in particular will like the Rotolight Interview Kit for creating moody, romantic portraits of the bride and groom on location.
The LED Revolution
Much as the use of speedlights revolutionized the way many photographers create portraits, I believe that small LED light sources like these from Rotolight will be a game changer because, for starters, you can buy two light sources in one fanny pack-sized kit ($395.99) for less than the cost of one high-tech speedlight. And because they are continuous light sources, you can see exactly what the final results will be. As a bonus your subject is more relaxed without flashes going off during a session.
Rotolight RL48-B Specs
Beam Angle: 140˚
Hot Light Equivalent: 80w
Color Temperature: 6300K, 5600K, 4300K, 3200K
Power: Three AA Batteries
Battery Life: Three hours, fours hours with lithium-ion battery
Weight: 6 oz/170 grams
Interview Kit Price: $395.99
Working with the Rotolight Interview Kit is the most fun I've had with any kind of lighting system while working on Shutterbug's Lighting Series. The Rotolight RL48-B is small, fun, and relatively affordable. What more could you want?
For more information, visit R.T.S. Inc.'s website at: www.rtsphoto.com.
FEATURED VIDEO