Revealing Their Inner Beauty; Tips on Photographing Special Kids Page 2
She also researched and wrote a book entitled, Photographing Children with Special Needs (published by Amherst Media), which is illustrated with beautiful images taken by many of SKPA's photographers, and serves as a guide for professional portrait photographers who want to photograph children with disabilities of all kinds. According to national census statistics, approximately 20% of the population has some sort of disability, so chances are that a certain percentage of a photographer's clientele will be disabled. "One of SKPA's objectives is to place one of these books in every professional portrait studio," Dórame states.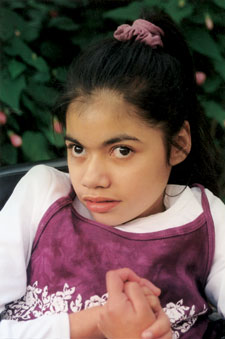 A photo of Vicki, cropped in tight to exclude her wheelchair.
Photo by Karen Dórame
She emphasizes that SKPA photographers are very caring people. "I've found that photographers who are successful love their job partly because the parents are so grateful." Parents enjoy having their child portrayed in a joyful moment. "It's a good idea to photograph a child enjoying an activity at his/her own level, even if it's sifting beach sand through their fingers." One of these images shows a child holding a doorstop, which is a "comfort" object, according to Dórame.

A Little Help From Their Friends
SKPA works with both Professional Photographers of America (PPA) and Wedding and Portrait Photographers International (WPPI). These organizations have both generously donated booth space to SKPA at their trade shows. On hand at various conferences and trade shows, Dórame actively promotes special kids photography. "We're encouraging photographers to learn about working with disabled children. We also ask organizers of national photography contests to consider adding a category to include pictures of kids with special needs."

"Our organization is continually growing," says Dórame. "I've found that a lot of young photographers just getting into the business are interested in working with special children." At one PPA show, she says, a photographer stood looking at the SKPA booth. When Dórame asked her what her photo specialty was, she replied that she didn't ordinarily like working with children, "but I want to work with these children."

SKPA is sponsored by Epson America Inc., which has donated compact digital cameras, printers and ink; Burrell Labs; Miller's Professional Imaging; Pacific Life Foundation; WPPI; PPA; and is endorsed by American Society of Photographers. Dórame is currently seeking more grants, and wants to further develop SKPA's "Smiles for Katie" program, whereby financially strained families can get photo sessions for free or at a reduced cost.
Ryan in a tub of balls. Since he won't hold still, this is the only one of 24 pictures shot during that session that show his face.
A Captured Moment
SKPA is dedicated to a great cause in providing photographic services for children with special needs. The beautiful images of these children, captured by talented photographers, definitely speak for themselves. "People don't realize how endearing a photo can be of a child enjoying life, if only for a moment," Dórame comments. And it's wonderful when a photographer can capture one of these moments that's immortalized in a portrait on a family's wall.

For more information on SKPA, visit their Website at www.specialkidsphotography.com.

FEATURED VIDEO