Portable Power For Flash: Energize Your Lighting Anywhere And Everywhere
Whether working with a shoe-mount, bracket-mount, or studio flash, there are decided benefits to working with a portable, external power supply. Added to a conventional shoe mount or handle mount, the external battery pack increases runtime and shortens recycle times.
For the studio photographer on location or shooting environmental portraits, connecting a studio strobe to a battery pack, battery-driven power pack, or pure sine wave inverter frees one of the constraints of plugging into an AC outlet and worrying about tripping circuit breakers or blowing a fuse, and it removes wires that could prove hazardous (combined with wireless syncing of the flash, I might add). And wedding and event photographers who rely on portable strobes that run entirely on external battery power are well familiar with the benefits—power that lasts and keeps pace with the event. There are countless choices, whether you're just starting out or looking to upgrade or expand your lighting system.
And if you're concerned about carrying the pack: battery packs for on-camera flash are easily carried in a standard camera bag and, when in use, are usually worn by means of the provided belt loop/clip or shoulder strap. Battery packs and inverters for monolights may be small enough to be hung from or clamped to the light stand supporting the flash head, although more robust battery-driven power packs need to rest on solid ground. Note: Many studio strobe battery-driven systems are sold as kits that may include a flash head/monolight or two.
In this article I'll provide a summary look at different types of portable power for specific uses and appropriate units within that category. I have provided a contact resource list at the end so that you can contact the manufacturer via their website for more information. Prices shown are MSRP or those available at reliable outlets.
Cluster Packs For Shoe Mounts
The cluster pack is the most basic option in external power for popular shoe mounts. It consists of a simple enclosure that houses a cluster of between four and eight batteries (rechargeable or single-use, usually AA-type cells). This external battery pack operates in tandem with the flash unit's internal (primary) batteries.
Why do you still need batteries inside the flash? Without the primary batteries, you lose control over electronic/motorized flash functions, namely TTL operation and power zooming—and you're pretty much dead in the water. The external pack charges the capacitor and drives light output, doing so with greater consistency over longer periods of time and with shorter recycling times, compared with using primary batteries alone. To ensure reliable flash operation, use fresh batteries inside the shoe mount.
Resources
Canon Compact Battery Pack CP-E4 ($149): Compatible with Canon Speedlites 580EX/EX II and 600EX-RT, Macro Ring Lite MR-14EX, Macro Twin Lite MT-24EX, and selected other models; requires eight AA batteries.
Nikon SD-9 High Performance Battery Pack ($199): Compatible with Nikon SB-900 and SB-910 Speedlights; operates on four or eight AA batteries.
Pentax TR Power Pack 3 ($139): Pack exclusively for Pentax AF540FGZ flash; uses six C-size alkaline batteries.
Phottix 8 AA Flash External Battery Pack ($69): For Canon or Nikon (each provided with dedicated cable); uses eight AA batteries.
Pixel Flash Power Pack ($95): For Canon, Nikon, or Sony (each with dedicated cable); employs dual clusters for a total of four or eight AA batteries (eight cells providebetter performance).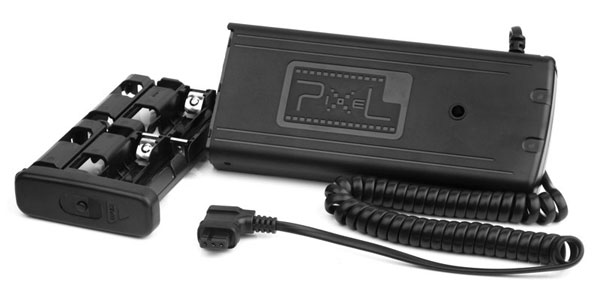 Sony FA-EB1AM External Battery Pack ($189): Compatible with Sony HVL-F60M, HVL-F58AM, and HVL-F56AM; uses six AA batteries.
Compact Rechargeable Battery Packs: Portable Flash
A more efficient option employs a single rechargeable battery module (cartridge) in a sealed or user-accessible enclosure. These packs offer the best performance in terms of runtime and recycling (performance varies with battery type, freshness, and your device). They are initially costly but more convenient long-term, and potentially more cost-effective in the long run. One battery pack can be used with a range of flashes (for example, Nikon and Canon), provided you have the right cable (which may be included or optional). The battery inside the housing may be user-replaceable, even hot swappable for uninterrupted use.
Normally, these packs operate in tandem with the primary batteries inside the shoe mount, as with cluster packs. However, these same packs, or close cousins, can also drive a number of bracket/shoe-mount strobes and monolights without internal batteries. Battery-driven strobes from Lumedyne, Quantum, Norman, Dynalite, Calumet, and Phottix come to mind.
The rechargeable chemistry employed may be Lithium-Ion (Li-Ion), Nickel Metal Hydride (Ni-MH), Nickel Cadmium (NiCd), or sealed lead acid/gel cell. Of these, NiCd has largely been overshadowed by newer technologies, but is still in use. While still a strong player in the field for its robustness and reliability, lead acid is now largely giving way to Li-Ion. Li-Ion is arguably the best overall, with the longest charge life cycle, ease of use, and dependability, while Ni-MH, its closest contender, remains reliable and widely available.
Some packs accept as many as two flashes. However, attaching two flash units will reduce the available number of pops and increase recycle times for both. (This applies to battery-driven studio lighting systems as well.)
Resources
Calumet Genesis PowerPort Duo 1000 ($449): Swappable Li-Ion; supports Genesis GF200/400, Canon, Nikon, Sony, and Metz with optional cables; dual sockets for two flashes. Also available: Speedlight Powerblock 900 Ni-MH battery pack for Genesis Speedlight, Canon, Metz, Nikon, Quantum, and Sony.
Dynalite Jackrabbit Pack II ($459): Ni-MH battery powers (via optional cables) Canon, Metz, Minolta, Nikon, Sunpak, and Vivitar flashes, as well as Dynalite's UNI400JRg monolight; dual sockets for shoe mounts.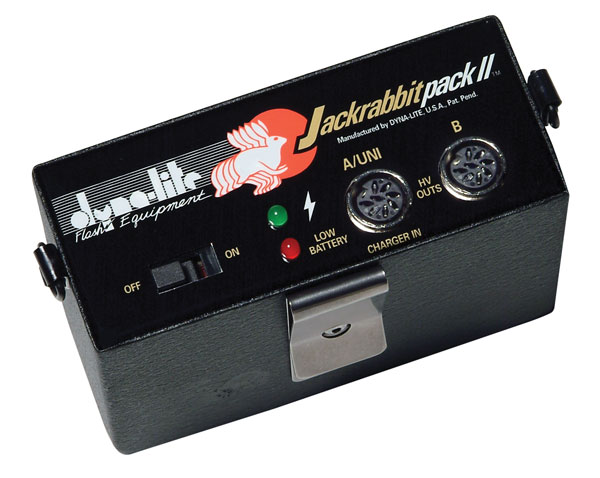 Lumedyne HV Tinycycler ($360): NiCd, with optional Canon/Nikon/Metz/Sunpak/Vivitar cables; charger sold separately. New X series (Li-Ion, charger included) is small and light enough to connect to applicable Nikon/Canon flash unit directly, sans cable or external support.
Metz P76 NiMH Power Pack Set ($429): Ni-MH; works with 76 MZ-5, 45 CL-4 Digital, 70 MZ-5/4, and 54 MZ Series, via optional dedicated cables.
Nissin Power Pack PS 8 ($249): Swappable Ni-MH battery; includes dedicated cable for Nikon, Canon, or Sony; dual sockets for two flashes; power output control (to minimize single-flash overheating and optimize dual-flash use).
Norman 400B Kit ($1449): Includes 400 ws flash head, reflector, two batteries, cable, and charger; NiCd. Also available configured with modeling light and PocketWizard.
Phottix PPL-200 Power Pack ($219): Ni-MH battery; features dual sockets (second cable optional). Specify cables for selected Nikon/Canon flashes; separate cable for Phottix PPL-200 and PPL-400 mobile strobes.
Quantum Turbo SC ($351 w/dedicated cable): Ni-MH; Turbo battery packs support a wide range of flash gear (consult website), along with Quantum's own flash units; theyfeature a fuel gauge to monitor remaining power. The SC is pocket-size; the larger, two-outlet Turbo 3 is for more demanding applications.
Battery Power: Mobile Studio Lighting
Photographers employing larger, often more cumbersome and more demanding studio strobes while shooting on location have often relied on a gas-powered generator when an AC outlet was unavailable. But if you don't want to deal with gas generators, there are choices centered on battery power for both monolights and power pack systems.
On location, specially designed AC/DC monolights can be powered by an external rechargeable battery pack; in some instances, the same battery pack as used with shoe mounts (see above). Normally, an AC monolight is self-contained, requiring only an AC outlet for power. Negatives associated with the battery-dependent arrangement are that a compact light source has suddenly grown more burdensome with this added component and the flash may be scaled down feature-wise (compared to AC units of similar watt second rating from that manufacturer). The battery pack normally supports one monolight, although some will drive two strobes.
The most expensive, and often mostversatile, option is a battery-driven (DC) power pack system. These packs are largely identical to their AC cousins, with a few limitations.
DC packs are often bulky and heavy, with controls residing in the black box. These packs may drive as many as two flash heads and offer a choice of symmetric or asymmetric (weighted more to one head) power distribution. As is true for monolight battery packs, the battery module is usually user-replaceable, often hot swappable, so you can keep working while swapping out a discharged battery. In fact, where applicable, keep a spare, freshly charged battery handy on extended shooting assignments.
Use of a modeling light, where it applies, should be restrained on both battery-driven monolights and DC power packs. Some systems employ LED modeling for this reason.
Resources
Bowens Gemini Travelpak (small: $549 with control panel/two cables): Swappable gel cell battery; 3000 ws power pack powers up to two Gemini monolights.
Broncolor Move 1200 L Kit ($6394 w/MobiLED): Relatively lightweight Li-Ion power pack; 1200 ws; supports two heads; symmetric/asymmetric power output; LED modeling light.
Calumet Genesis B Power Port ($209): Swappable Ni-MH with low-voltage protection alarm; operates with Genesis 300B monolight.
Denny Manufacturing Zap Pac DC Power Pack ($211): Swappable lead acid battery pack designed to drive Denny Zap Pac monolights (battery pack included in kits).
Elinchrom Quadra Ranger RX Hybrid ($1649): Lightweight, swappable Li-Ion 400 ws power pack; built-in radio sync; asymmetric power distribution/two sockets; LED modeling lamp. Also available: gel cell version; Ranger RX (lead acid).
Flashpoint DG Battery Pack and Charger ($129): Swappable Ni-MH; for Flashpoint DG-series monolights. Also available:
Flashpoint 180 Monolight Kit with Li-Ion battery pack.
Hensel Porty L 1200 Power Pack ($3295): Relatively lightweight 1200 ws Li-Ion power pack; symmetric or asymmetric power output; supports two heads; integrated radio remote. Also available: Porty Premium Plus (gel cell).
Interfit Stellar Xtreme Battery Pack ($109): Ni-MH; powers Stellar Xtreme 150 or 300 ws monolight.
Multiblitz Propac 1 Battery Kit ($1049, with battery, charger, and cable): Relatively lightweight lead acid pack supports two Profilux Plus monolights to 1600 ws total; auto-off modeling light function preserves battery life.
Photoflex TritonFlash Power Pack ($529): Lightweight, swappable Li-Ion battery; drives TritonFlash and optionally Nikon/Canon flashes; dual sockets; 10-second modeling light preview.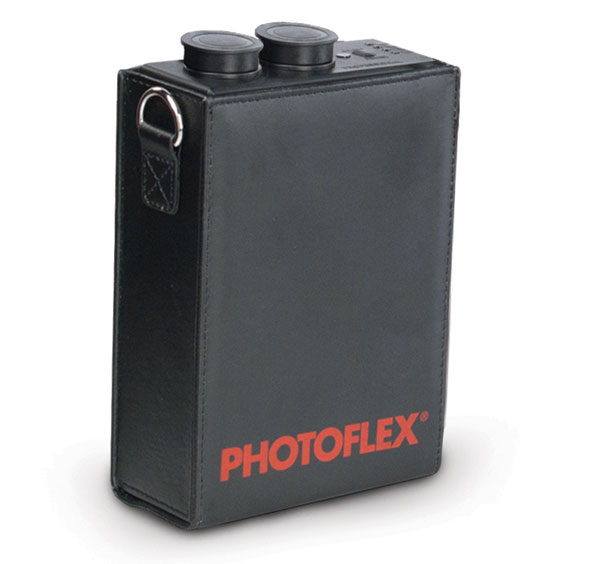 Profoto AcuteB2 AirS Li ($2471): Lightweight, swappable Li-Ion power pack; 600 ws; integrated radio sync. Also available: Pro-B4 1000 Air (Li-Ion).
Speedotron Explorer 1500 Digital ($1769): Swappable Juice Box (lead acid pack); 1500 ws; dual sockets; symmetric/asymmetric power distribution; supports all Black Line lights.
Pure Sine Wave Inverters
Last but not least is the pure sine wave inverter, which takes battery power and effectively converts it into household AC current. Think of it as an AC outlet away from home, into which you can plug any AC monolight/power pack—or for that matter, practically any electrical device that does not exceed the specified wattage (not watt second) limitations. A pure sine wave inverter for studio flash may have as many as two AC outlets. The battery module is user-swappable, so you can keep a fresh battery on hand. Some inverters will even power or charge a smartphone or tablet via a special USB terminal.
Aside from wattage, there are practical limitations on how many watt seconds you can run off an inverter, especially when driving more than one flash head or power pack. But keep in mind that the higher the watt seconds or the greater the number of attached monolights, for example, the fewer pops delivered per head. Expect longer recycling times, just as with any battery-powered device. And as with any DC-driven lighting system, minimize use of modeling lights to prolong battery life.
(Notes and cautions: To ensure reliable operation of the inverter with electronic flash, do not use a "modified sine wave inverter," or any type of inverter other than "pure sine wave." Firing a single flash with ultra-fast recycling or driving two powerful strobes may adversely impact the inverter, causing it to shut down, unless the inverter is specified to handle such loads. Also, non-OEM microprocessor-controlled monolights or power packs may not work properly with all inverters—verify prior to use.)
Resources
Dynalite XP-800 ($999): Li-Ion; three AC outlets; three USB ports.
Hensel Visit MPG 1500 ($939): Gel cell; two AC outlets.
Paul C. Buff Vagabond Mini Lithium ($239): Li-Ion; compact and lightweight; two AC outlets; USB port.
Photogenic ION ($399): Li-Ion; compact and lightweight; two AC outlets; USB port.
Profoto BatPac ($1832): Sealed lead acid; two AC outlets drive Profoto D1 monolights or Profoto Acute2 power pack.
Safety First: External Battery Packs
Observe these important points when using an external battery pack for your shoe-mount flash.
1. Only flash units with a power input terminal (outlet) let you connect a battery pack.
2. Battery packs may require different dedicated cables for different models or series of flashes, even from the same manufacturer. When ordering a battery pack, make sure the appropriate cable is included or optionally available for your flash.
3. The caution against overheating a conventional shoe-mount flash with repeated firing in rapid succession, especially at full power, also applies when using an external battery pack, regardless of the type of pack employed.
Maintenance & Travel
Numerous variables affect battery performance: the type of cells used, output voltage, capacity (the mAh rating, applicable to rechargeables), ambient temperature, and freshness/charge state. Here are some battery use and care tips:
1. Rechargeables (especially nickel metal and lead acid) work best when they are used and charged regularly.
2. Never allow any rechargeable battery to be fully drained of its stored energy for any length of time, or it may become unusable.
3. Store batteries in a cool, dry place, but don't refrigerate so as to avoid condensation and its deteriorating effects. Check and clean (by buffing) battery terminals regularly. If corroded, discard, and check that battery compartments have not been damaged by leaking batteries.
4. Before departing for the airport, check the TSA guidelines regarding carrying batteries in and outside equipment, in carry-on and checked baggage at www.tsa.gov/traveler-information/safe-travel-batteries-and-devices.
Contacts
Adorama (Flashpoint): www.adorama.com
Argraph (Pixel): www.argraph.com
Bowens: www.bowensusa.com
Calumet: www.calumetphoto.com
Canon: www.usa.canon.com
Chimera Imaging Solutions (Hensel): http://chimeraimaging.com
Denny Manufacturing: www.dennymfg.com
Dynalite: www.dynalite.com
Elinchrom: www.elinchrom.com
Hasselblad Bron Inc. (Broncolor): www.hasselbladbron.com
Hensel: http://usa.hensel.eu/
Interfit PHOTOGRAPHIC: www.interfitphotographic.com
Lumedyne: www.lumedyne.com
MAC Group (Bowens): www.macgroupus.com
Manfrotto Distribution (Elinchrom, Metz): www.manfrottodistribution.us
Metz: www.metz.us
Multiblitz: www.multiblitzusa.com
Nikon: www.nikonusa.com
Nissin DIGITAL: www.nissindigital.com
Norman: www.normanlights.com
OmegaBrandess (Phottix): www.omegabrandess.com
Paul C. Buff: www.paulcbuff.com
Photoflex: www.photoflex.com
Photogenic: www.photogenic.com
Profoto: www.profoto.com
Promark Brands (Norman, Photogenic, Quantum, Speedotron): www.promarkbrands.com
Quantum: www.qtm.com
Ricoh Imaging (Pentax): www.us.ricoh-imaging.com
Sony: www.sony.com
Speedotron: www.speedotron.com
All photos courtesy of manufacturers/distributors.
FEATURED VIDEO