Photo Trekking; A Traveling Photographer's Guide To Capturing Moments Around The World
The following is an excerpt from Photo Trekking: A Traveling Photographer's Guide to Capturing Moments Around the World (ISBN: 978-0-8174-3280-5). Copyright © 2010 by Nick Onken. Published by Amphoto Books, an imprint of the Crown Publishing Group, a division of Random House, Inc.—Editor
Khustain Nuruu, Mongolia
The presence of people adds human interest to a landscape. Somehow, though, seeing this teenage shepherd working in the vastness of the Mongolian steppes doesn't make the landscape seem any less empty and inhospitable; in fact, his presence only illustrates the loneliness of the setting, enhanced all the more by the harsh light.
Canon EOS-1Ds Mark II, 70-200mm F2.8 L IS lens, focal length 200mm, ISO 100, 1⁄640 sec. at f/2.8
All Photos © 2010, Nick Onken, All Rights Reserved
Planning Your Images In Advance
Allow yourself the luxury of learning about the places you will be shooting. You have no end of resources—travel magazines, travel sections of newspapers, and guidebooks, for starters. A trip to a well-stocked bookstore or a library should immerse you in a wealth of information. Of course, a little Internet research will also be useful, and you will find thousands of images online.
Landscapes and Cityscapes. By looking at photos and maps, you can get to know a place in advance. You will notice features that you will want to capture, and you may be able to determine some interesting angles and locations. Try to look at photos of a landscape or cityscape taken at different times of the day, in various lighting conditions, and from various vantage points to determine how you can capture the effect you are trying to convey. Google Earth is an excellent place to check out locations ahead of time. You can zoom into remote locations and sometimes view photos that people have taken from the area. I use this quite often when researching a destination.
Tuscany, Italy
Buildings in rural landscapes can be especially evocative, and how you shoot them, as well as the light, will create a mood. The old farmhouse in Tuscany would be inviting in bright sunshine, but in this low light it seems a bit forbidding. The post-sunset light brings the scene to life and gives it a dreamy mood.
Canon EOS-1Ds Mark II, 50mm F1.4 lens, ISO 400, 1⁄250 sec. at f/1.4
Paris, France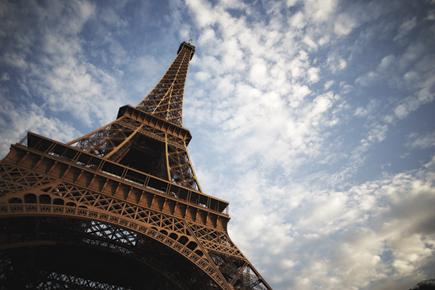 An unusual angle makes this shot of the Eiffel Tower a lot more interesting than it might have been, showing off the handsome steelwork and overall elegance of the design. A blue sky laced with fleecy clouds provides an enticing canopy.
Canon EOS-1Ds Mark II, 20mm F2.8 lens, ISO 100, 1⁄320 sec. at f/2.8
Paris, France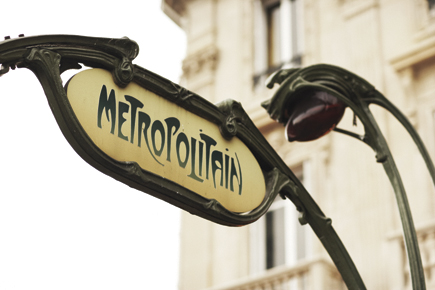 These famous Metro signs are symbols of all things Parisian. I kept this one in sharp focus to stand out against the blown-out sky beyond. Meanwhile, the blurred presence of the handsome, cream-colored, typically Parisian building in the background and the slightly out-of-focus detail to the right of the sign lend a dreamy sense to the elegant city.
Canon EOS-1Ds Mark II, 70-200mm F2.8 L IS lens, ISO 400, 1⁄1250 sec. at f/2.2
FEATURED VIDEO