Photo Trekking; A Traveling Photographer's Guide To Capturing Moments Around The World Page 2
Distinctive Locales. With a little research, you can determine in advance the parts of a city where you are likely to find especially distinctive architecture, which parts are industrial or historic, where ethnic enclaves are located, and what some particularly good viewpoints are.

Landmarks. Travel photographers often look at world-famous landmarks with dread, and understandably so.
Valencia, Spain
Just because a landmark is old or imposing does not mean your image has to be staid and traditional. An image of this monument, shot through a car window, shows a dynamic, off-kilter perspective and the spontaneous feeling that I am catching it on the fly.
Canon EOS-1D Mark II, 20mm F2.8 lens, ISO 400, 1⁄3200 sec. at f/2.8
These famous sights have been photographed so many times and appear in so many millions of mundane snapshots that any image, no matter how excellent, runs the risk of seeming clichéd. An imaginative composition, however, can help ensure the viewer sees the landmark in a new light. In a way, the popularity of these spots can be helpful, because you can look at dozens of images to become familiar with the subject before you arrive and begin thinking about photographic approaches. Look at photos to determine the what-ifs, such as:
• What if you shot that famous view
• What if you tried capturing different lighting effects and colors throughout the day?
• What if you used a zoom lens to capture specific features?
• What distinctive shapes and textures emerge when you look at the landmark?
Berlin, Germany

Rio de Janeiro, Brazil

(Left):The trick with this shot of Berlin's Museumsinsel was to find the angle from which the architectural features looked the most interesting. This view from across the River Spree captures the shiplike presence of the rotunda and takes in the Fernsehturm, a television tower erected in communist East Berlin in the 1960s, in the background. The presence of old and new in one shot captures the spirit of this city, which is both a bastion of old Europe and brashly contemporary.
Canon EOS-1Ds Mark II, 50mm F1.4 lens, ISO 100, 1⁄1250 sec. at f/3.5
(Right): Surf, clouds, mist, and bodies in motion all add interest to an age-old favorite for photographers, Rio's Ipanema Beach. The trick is to make it seem fresh to someone who's looking at your work. I love how the wave over the guy's head echoes the cloud over the peaks in the composition.
Canon EOS-1Ds Mark II, 70-200mm F2.8 L IS lens, focal length 90mm, ISO 400, 1⁄250 sec. at f/2.5

San Francisco, California
The challenge here was to show the Golden Gate Bridge in a way that does not seem clichéd, but at the same time to capture the romance this landmark evokes no matter how many times you've seen it.
Canon EOS-1Ds Mark II, 50mm F1.4 lens, ISO 400, 1⁄2000 sec. at f/2.8
Creating A Photo List
Once you begin to get a general idea of what you might want to shoot, you can compile a comprehensive list. This needn't be exhaustive and certainly isn't inflexible, but a list will give you an idea of the extent of subjects you might be dealing with and how to organize your shoot. Most important, you will be able to think about locations and how to organize your time. Where are the various shooting locales? Which ones are close together and can be shot at the same time? Which are far-flung and will require some time to reach—and how will you reach them? In short, you should be able to come up with a rough shooting schedule that will help you make the most of the limited amount of time you have to shoot. As you work on your list, here are a few things to keep in mind:
• Plan around the light. I like to shoot during sunrise and sunset hours, especially when the location is a wide-open space.
• Be realistic. Give yourself plenty of time to explore a location, observe, and shoot thoroughly.
• Account for travel time. Remember, you'll have to get from place to place. Make things more efficient by learning in advance how to move around.
• Have alternatives. When planning an outdoor shot, consider the possibility of rain. Is there an interior shot you can do nearby while waiting for the weather to clear?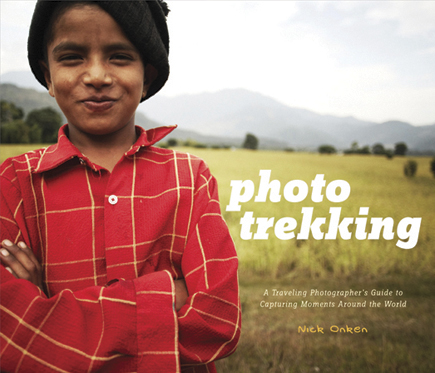 Photo Trekking is available for sale at Amazon.com, Barnes & Noble, Borders, and wherever books are sold.
Nick Onken
Nick Onken loves to take photos. He has traveled the world to produce stunning images for such clients as Nike, Bank of America, and Lamborghini, as well as nonprofit organizations and publications. His work has been published in such magazines as Marie Claire, Seventeen, Cosmopolitan, Smart Money, and elsewhere. Onken lives in Brooklyn, New York. To learn about his work and insights, get photo tips, and read his blog, visit www.nickonken.com. For live updates, follow him at: www.twitter.com/nickonken.
FEATURED VIDEO