Photo Lighting Tips: Here Are Our Favorite Lighting Tools and Techniques
"Photography is all about light, composition and, most importantly, emotion."—Larry Wilder
"Light is light," as a wise photographer once told me, and the equipment you use to illuminate a subject may be less important than how you use it. That's because the most important characteristics of any light source are quantity, quality, color, and direction.
The particular hardware you use can also be influenced by where a portrait is made—on location or in the studio—but these four factors still have an impact on creating the final image. It's obvious that LED studio lighting as a trend isn't going away anytime soon but just because something is trendy doesn't mean there aren't useful alternatives.
This month I'll introduce you to a few, including a surprisingly inexpensive speedlight.
LEDs: The Current Trend
We know all the cool kids are using LED lighting and why not. It's continuous, cool in temperature, and ideal for hybrid photography. All the LED lights I've tested claim to be daylight balanced but we know daylight comes in all kinds of colors. Tip: To check color, use a pocket diffraction grating spectroscope to analyze the quality of LED lights. These are used by rock and gem collectors and are available on eBay for $30 to $50.
Rotolight's AEOS ($995) is a thin—less than an inch—LED light designed for video and portraits and features a combination of continuous and flash lighting. The AEOS produces a color temperature adjustable flash at 200 percent of the maximum continuous light output with, get this, no recycle time. Continuous light output is 5750 lux at three feet and can run for three hours at full power on a single 95W battery ($299).
The AEOS has built-in aluminum handles, allowing you or an assistant to hold the light at angles not possible with light stands. Instead of a traditional yoke, the AEOS has a solid aluminum ball head that provides 360-degree rotation and 200 degrees of tilt.
Like the Anova I previously tested, it has True Aperture Dimming that calculates and displays apertures for subjects at a given distance, eliminating the need to meter. The AEOS also uses Rotolight's AccuColor LED phosphor technology to deliver a CRI of 96+.
Who's It For: Location, studio, and hybrid shooters looking for a powerful continuous color correct light source that also delivers flash capability.
Why I Like It: I've been using Rotolights since their RL48-B and have always been impressed by their engineering and build quality.
LEDs in a Small Package
One of the laws of lighting is that the bigger a light source is, the softer it is. Conversely, the smaller it is, the harder it is. However, real-world considerations sometimes dictate that a small source is the best choice to add a missing bit of light. Here are two cases in point.
PRL Lighting's Lustra 50 ($425) provides continuous, full-spectrum lighting flicker-free at 1200 lux at five feet with a 100 percent dimming range. Each light comes with a 12V power supply and incorporates circuitry for portable power via a Sony NPF L-series 7.2V DV battery ($123).
Options include the Lustra 50 SofBox ($70) and the Lustra 50 FilterSet ($40), which includes three filters that can be used to improve color rendition. Since high ISO performance continues to improve with each new camera model, using high ISOs with small LEDs doesn't create the noise problems of the past.
Savage's Luminous Pro LED light ($107) is designed for photographers and videographers and uses 204 LEDs to produce 1440 lumens with a color temperature that's adjustable from 3200K to 5400K. The included Sony battery provides a three-hour runtime at full power or you can use the 4.5-foot AC adapter power cord.
Multiple LED lights can be connected with the optional Multi-Light Connector Two-Pack ($8) that connects several lights and can pivot up to 15 degrees to produce wraparound light. I recently received a Luminous Pro LED for testing and will be featuring it in an upcoming post on my blog.
Who's It For: Still photographers and hybrid shooters who do lots of location work may find that one of these compact LED lights is what they need to solve tricky lighting problems.
Why I Like It: When it comes to gear, I prefer smaller to larger. The Luminous Pro LED weighs less than two pounds, while the Lustra 50 is 15 ounces.
The Affordable Fluorescent Lighting Option
The trend of using continuous light sources for portraiture continues unabated with the popularity of fluorescent lighting kits like Flashpoint's 2-Light SoftBox Kit ($84). Using fluorescent lighting to photograph people has a negative connotation to some but RGB spikes from fluorescent light closely match the receptive spikes of imaging chips.
When comparing it to tungsten lighting, which is 93 percent heat and 7 percent red light, fluorescent easily comes out the winner. With no speed rings to align with rods, Flashpoint's 20x27-inch softboxes are easy to assemble and use 70W fluorescent bulbs rated at 5500 degrees Kelvin, producing 350 watts of output (Flashpoint claims). The kit includes 6.5-foot light stands and a carrying case.
Who's It For: Beginning photographers who want to shoot portraits without breaking their piggy banks.
Why I Like It: The kit is affordable, simple to use, and you can use your camera's built-in meter to determine exposure.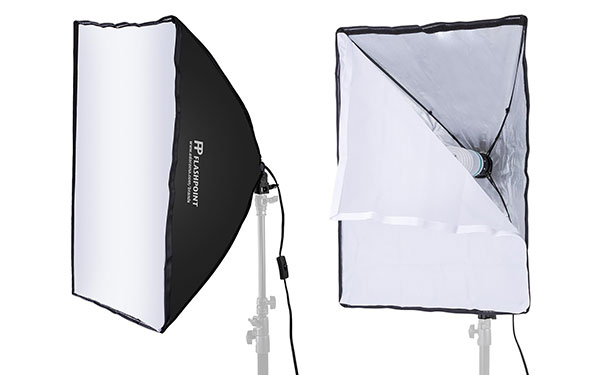 The Classics: Monolights
The original AlienBees monolights are compact, colorful, and built to high standards. Even though Paul C. Buff is no longer with us, the company hasn't lost his commitment to excellence. The DigiBee is a digitally controlled monolight available in two versions: the 160 Ws DB400 ($309) and the 320 Ws DB800 ($349). Each unit has an LED modeling lamp and offers consistent output, short flash duration (1/1450 or 1/975 second), and fast recycle (0.5 or 1 second).
The polycarbonate housing is fan cooled and available in red, black, blue, and a decidedly alien green. The DigiBee has a port for a CyberSync CSXCV Transceiver ($29), allowing the unit to be triggered and/or controlled wirelessly by the company's wireless system. A digital interface adds visual and/or audible recycle indication, slave eye on/off settings, and four modeling light modes (on full, off, flash power tracking, and independent adjustment).
The DigiBee is compatible with Buff's line of reflectors, softboxes, umbrellas, and light stands. It has a 15-foot AC power cord or can be used with the company's Vagabond portable battery systems.
Who's It For: Photographers looking for a quality monolight at an affordable price from a company with customer service that rivals Nordstrom.
Why I Like It: I've used Buff monolights since the original "paint can" White Lightning monolight and they've never let me down. Right now a red DigiBee is the workhorse monolight in my home studio.
If you're looking for something more sophisticated, Buff's Einstein ($499) has a nine-stop range from full (640 Ws) to 1/256 power that's adjustable in 1/10-stop increments. In Constant Color mode, the color temperature is constant at 5600 degrees K (+/- 50 degrees K) at any power setting. In Action mode, the flash duration is minimized with color consistency secondary to freeze motion. When shooting action, the power reduces to 1/10 power (64 Ws) to allow bursts of 5 to 10 frames per second.
The Einstein includes a built-in slave and may also be wirelessly fired from the optional CyberSync CSXCV Transceiver, Cyber Commander ($179), or third-party radio triggers. An internal fan with internal heat sensors and circuit fault detection assure reliability and a built-in microSD card is used for firmware upgrades.
Who's It For: Budget-minded photographers who would rather pay for a quality product instead of lights carrying a big name and a big price tag.
Why I Like It: Buff's Einstein is an alternative to fancy studio monolights that cost four times as much.
Speeding the Light
I am of two minds about speedlights: I see their versatility and ability to provide a TTL lighting solution but they seem needlessly complicated and expensive. A Nikon SB-5000 AF Speedlight costs $596, while a Canon 600EX II-RT Speedlite is $579. Yet virtuosos, like my friend Barry Staver, make speedlights do some amazing tricks. It was this same photographer who introduced me to Yongnuo Speedlites that, despite the exotic name, are available from Shutterbug advertisers.
While the company makes TTL models for Canon and Nikon, the manual YN560-IV Speedlite ($69) has both a 2.4 GHz wireless radio transmitter and receiver and is capable of triggering other flashes from up to 328 feet away as well as being triggered by the RF-603 wireless transmitters ($29) or controlled with the YN560-TX Manual Flash Controller ($39). The YN560-IV has a guide number of 190 at ISO 100 and 105mm, and its output can be adjusted from 1/1 to 1/128 power in 1/3 and 1/2 EV steps. And yes, those prices are not missing any digits.
Who's It For: Any photographer on a budget who wants to use speedlights and isn't afraid of a little math.
Why I Like It: On my to-buy list because of their simplicity, affordability, and versatility.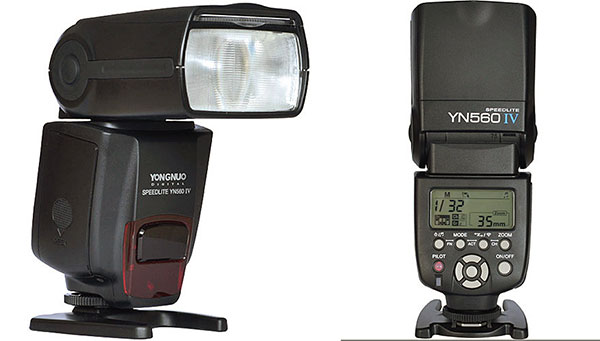 The FourSquare family of light banks is designed for use with speedlights and includes 20-, 30-, and 48-inch models. Measuring 48-inches square at the front screen, the FSK48 ($319) is a big light bank that's perfect for shooting portraits, either full length or headshots. The FSK48 is only 20-inches deep so it can fit in tight places and breaks down to a mere 20-inches long.
A radio receiver can be mounted to the outside of the box or you can add a Mini Mount ($11) or Swivel ($21) to mount a RadioPopper or PocketWizard inside the softbox. The kit includes the FourSquare Block that's made from rugged T6061 hard anodized aluminum and lets you use any combination of up to four speedlights as well as a variety of small strobes or LEDs.
Who's It For: Speedlight-using photographers who want to improve the quality of their lighting.
Why I Like It: One of my goals is to combine a FourSquare 48-inch light bank with Yongnuo Speedlites. Look for my tests in an upcoming blog post.
Light Modifiers: A Lighting Donut?
Westcott's Omega Reflector is available in two versions: the 38x45-inch Omega Reflector Kit ($99) features a 2:3 aspect ratio that has a removable center section with five interchangeable surfaces, including white, silver, sunlight, black, and one-stop diffusion. The shoot-through is handy for outdoor portraits, where sun bouncing off the panel would provide fill light with its tone depending on the color of the reflector used.
The 40-inch Omega Reflector 360 ($129) accomplishes a similar goal in a more transportable and round form factor. At its center is a one-stop diffuser along with a reversible sleeve with silver/white and sunlight/black surfaces that slip over the diffusion. The center of the disc is removable via touch fasteners to leave a circular opening which, Westcott claims, turns the Omega into a large ringlight.
Who's It For: Wedding and high school senior photographers will love either or both of these reflectors.
Why I Like It: I really like the flexibility and versatility of the 40-inch Omega Reflector 360; I need to buy one of them.
Joe Farace is the author of Studio Lighting Anywhere and he uses different kinds of lighting equipment to shoot his portraits, glamour and boudoir photographs, including LED, electronic flash as well as speedlights. Information about the specific gear that he uses to create images for Shutterbug and his personal photography can be found at joefaraceblogs.com and mirrorlessphototips.com.