Panasonic GX8 Mirrorless Camera Review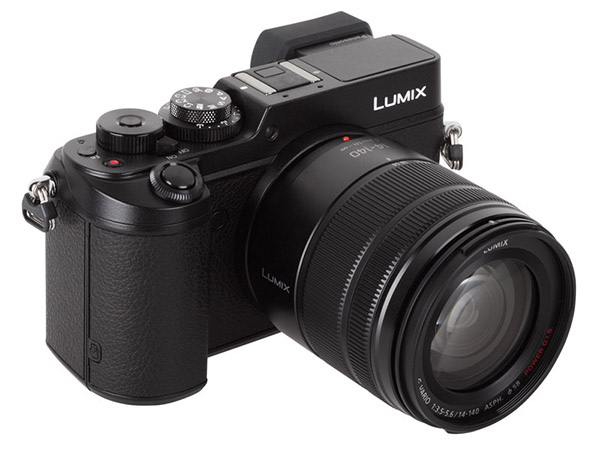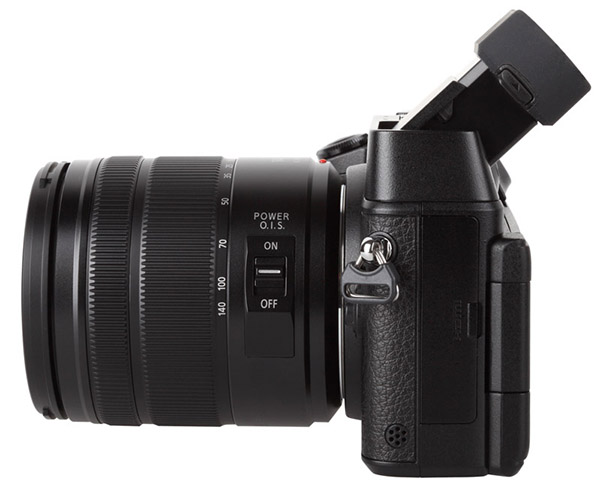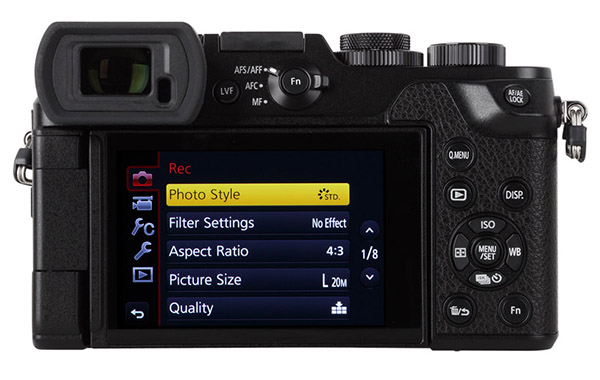 (Editor's Note: Lab Review lab tests and comments are supplied by BetterNet, Shutterbug's TIPA-affiliated testing lab and edited by George Schaub. Shutterbug is the sole US representative within TIPA, a worldwide association of photo and imaging magazines.)
The 20.3-megapixel Panasonic Lumix DMC-GX8 is the follow-up to the GX7, which was the top model of the viewfinder style G series mirrorless cameras. Like the GX7, the Panasonic GX8 looks like a classic rangefinder camera, but has a tiltable electronic viewfinder (EVF) that uses a high resolution OLED display with 2.36 million RGB dots.
Camera Build, Layout & Performance
The Panasonic GX8's tilting EVF produces a very crisp and sharp image and 100% field of view. It's comparable to a 35mm full frame viewfinder with a scaling factor of 0.77x, so it is nearly as large as the Sony A7R II viewfinder and those found in high-end DSLR cameras (for example, Canon 1Dx: 0.76x; Nikon D4s: 0.7x).
In combination with the tilt function, the EVF system offers reliable image evaluation and control. In addition, as an electronic viewfinder it offers a lot of helpful features like focus peaking, electronic level, magnifier function and more. Manual focusing is very easy with the GX8.
The Panasonic GX8 also has a very large LCD (3.2-inch) screen on the back. Its resolution of 921,000 RGB dots is a little low for such a large LCD and top-of-the-line camera, but nevertheless it is very useful because it can be fully articulated and swiveled to the side or to the front of the camera.
The body of the Panasonic GX8 is a little bulkier then its forerunner. The new camera has a massive body based on magnesium alloy construction with a larger grip on its right hand side, which makes handling very comfortable.
The Panasonic GX8 has a lot of setup dials to change image parameters: the first dial is located directly beneath the shutter release button while the second is located on the top of the camera and can be easily reached with the thumb of the right hand. The camera has a mode dial on the top which allows users to choose standard exposure modes or three custom modes (C1 to C3) with individual settings. Directly beneath the mode dial the photographer can use a second dial for EV compensation (+/- 5 EV stops). Both dials can be reached by the thumb of the right hand.
This mirrorless, Micro Four Third (MFT)-based camera features a new image stabilizer system. The GX7 was Panasonic's first G camera with an internal image stabilizer based on sensor shift technology. Many MFT lenses produced by Panasonic offer an optical stabilizer system and the GX8 is now the first of the MFT cameras which can combine both stabilizer systems. During our tests this "Dual I.S." worked very well. We shot many scenes with shutter speeds of ¼ to 1/6 second and always got very good results.
The Panasonic GX8 has a standard USB port for data transfer to a PC and an HDMI interface for image/video presentation on a TV plus a Wi-Fi function. Panasonic offers a free app for Apple iOS and Android that can be used as a remote control, including live preview on the mobile device. Establishing a connection between the Panasonic and a smartphone/tablet PC is very easy, aided by the NFC functionality.
Comments on Image Quality
Color: The color reproduction shown by the Panasonic GX8 is very good. The white balance system showed a slight shift of brighter neutral tones into the yellowish or greenish direction, but the overall result is good.
Color errors are on an average level for an MFT camera and only the dark blue nuances show a major aberration due to an extremely high saturation. This is also visible in the dark blue thread spool in the upper right of our test box shot. The blue spool almost seems to glow. The reproduction of skin tones is excellent.
The color test pattern and the skin tones in our portrait shot showed a natural look with only the magenta rate a little high in some nuances (which is typical for Panasonic cameras). The test box shot and the portrait shot were taken in "P" mode. Both images are a little underexposed.
Sharpness: Panasonic's new camera has a nominal image resolution of 5184 x 3888 pixels. We received a test unit with the LUMIX G VARIO 14-140mm / F3.5-5.6 ASPH lens, which is a very good zoom lens but not a prime lens for maximum resolution testing. Nevertheless, the test unit reproduced the test chart with 3659 of 3888 lines per picture height, which is a very good result. However, ImaTest stated a very high and intense sharpness filtering.
The overshot effect is very high (29.1 percent) and the image of the hard b/w lines showed some clipping effects. However, we note that "normal" scenes captured with the camera didn't show these effects: indeed, they even showed a (very) slight soft look. Our conclusion is that the applied sharpness filtering seems to depend on the scene (even when using standard exposure modes like "P" and not just when using special scene modes).
Noise: The Panasonic GX8 has the highest pixel density on its sensor of all Micro Four Thirds cameras. Therefore, the luminance noise in standard ISO speed settings of 200 to 3200 is a very slightly higher than in images taken with other MFT cameras. The color noise is nearly invisible in images taken with ISO 200 to 3200, but the camera uses increasing anti-noise filtering to compensate for color noise effects.
In images taken at ISO 3200 to 25,600 this "image smoothing" gets visible and also reduces detail reproduction. While the effect is still acceptable in ISO 12,800 mode, images taken with the highest ISO speed setting of 25,600 show noticeable filtering effects. These eliminate the differences of the single gray pattern in our Stouffer 4110 test chart and create soft halos on the white digits on the chart.
Panasonic told us that compared to the GX7 the dynamic range of the GX8 was enhanced by nearly 1/3 f-stop, even with its higher pixel density. Our tests confirm this claim. The GX8 showed a maximum of 11.8 f-stops (GX7: 11.7 f-stops), which is on a professional level. The camera keeps a high dynamic range level (greater than 10 f-stops) up to ISO 1600: at higher ISO speeds it drops to about 9 f-stops, which is a good result.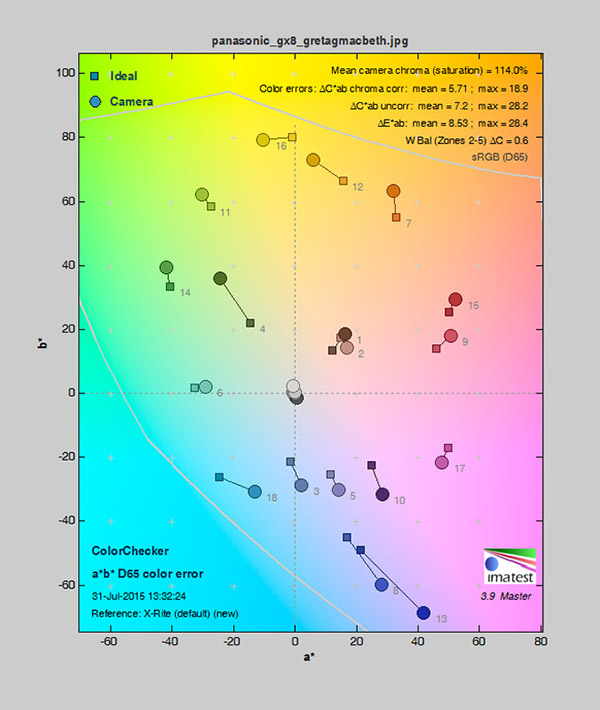 Video Format and Handling
The Panasonic GX8 offers numerous video options. It can record Full HD videos in AVCHD mode, which corresponds to the standard video format of Full HD camcorders. To record videos with 4K resolution, the photographer has to choose MP4 mode. In this mode the camera is able to record videos with 3840 x 2160 pixels and a maximum bit rate of 100 Mbit/s, which means very large video files. For recording in highest resolution and bit rate mode the photographer has to use very fast SDXC/SDHC cards.
The Panasonic GX8 offers a second shutter release button for video recording, located on the top. When using the "Manual MOVIE" mode on the mode dial (small camera icon with an "M"), the standard shutter release button is used to start video recording. In this movie mode the photographer can use P, A, S and M mode for exposure settings, but these modes must be chosen in the video menu on the LCD screen because the exposure mode settings on the mode dial are not active in movie mode.
The GX8 offers all manual exposure modes and choice of ISO speed when recording video, although ISO speed is limited to ISO 6400 in video mode (photo mode: ISO 25,600). Focus peaking and magnifier function can also be used when making videos. The swivel LCD is very helpful, but due to the very high resolution and clarity of the OLED EVF display we feel it offers an even more comfortable view and image control functionality.
The Panasonic GX8 allows the user to set sound level manually or to use the automatic sound level system. It can use an external microphone (3.5 mm jack on the left hand side) and an external monitor via its HDMI interface.
Comments on Video Quality
In Full HD mode the Panasonic GX8 showed an excellent performance in our resolution test. The test chart was reproduced with 1014 of 1080 lines per picture height, which is very good. Surprisingly, the overshot and sharpness filtering effects are much lower than in photo mode. Nevertheless, hard contrast lines are intensified by contrast enhancement filtering. In 4K mode the resolution results are a little disappointing. The GX8 reproduced the test chart with 1349 of 2160 lines, even though the hard contrast lines displayed a very hard and crisp look. But in "real live" scenes our sample shots show a highly detailed reproduction without any aliasing or moiré effects.
Color reproduction in video mode can be compared to the results in photo mode. The camera showed a little shift of brighter neutral tones into the yellow direction. The blue nuances are intensified, but not as extreme as in photo mode. Skin tone reproduction is very good. In video mode the camera showed a maximum dynamic range of 10.4 f-stops. The average dynamic range in other ISO settings is about 9 f-stops, which is a normal result for CSCs (Compact System Cameras).
Pro
+ Highest sensor resolution of all Micro Four Thirds cameras
+ Comfortable shooting with a large and high resolution viewfinder
+ Numerous setup dials and function buttons for professional handling
+ 4K video/Full HD video with high bit rate and full manual control for video and sound
+ Swivel LCD
+ WiFi (including NFC module)
Con
- Missing built-in flash
- Large LCD screen on the back has somewhat low resolution
- Missing GPS system
The Panasonic Lumix DMC-GX8 retails for $1199.99, body only. For more information, visit Panasonic.com.
(Lab Review is where we publish web-exclusive lab reports on cameras. To read more Lab Reviews, click on the Reviews tab on the top navigation bar of this page. New photo gear reports are published frequently, so check Reviews for more equipment evaluations from Shutterbug writers.)
FEATURED VIDEO