MyStudio 20 Internet Photo Studio; A Self-Contained Digital Tabletop Studio Page 2
In Action
You don't have to use the fluorescent light included, but it does simplify many tasks, especially if all you want is to portray something for an online sale or auction. At 15w, this is not a strong light, so expect relatively long exposures, and use a tripod. A sample range of exposures follows: ISO 400, +0.67 EV (needed for the white surround), f/11 at 1/13, 1/8, and 1/6 sec, respectively, with two bounce cards, one card, and no reflectors--the cards in close proximity to the subject. Despite a 5000K color temperature and CRI (Color Rendering Index) of 92, the light is not a clean white. However, when tested with both my Nikon D300 and Canon EOS 5D, Auto White Balance (AWB) did a competent job of rendering fairly neutral tones with this light (if perhaps a tad blue). If you use any other setting, even Daylight WB, you'll get a very disturbing color shift. One proviso: the bounce cards seem to add a more noticeable bluish tint, but I easily corrected for that with the 81-series Photo Filter in Photoshop (set the slider at between 4 and 6 percent as a starting point, with and without cards). Or, you can simply do a Custom WB.
The overhead lighting worked well with a brushed metal tabletop tripod that I photographed without bounce cards. However, it didn't work as well when the subject was a wristwatch, where you can detect surface reflections. Still, the problem is not bad enough to dismiss the shot for its intended purpose--online sales.

I played around with the bounce cards when photographing an ornamental dish, using both cards, then one and none. With the overhead lighting hitting the subject from several inches behind, the front of the dish was somewhat in shadow. Also, the shadow on the ground was more distinct without fill cards. Using the bounce cards made a clear difference, especially in the handles.

I also tested the overhead light by varying its position when shooting a miniature ornamental clock. I positioned the light as the manufacturer recommends, namely from the front, and then the way I've been using it, which is closer to or right above the back corner. In a frontal position, falloff leads to a decidedly grayer backdrop. However, the clock face is more readable when lit from the front. So it's your call. I still tend to favor the backlit approach overall.
More demanding users will want to bypass the built-in fixture and go straight to digital lights or strobes. However, any other lights will also need some means of controlling the spread of light, such as snoots, grids, or barn doors. Remember, we are dealing with a miniature set.

My next subject was a glass fish, which I suspected would not work well with the built-in light. So I brought out a pair of miniature strobe heads, or, more to the point, a macro twin flash. I mounted each mini head on a tabletop tripod and aimed one up into the cove ceiling and a second one at the white backdrop behind the subject. The result was better than when using the fluorescent light, but really only upon close scrutiny. The mini strobes produced more pleasing shadows and added some subtle nuances to the figurine.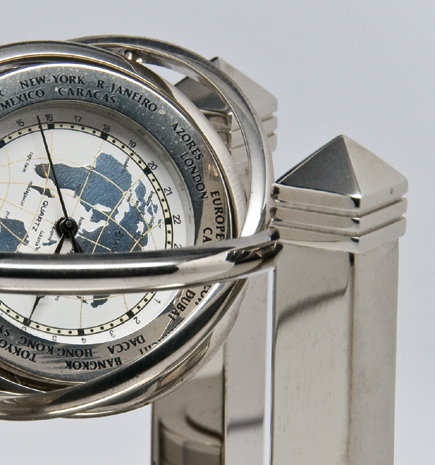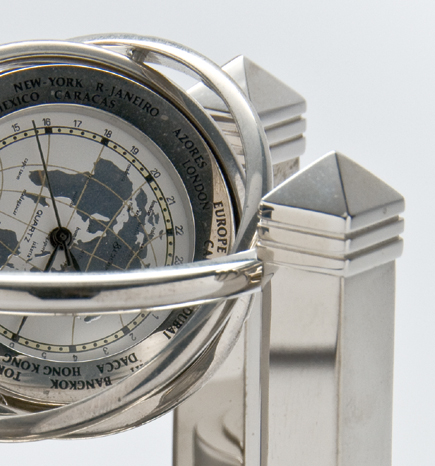 While the clock face can be more clearly seen when the overhead fluorescent light is positioned in front (top), there is considerably more falloff on the back wall. In contrast, light falloff is less dramatic with the light positioned to the rear (above). No color corrections were made in these two shots.
Final Observations
With any light tent, the translucent surfaces used are most efficient when a light is aimed through them, not reflected off them. Much the same can be said of a sweep table. As thin as the MyStudio cyc walls are, they proved to be surprisingly opaque and very effective reflective surfaces. One added benefit: the matte surface didn't reflect objects like a mirror, as Plexiglas surfaces are known to do.

When I began, I had my doubts. By the time I'd finished shooting a handful of tabletops, I was sold. I still think it's a bit pricey ($249 for this version, $449 for MyStudio 32), but the system adapts itself well to a variety of subjects. And when you consider the ease and time saved when shooting tabletops with the system as is, the cost is well worth it. MyStudio does an all-around nice job, and would make a welcome addition to my--or any--home studio.
For more information, contact Pro Cyc: (615) 832-8540; e-mail: mystudio@procyc.com; www.procyc.com.
FEATURED VIDEO