Multiblitz Profilux Backpack Kit: Monolights To Go
"Lighting is really common sense and personal observation. This is applied to a few rules of photography which cannot be broken and to others which I tend to bend a little."—Paul Beeson
If you're looking for European build quality at a reasonable price, Multiblitz's series of Profilux monolights are a good place to start. Built in Germany, the two Profilux models—250 and 500 watt second versions—are the perfect tool for the serious amateur or established professional and feature fast recycling times, short flash durations, and consistent color temperatures. The Profilux 250 has a five-stop power range that's adjustable in 1/10-stop increments with a modeling lamp that delivers an expected service life of 2000 hours. The Profilux 500 delivers all of the same features as the 250 but with twice the output power.
For this test Multiblitz loaned me their Profilux Backpack Kit ($1299) that includes two Profilux 250 monolights along with a red sync cable, power cables, flash tubes, protection caps, and Pyrex protective flash tube covers. Also included are two 28" umbrellas, two air-cushioned light stands, and a backpack to carry it all. The umbrellas have a white reflective lining and black fabric backing to prevent light loss, making them more efficient but precluding the ability to use them in shoot-through mode.
The Multiblitz backpack is well made and has a pouch for storing the umbrellas and light stands and padded partitions for both monolights. Unlike cases included in some lighting kits, there are lots of extra pockets for accessories; it's built to a standard, not a price point. That standard is to provide the best engineered and lightweight components. When fully loaded with gear the whole megillah weighs less than 30 lbs.
The back of the monolights have a series of soft-touch control buttons with a big easy-to-spin power dial and a bright LED display showing the range of power selected in stops from one to five. Going clockwise from the upper right-hand side, there's a button—all are identical in size and shape—to turn on the optical slave. Next, there's one for power followed by the modeling light on/off control. The next button sets the modeling light in proportional mode or turns the light up to 100 percent, which can be important to the speed of your camera's autofocus if your studio has low ambient light, like mine.
Next, you'll find a button that allows you to either dim the modeling light for recycle or produce an audio beep. Because I am a belt-and-braces kind of shooter, I kept one Profilux set to "dim on recycle" and the other to beep. That way I get both audio and video cues for recycle, but the system gives you the flexibility to set it up however you prefer. The inevitable "test" button wraps up the Profilux's controls. Sync jack? It's not on the monolight's back. Instead you'll find it on the side of the Profilux near the light stand mount. Odd? Yes, but no more unusual than where Porsche places the ignition switch on its cars, so maybe it's the German design philosophy.
Putting The Kit To Work
Typically, the Profilux Backpack Kit includes two Profilux 250 monolights but to give me a feel for the two different models that are available Multiblitz USA provided the kit with a Profilux 250 and a Profilux 500. After all, Multiblitz offers the Profilux monolights à la carte as well as in kit form. Setting up the kit was the fastest of all recently tested lighting kits. Part of that speedy set up has to do with the use of umbrellas (instead of light banks) that just pop open, but the other part is how well all the components have been designed to work together. This is not just a bunch of gear dropped into a generic case; it was designed to fit in a custom backpack and work together easily after unpacking. And don't the Profilux 250 and 500 monolights look like something produced by the Porsche design studios? I think so.
That ease of set up carried over into actual use. Shortly after the Profilux Backpack Kit arrived on Daisy Hill, I had to photograph a product for an upcoming Shutterbug feature, so I figured "what the heck"; the Profilux 250 and Profilux 500, with umbrellas attached, were already set up so why not use them? Since I needed maximum depth of field I dialed the monolights near maximum—but nowhere near full—power and was able to achieve f/16 at ISO 100 and finished the shoot in about five minutes. This ease of use says a lot about everything I encountered when working and shooting with the Profilux units. Now it was on to working with a subject that I could talk to.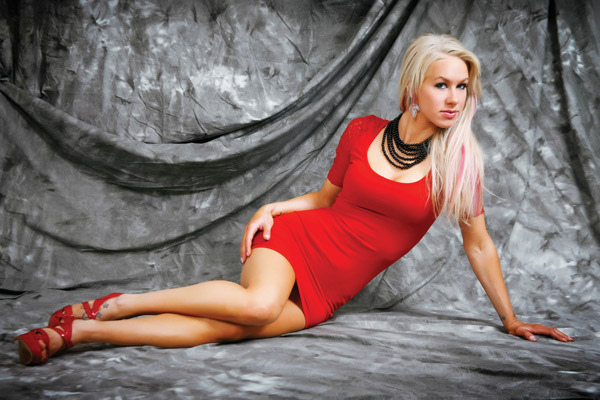 Multiblitz includes a nice (red) sync cable but I wanted to go wireless for my next shoots and decided to use the new PocketWizard Plus III (see the "PocketWizard to the Rescue" sidebar) to trip the Profilux monolights. The PocketWizard Plus III is a true plug-and-play wireless triggering solution and actual set up took literally a few seconds and I was ready for my shoot with model Stevie Weisbeck.
I wanted to keep it simple for the first session and used a basic 3:1 lighting ratio with the Profilux 250 placed at camera right and the Profilux 500 at camera left and near the left rear corner of my 11x15-foot home studio. Both monolights had the kit's 28" white umbrellas installed. With the monolights' fast recycle times of 1.7 (Profilux 500) and 0.9 seconds (Profilux 250) it was impossible to outshoot them, even when photographing an energetic, inner-directed model like Stevie.
To change up the lighting for the next series of images and because the Multiblitz umbrella's black cover is not removable, I grabbed one of my own white umbrellas to use in shoot-through mode to produce a different look. That's when I discovered that the Profilux's umbrella holder is designed for European standard 8mm diameter bumbershoots. The US umbrella standard is 9mm; so it wouldn't fit. Multiblitz offers only one 28" white "standard" umbrella and five different-sized softboxes along with a 12x48" strip light.
Instead I removed the umbrella from the Profilux 500's holder and used it to backlight the model by placing it behind her and at camera left. The main light with the Multiblitz umbrella was kept in its original location. (See lighting setup.) I tried several Photek umbrellas. Tip: Some fit and some didn't so make sure the shaft is the correct size before purchasing umbrellas from third parties.
The Multiblitz Profilux Backpack
Kit includes all the lighting gear necessary for a location shooter who wants to travel light and it all slips into a small backpack that can easily fit into the trunk of a Fiat 500! The combination of high-quality German engineering and construction along with intuitive controls makes it easy to set up and go, something wedding photographers will find useful and practical. It produces plenty of output for photographing large wedding or family groups, allowing you to minimize the lens aperture while maximizing depth of field to make sure everybody's face is sharp in the final portrait. But it all works as simply and easily as you please when shooting a basic headshot! The Multiblitz Profilux Backpack Kit represents good value, flexibility, and plenty of output power at a reasonably affordable price.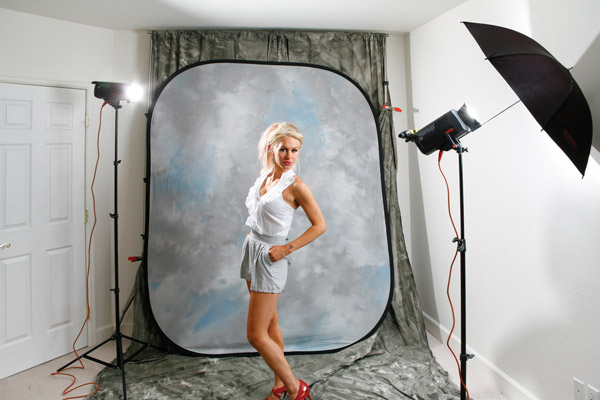 PocketWizard To The Rescue
I've used PocketWizards before at my friend Jack Dean's studio (www.jackdeanphotography.com) and was impressed then with their reliability but even more so with this new model. The PocketWizard Plus III (www.pocketwizard.com) features 32 channels and Selective Quad-Zone Triggering to trigger flash or cameras in groups or individually from hundreds of feet away.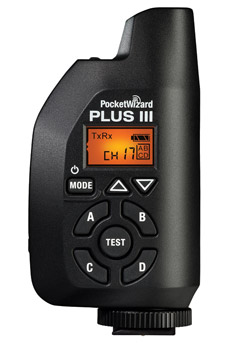 All features, channels, and zones are set by using a soft-touch keypad and displayed on a backlit LCD. The device's sideways design reduces viewing obstructions while conveniently positioning controls and the antenna is housed inside the case for its protection. Long Range Mode doubles the unit's working range and is ideal for remote camera triggering. Two AA batteries power the Plus III for up to 50 hours and when used for remote camera triggering, an external battery can be used.
The Plus III's Repeater Mode lets you add one or more devices between transmitting and receiving devices to overcome interference from obstacles. Like the previous model, the Plus III is auto-sensing and automatically switches between transmit and receive as needed. It's compatible with other PocketWizards and most flash and professional digital SLR camera systems and communicates with PocketWizard-enabled photo gear such as select Profoto, Dynalite, Norman, and Photogenic flash systems as well as Sekonic light meters. For all of my sessions in my studio with the Multiblitz Profilux Backpack Kit, the PocketWizard Plus III was an absolute delight to use. It does more than previous models and, son of a gun, costs less, too.
Image Courtesy of PocketWizard
For more information and full specifications, visit Multiblitz's website at: www.multiblitzusa.com.
FEATURED VIDEO