Master Class
What I Did On My Photographic Vacation
For the first time in years I decided to plan a photographic vacation this year, but not to one of those crowded popular tourist attractions you see advertised in all the magazines. I took my cameras to Ely, Minnesota. Never heard of it? News commentator, Charles Kuralt, called Ely "The End of the Road." I, personally, found it to be the beginning of a great photographic adventure. Little did I know when I started out what an adventure it would be. All I knew was that my good friend, Karl Larson, suggested that I organize some photographers to vacation in his favorite part of the country and enjoy the photographic opportunities available in the Boundary Waters Canoe Area (BWCA) of upper Minnesota--just a few miles south of the Canadian border.

It turned out to be a dream vacation for photographers, especially if they are outdoors people and like to canoe, fish, and enjoy the freedom of being away from some of the creature comforts like electricity, running water, and fancy toilets. Truthfully, it didn't sound that exciting to me at first. Not that I'm spoiled, but I did hear that there were a heck of a lot of mosquitoes and flies at that time of the year. Undaunted, but prepared with all kinds of insect repellants and bite medications, I decided to make the plunge and go for it. I tell you this was one of the most fun trips that I've ever had in my life!
Don't Let The Weather Stop You
My first photographic vacation began with a lousy weather report the day I was planning to take a boat across Fall Lake to my "cabin in the woods." Actually, that day turned out to be the strongest winds ever recorded in the history of Minnesota. Just my luck. But, lucky me, I had my Canon D60 camera on-hand while we were getting ready to make the crossing and saw two canoes setting out to brave the storm. The sky was dark, the water threatening, and I believe that I caught it all in a picture. Yes, it is a color image. There just wasn't much color out there at this particular moment!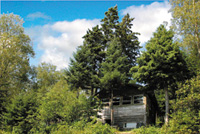 Well, I did make it across to the cabin, thank goodness, but not without a few waves coming over the bow of Karl's 16 ft boat. Thank goodness we weren't in canoes. I never did find out how those in the previous photograph made out that day. Soon after we unpacked the boat Karl went back for another trip. While he was gone I was really impressed with the brewing storm and photographed the lake from the front deck of my vacation home.

The photograph caught the feeling of what was going on, but with no boats on the lake the picture had no focal point. Having just come from a Photoshop class I realized that it would be a simple thing to take a photograph later in the week of a boat traversing in front of us and put it into the photograph. That was exactly what I did. The boat in this picture was actually photographed on a completely different day. I brought it over to this picture, placing it carefully for impact and sizing it correctly with Free Transform in the Photoshop program.

Adding Delight To The Sky
By the next day things were looking better, but not as good as they appear in this picture. The skies had cleared, but there weren't any of those beautiful clouds that you see here. Again, having just recently learned how to transfer the clouds from one picture to another I did that for this picture.

What flips me out is how easy it was to select the sky in the original picture by using Color/Range in Photoshop. That picked up the sky even between the branches of the trees. I would never have had the patience to do that if it hadn't been for the ease of using that ability in the program. Then, it was a simple matter to "Paste Into" and put those clouds in behind the trees. Since I knew that I might be doing that soon I did lots of cloud pictures all week long.
Home Away From Home
I shared indoor living space in my cabin with Karl and Tom Carter, who's seen on the right.

We shared just about everything that week, but here you can see that Karl and Tom were both angling for the hanging foot rest. I couldn't believe that this picture (lit by a single lantern) was shot with my 17-35mm wide angle lens on the D60--handheld, aperture priority wide-open with the ISO set at 1000. On the left you can see that we actually did have running water. You filled up that large jug with water from the well, tipped it forward and the water just spilled down into our containers.

Dick Coleman and Clay Sibley were two of the photographers who also joined our photographic adventure. They're pictured here on the front porch of their cabin on the same property as ours. As you can see we really weren't roughing it too badly.

Lenny Marks and Owen Kassimer were the last two photographers who made up our group. Although there were plenty of indoor beds available to them, Lenny and Owen wanted to do the full "camping bit," so they pitched their own tent. Here they are hamming it up for my camera. They really enjoyed the tent thing and all the paraphernalia that they had brought along to make life more bearable in the wilderness.
What Does A Portrait Photographer Do On His Vacation?
You guessed it--take pictures of the other people. Here's a snapshot of Dick as he was sitting around one afternoon. Yes, I did some Photoshop magic to darken his shirt and the background. I just wanted his face and beard to jump out of the picture.

And here's another one of Tom--full, bright sunshine in the middle of the day. All natural light under the brim of his hat. No reflectors. No nuthin'!

Karl made a pretty good model for me, too. He was just sitting on the deck doing his thing after dinner one evening as I showed the other photographers how I often turn heads away from the light now to backlight and sidelight the face. This was another shot made with all natural light taken I'm sure with the Canon S40. The darn files are so good it's sometimes difficult to remember which camera I was using.
A Photographer's Eye In The Wilderness
Each of us saw different things around us and each of us photographed what interested us the most. I saw picture post card stuff everywhere--even at the docks where these two fishing rods were resting in a canoe. I saw the rods, the lure, the rocks, the grass, and even the loon in the background. We were all psyched the whole week through.

I even photographed a piece of onion peel cast aside while someone was preparing a salad. I knew that I could have fun with it. I created the image by using the macro part of my 28-135mm IS Canon lens. I then brought it into Photoshop, Filter/ Dis-tort/Polar Coordinates. Then, I selected one half of the resulting image and used it once as-is, then flipped it over horizontally and, finally, brought the two together.
Photographing Activities, And More
The fireplace was the center of most of the activity. Tom taught me how to build and start a fire outdoors. So, I became the fire-keeper! Here's everyone later in the week gathering for morning coffee.

Time? There was time for everything. No one had to tell Owen to "Go, fly a kite!" He brought one with him.

Our world was ablaze with color. Believe it or not, these pictures are showing what actually was happening. This was just before total darkness.
Monte's Moonrise
Just as the sun rose each morning, the moon shone on the lake in front of our cabin each night. I never before even attempted to photograph a moonrise, but what a perfect time and place to practice! I didn't have a tripod with me, since I never planned to do anything like this, but I figured out a way. I placed my D60 on the rail of the porch, supported the 17-35mm wide angle lens on a wrapped camping knife, put the camera on aperture priority wide-open, set the ISO to 1000, and set the camera on its built-in self-timer, so that I wouldn't shake it. The exposure lasted 15 seconds!

Tune in next month to see more of the fun things we did and photographed during our camping expedition.

So, what are you planning for next year? Am I getting you interested in going camping? Yep, I thought that I'd be the last one to ever go on a camping trip, but I tell you what, I'm already waiting to get into line for another trip to Ely, Minnesota, next year. Care to join us? Oh, yes, I forgot to mention, it's a "man's thing."
Stop The Presses!
It looks as if our fearless leader, Karl, has just come up with a winter gig in Ely for the end of January or early February. The trip would include three days out in the back country dog sledding. For more information, contact KarlWolf@aol.com. And keep in mind that we can only take six people, in addition to Karl and myself.