On The Beach; Class Time For The Carnival Cruise Line Photographers Page 2
Once I realized that there was space beneath the thatched porch above us, I realized that I had found ideal conditions for portraits. I got under the porch and posed this couple just on the outside. The shade of the structure created a natural darkening of the foreground. I posed them together in my typical fashion, coaxing them to turn their faces toward each other and just have fun touching or rubbing noses. At the same time I positioned my lens to keep the area behind their profiles simple, so as not to distract from their faces. In the photograph where she was on his back there was part of the shoreline between their faces. I blended it out in Photoshop.
I was even able to do one of my typical pictures of his profile over the 2/3 view of her face. All natural light. Of course, I was flat on my belly to get the sky as a background.
When I seated another one of the photographers just underneath the overhang it was as if I were again in a studio environment. I had perfect control of the lighting. What a simple way to create profile lighting. Since I exposed for the light on her face, the background was almost completely blown out except for a few light clouds in the background.
Sun And Shade
Finally, I just couldn't resist sharing this portrait with you. It was created in the Imagination's library while I was demonstrating window light portraiture. This man won the award as one of the most promising photographers in my class. I wasn't demonstrating with him as my subject, but I'm always teaching everyone to look around and see! When I saw the intensity of his expression and the natural window light on his face, I recognized that the light pattern was already there. I knew all I needed was a Westcott silver reflector (Monte's Illuminator) to open up detail on the shadowed side of his face. The posing and lighting were already there. I shot the picture in color but changed it to black and white so that the viewer would have nothing to distract from his face. I did it by selecting the Green channel and making minor adjustments in Levels. It was one of my favorite photographs of the week.

All in all, the outing on the beach with their photographers made for a fun and educational day at the same time. Hopefully, many others can learn from the lessons I taught there. Sun or shade...both offered lots of opportunities for pictures. No need now to be afraid to go out in bright sunshine, is there?

Speaking of sunshine, I'm currently planning my own teaching cruise for photographers. We'll be sailing the Caribbean out of San Juan on February 4th for seven days on Carnival's Destiny. Check my website for details: www.montezucker.com.
Back On Board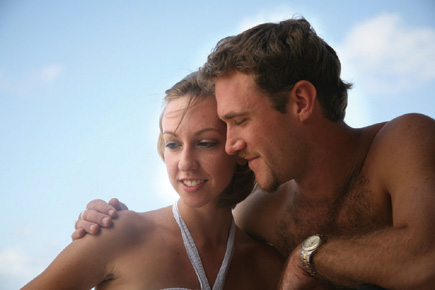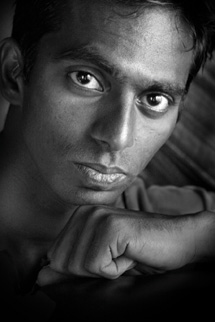 Join Monte and Photoshop guru Eddie Tapp on the IMAGINATION TO REALITY TOUR this fall. Explore their world of digital imaging and immediately apply techniques that will help you achieve both financial and artistic success. Learn the complete digital workflow from capture to final output. Monte and Eddie cover concept to completion--posing, pixels, Photoshop, and printing--everything needed to create beautiful digital photographic portraits.
Cities Include:

Fort Lauderdale - October 5th
Atlanta - October 8th
Houston - October 9th
Dallas - October 10th
S. Chicago - October 14th
N. Chicago - October 15th
Detroit - October 16th
Cleveland - October 17th
S. Los Angeles - October 22nd
Burbank - October 23rd
Boston - October 29th
Washington DC - October 30th
New York - November 2nd
Fort Lee, NJ - November 6th
Philadelphia - November 7th
Seattle - November 12th
Oakland - November 13th
Phoenix - November 15th
FEATURED VIDEO