Master Class
On The Road With Monte
Photos © 2002, Monte Zucker, All Rights Reserved
When I think back at my favorite travel photographs they almost invariably turn out to be of the people I ran into along the way. There are exceptions, of course. For the most part, however, as much as I look for "picture post card" opportunities it's usually the people pictures that I treasure the most. As I'm writing this I'm flying over the country again...thinking back at some of the pictures I made during the past few weeks.
One of the first of them that comes to mind is a portrait I made of my good friend and Photoshop guru, Eddie Tapp. He just happened to be walking by the Canon booth in Las Vegas at the WPPI convention while I was demonstrating the new Canon 1Ds digital camera. I was working with three lights: a main, a fill, and a hairlight. My exposure was for the main light. The fill and the hairlights were 11/2 stops less.

In just a few moments I ended up with this profile portrait of him. Eddie shortly afterward gave a copy of it to his mom, writing me back that his mother loved it so much she actually cried when he gave it to her. That meant a lot to me.
Other classes this past year led me to photographing one of the most memorable people I've ever met. While teaching my annual class in Asheville, North Carolina, I attended a lecture by Bob Morgan, pilot of the Memphis Belle aircraft that made history in World War II. I knew immediately that I wanted to photograph this man. He agreed to come to our class that week, where I created this image of him in his bomber jacket.
While in Vegas on another occasion a personal friend of mine invited me to attend the opening day celebration for the first day of school where he was principal. From the school's rooftop I photographed everyone outside as they prepared to start their next school term. It was a moment in time that brought back so many memories of my children's first day of school each year, as well as my own school days. It was a different kind of travel picture than I usually think of.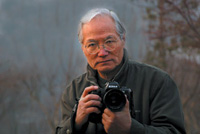 Since most of my traveling is for teaching photographic classes, I often photograph some interesting faces along the way. In particular, I remember getting up on a cold winter morning just a few days ago in Korea to photograph in a small village that had been historically preserved and restored. Although it was fun photographing the unusual buildings, the pictures that I got the most kick out of were these two pictures of my host and one of my co-instructors.

Sae Lee, a photographer with his studio in the Los Angeles area, was our host, translator, and guide. As the sun broke through the morning fog I noticed the glow of the morning sun on the side of his face. He paused for a brief moment and I caught this portrait of him.

As we were about to leave the village we spotted a group of totem poles near the parking lot. Drake Busath, one of my co-instructors and a professional photographer from Salt Lake City, got down and mimicked the expression on one of the carvings. It only took 1/60 of a second to record that moment in time, but the fun memory will last us a lifetime.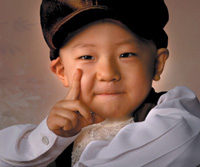 A couple of the models in Korea will be a part of my lifelong memories. In particular this little boy who called me "Grandpa!"--he was one of my favorites. The photograph was made on stage during a class demonstration. With almost 100 professional photographers looking on I created this snapshot that was cropped down from the original. His dark hat seemed to dominate the photograph too much, so I cropped into it and zeroed in on just his beautiful face.

Another Korean model was this bride. My favorite 3/4 length seated bridal portrait was just as popular there as it has been in this country since I first began teaching it.

Even though I judged some of the most beautiful and contemporary bridal portraits I have ever seen at the seminar, it seems as if classic, traditional photography was still appreciated there as much as it is by brides in this country.

Although many of the Korean photographers haven't really taken the full digital plunge yet, many have begun getting their feet wet. Most of the questions there pertained to digital imaging and in particular to color management. Look for some incredibly beautiful and creative images to emanate from that country in the very near future.
The Caribbean has sort of become my second home, since I've been consulting for the photographic division of Carnival Cruise Lines and another group that's doing the photography for Sandals Resorts. Here's an image that I created this past year on Turks and Caicos. I made a family portrait of this couple with their five children. The overcast day created a totally different effect.

Before I finished with the sitting the sun had come out again. I got the idea of posing them on the sliding board to give them still another vacation memory of their trip together. Think this will bring back good thoughts when they look at this picture years from now?