The Magnificent Seven: My 7 Favorite Mirrorless Cameras
"Never have I found the limits of the photographic potential. Every horizon, upon being reached, reveals another beckoning in the distance."—W. Eugene Smith
Some, including one of my erstwhile colleagues at Shutterbug, think the term "mirrorless camera" is synonymous with the 17.3x13.0mm Micro Four Thirds format but it's not. Mirrorless cameras, like Sony's A9 ($4,498, body only), have full-frame sensors, while others, such as Fujifilm's X-Pro2 ($1,699, body only), use the APS-C or 23.6x15.6mm format. For younger readers, APS refers to the Advanced Photo System launched in 1996. It was a film format experiment but before it could catch on was overtaken by digital capture. APS had the advantage of multi-format capture, including APS-C or 25.1x16.7mm, which is not quite identical to what digital camera makers call this same design.
My First Mirrorless
Olympus introduced the Four Thirds system at photokina 2008. I was there looking at a wooden prototype and listening to a German professor explain why 18x13.5mm was the "perfect" sensor size for digital imaging. The Four Thirds system is dead but lives on in sensors used by Micro Four Thirds system cameras from Olympus, Panasonic, and a few others.
My first mirrorless camera was the 12MP Olympus PEN E-P3 and I still have it. In my review of the camera for Shutterbug back in 2011, I compared it with Leica's M9 because, for me, this series of cameras is really a "Leica for the rest of us." No Olympus model says this more than the impeccably crafted PEN-F ($1,199, body only). The body's top and front covers are magnesium with metal dials (along with the casing) made from aluminum.
The camera has a 20MP sensor with a TruePic VII image processor and five-axis in-body image stabilization that compensates for up to five stops. The sensor's low-pass filterless construction delivers a sensitivity range of ISO 80 to ISO 25,600 in extended mode. There's no built-in flash but it comes with Barbie's own mini speedlight, which is similar but better (it has tilt/bounce capability) than the one Olympus includes with their E-M5 cameras.
Who's It For: Classic camera shooters who want to have some, if not most, of the experience of shooting the original PEN-F half-frame film camera. It's not cheap but worth it.
Why I Like It: Shooting the Olympus PEN-F I tested for my "Mirrorless Photo Tips" blog was like using a real (film) camera. And hey, W. Eugene Smith used one of those original half-frame cameras.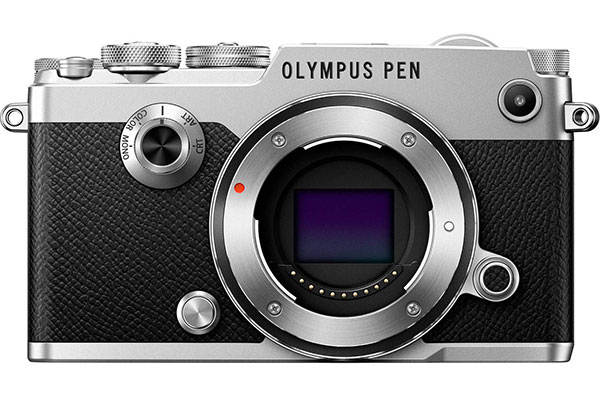 My first Panasonic camera was the Lumix G5 but it was almost immediately converted to infrared capture, so my heart first belonged to the 16MP Lumix GX1 introduced in 2012—it's still my go-to camera for car shows because of its unobtrusive style. Its up-to-date counterpart is the 16MP Lumix GX85 ($797, with a 12-32mm lens), although the GX1 is lighter (9.59 ounces versus 15.03 ounces).
Eliminating the anti-aliasing filters from cameras is a trend, as I wrote in my Shutterbug review of the (not-mirrorless) Pentax K-1. Eliminating this filter produces sharper image files with more detail and better resolution. Some pundits decry the trend by arguing that removing the anti-aliasing filter is a design flaw while others of us are just happy to get better, sharper pictures from the small sensors in Micro Four Thirds cameras. The GX85 has in-body and lens stabilization, 4K video, 4K Photo mode, and post focus, and yes, that last feature is exactly what it sounds like. Note: 4K Photo mode lets you shoot a burst of frames in video mode then extract an 8MP still image.
Who's It For: Street photographers looking for a first-rate, unobtrusive mirrorless camera capable of producing high-quality images.
Why I Like It: The Panasonic Lumix GX85 is an impressive little camera for the price but utilizes in-body charging. You can get a third-party battery charger from Shutterbug advertisers for $20.
With a similar form factor, Sony's 24.3MP A6000 ($548, body only) has an APS-C sensor (23.5x15.6mm) wrapped in a relatively lightweight 12.13-ounce package. The BIONZ X image processor produces minimal noise even at its top ISO setting of 25,600. The camera has a continuous shooting rate of 11 frames per second (fps) and Full HD video recording at 24, 30, and 60 fps. The body has a configurable interface, built around customizable buttons and two control dials with a multi-interface shoe for attaching an external flash, light, or microphone.
The AF system utilizes both a 179-point phase-detection system and a 25-point contrast-detection system to achieve focus in as little as 0.06 seconds. The A6000 offers multiple AF modes, including Eye AF that prioritizes a subject's pupils for sharp portraits. The A6000 lacks built-in image stabilization so if you want stabilization it must be included in the lens. As an option, the camera's Anti-Motion Blur feature corrects for subject movement by recording six sequential frames and compositing portions of each to improve sharpness. Like the GX85, the battery utilizes in-body charging; I poked around online and found a charger for $20.
Who's It For: High-tech-oriented photographers to who video capture is also a priority.
Why I Like It: Sony makes some of the best mirrorless cameras out there, bar none, and the A6000 is one of the classics. Not to mention, I like the looks of the graphite body shown.
DSLR Look-alikes
Some people prefer the rangefinder styling of the PEN-F, GX85, or A6000, but both Olympus and Panasonic make camera bodies resembling small DSLRs. My favorite is the 16MP Olympus OM-D E-M10, currently available in Mark III livery ($649, body only), and it's the camera I recommend for someone just starting out with mirrorless photography. It has five-axis in-body image stabilization for still and 4K video where a jittery camera can unsettle viewers.
The body has manual dials like a real camera, built-in flash, and 8.6 fps continuous shooting capability. There's built-in Wi-Fi and a three-inch tilting touchscreen that lets you touch and shoot like an iPhone. It is small, but my Mark I body has the optional ECG-1 Grip, making it easier to hold in my US medium hands. The Mark II offered the optional ECG-3 Grip but, as I write this, I don't know if there's a similar grip for the Mark III but you can get (and I would in a heartbeat) the cool CS-51B Body Jacket ($49).
Who's It For: Photographers getting started in mirrorless photography and who like the DSLR form factor, here represented in its most compact size (14.46 ounces).
Why I Like It: My Mark I model produces amazing image quality for its 16 megapixels and I love its retro looks and how it handles.
At the other end of the spectrum is my Panasonic Lumix GH4, now available as the 20.3MP Lumix GH5 ($1,997, body only). It's big in all the places an Olympus OM-D E-M10 is small, weighing 1.595 pounds compared to the E-M10's 0.9 pounds, but it is a true professional camera.
The GH5 offers 12 fps continuous shooting with ISO sensitivities up to 25,600 and can record 4K video at up to 60 fps and Full HD at up to 180 fps onto its dual memory card slots. The body has built-in five-axis image stabilization that with some lenses offers Dual IS—lens and body—compensating for up to five stops.
Remember the GX85's 4K Photo mode? The GH5 offers that and a 6K Photo mode that lets you pull 18MP frames from a video clip. The body is constructed from magnesium alloy with die-cast front and rear frames with weather sealing at each joint, dial, and button, making it both splashproof and dustproof, and freezeproof to 14 degrees F.
Who's It For: The answer to the professional's need for a less bulky but still capable mirrorless camera. Olympus loyalists should check out the 20.4MP OM-D E-M1 Mark II ($1,999, body only).
Why I Like It: The GH4 is my studio workhorse, although I recently shot a car show with it. Maybe when my ship comes in I'll pick up a GH5.
The Fujifilm X-T2 ($1,799, body only) has a chunky-looking body but is lighter (1.115 pounds) than Panasonic's GH5 (1.595 pounds). It's got a chunky 24.3MP APS-C sensor, too, with low-light sensitivities up to ISO 51,200 and internal UHD 4K video capture. Continuous shooting at 8 fps increases to 14 fps when using the silent electronic shutter.
The X-T2 has an Intelligent Hybrid AF system with 325 points for fast subject tracking. Fujifilm uses a dedicated joystick called the "Focus Lever" to provide intuitive control over selecting specific focus points. The weather-sealed body protects against dust, moisture, and cold to 14 degrees F. It has an OLED EVF and a tilting LCD as well as dual SD card slots that are compatible with UHS-II standards. The optional ($329) VPB-XT2 Vertical Power Booster Grip holds one or two extra batteries in addition to the one in the camera.
Who's It For: Canon and Nikon shooters who want a camera with a familiar form factor while delivering low weight and an APS-C sensor.
Why I Like It: If there is one mirrorless camera that would make a DSLR shooter switch sides, the X-T2 is it. I especially like the looks of the Topcon-like Graphite Edition body.
Wild Cards
I would have loved to feature the 24.2MP full-frame Leica Q, especially the $5,250 Nikki Sixx version, but although it lacks a mirror, there would be hue and cry from readers (not to say my editor). For similar reasons, I passed on the 3MP Lego digital camera; no mirror there either.
While Canon and Nikon have promised professional mirrorless cameras—maybe by photokina 2018—Sony's 24.2MP A9 is here now. It's capable of shooting at up to 20 fps, internally recording UHD 4K video, and shooting at an expanded sensitivity range to ISO 204,800. That's not a typo. It has a 693-point phase-detection autofocus system that covers 93% of the image area for fast subject tracking under different kinds of lighting. The magnesium-alloy body has five-axis image stabilization to minimize camera shake and there are dual card slots that can be configured for in-camera backup, separate Raw plus JPEG capture, or overflow. And it's weather sealed for shooting in challenging environmental conditions.
Who's It For: Pros looking for a truly high-end professional mirrorless camera.
Why I Like It: If the body said Canon or Nikon it would be the number one professional camera in the world, mirrorless or DSLR.
Although he maintains an extensive Canon DSLR system, Joe Farace's heart belongs to his Olympus and Panasonic mirrorless cameras because their compact, lightweight size makes taking a camera something he doesn't have to think twice about. Mirrorless bodies offer unmatched versatility through a combination of an immense assortment of lenses plus the ability to use inexpensive adapters to mount all kinds of lenses—even Exakta. For more about his love affair with these cameras, visit mirrorlessphototips.com.