Photographers: Add 10 Ports to Your Otherwise Perfect Computer
If you recently purchased a Mac of any flavor, you no doubt discovered that your new computer has a ton a great features but darn few I/O ports. No USB-A, for instance. Yeah, it has a couple USB-C/Thunderbolt ports, but where do you plug in your USB-A memory card reader? Or maybe an HDMI display?
The EZQuest USB-C Multimedia 10-in-1 Gen 2 hub adds ten ports to any Mac or Windows PC that has USB-C/USB4 or Thunderbolt 3/4 ports as well as smartphones and tablets with OTG support. It's very well made, the price is right and it slips easily into a pocket or small bag making—making it the ideal travel companion for your MacBook Air.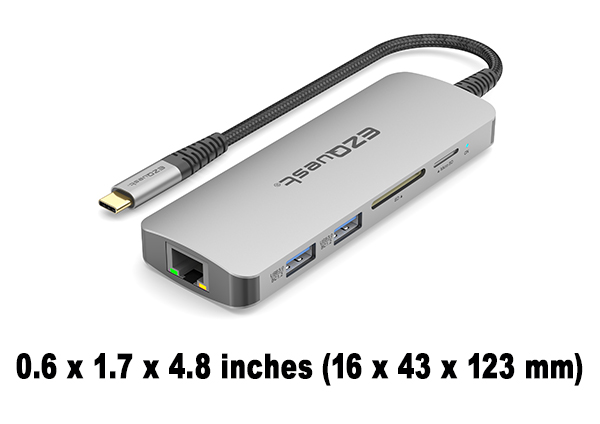 Features & Specifications
The EZQuest USB-C Multimedia 10-in-1 Gen 2 hub is amazingly small—it's only 0.6 x 1.7 x 4.8 inches (16 x 43 x 123mm) excluding the 11-inch (28cm) cable and weighs just three ounces. The cable features a braided nylon outer sheath and molded strain-relief collar. It's permanently attached to the hub's durable aluminum housing which has a satin gray finish.
The EZQuest USB-C Multimedia 10-in-1 Gen 2 hub features the ports listed below. Be sure to refer to the owner's manual of the devices you want to connect to confirm compatibility.
For a quick rundown on the major variations within the USB family, check this out: "USB-C and USB-A Differences Explained."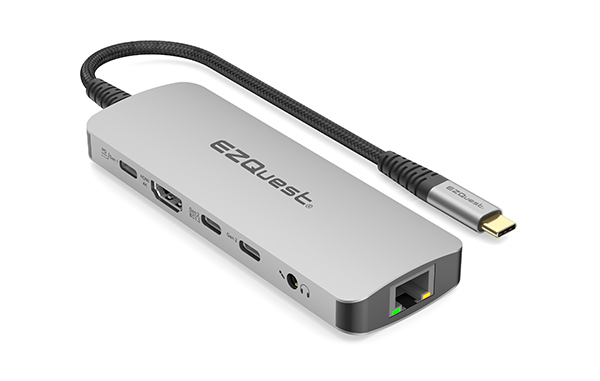 10 Ports in All
1 x HDMI 4K (60Hz on DP1.4 or 30Hz on DP 1.2) that supports extended of mirror mode with digital sound.
1 x USB-C 100W Power Delivery port version 3.0 with pass-thru charging up to 88W output and FRS technology or 5Gbs data.
2 x USB-C Gen 2 (10Gbps) ports, 1 with BC1.2 (5V/1.5A -7.5W), 2nd one 5V/0.5A (2.5W) power output.
2 x USB-A 3.0 ports BC1.2 each output 5V/1.5A (7.5W).
1 x RJ45 Gigabit Ethernet with LED indicator.
1 x SDHC Card Reader.
1 x Micro SDHC Card Reader.
1 x 3.5mm Audio Jack with Microphone 2-in-1.
Compatibility
All computers with USB-C/USB 4/Thunderbolt 4/3 ports, as well as USB-C smartphones and tablets with OTG support. Hub requires Mac OS Version 10.13.6 and above or Windows 8.1 and newer.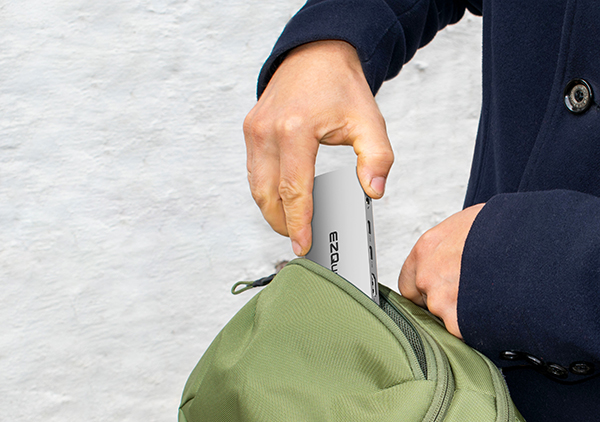 In the Field
The EZQuest hub performed as advertised on my iMac and MacBook Air computers. I was able to use it successfully with a finicky device (brand and model withheld) that's notorious about not working with hubs.
Conclusion
The EZQuest USB-C Multimedia 10-in-1 Gen 2 hub is truly a dream come true for people who own recent model Macs if they need USB-A ports, an Ethernet port, etc. And the fact that there are SDHC and Micro SDHC card readers are a real plus for photographers.
Since many photo enthusiasts know more about cameras, lenses and composition than about USB specifications, it's very good that the EZQuest hub is completely plug-and-play. It's very easy to use and thanks to the backwards compatibility inherent in the latest USB variations, it's pretty hard to make a mistake.
It's easy to recommend the EZQuest USB-C Multimedia 10-in-1 Gen 2 hub based on features, multiple ports, broad compatibility and high quality. When you factor in the compact size very modest price it's a sure winner.
Price & Where to Buy
The EZQuest USB-C Multimedia 10-in-1 Gen 2 hub is available from Amazon for $69 and is covered by an 18-month USA Limited Warranty.
Other EZQuest Products
EZQuest offers several models of hubs with pricing ranging from around $50 to $100. They also offer a broad variety of cables, adapters, wall and car chargers, card readers and more. Most of their products are available at the EZQuest's Amazon Store and other prominent retailers.
—Jon Sienkiewicz
(As an Amazon Associate, Shutterbug earns from qualifying purchases linked in this story.)
FEATURED VIDEO