Lowepro's New Slingshot Camera Bags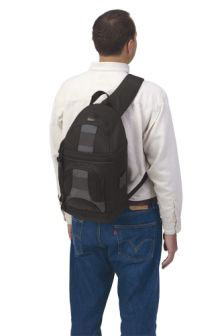 Lowepro has introduced a new line of camera bags designed for sports photographers, photojournalists or anyone who needs quick and easy access to their cameras and accessories. The unique design of the new SlingShot 100 AW and 200 AW camera bags allow photographers to go from "carry mode" to "ready mode" in seconds. Without removing the bag, simply rotate or "sling" the bag toward the front of the body. The SlingShot AW then provides complete access to cameras, lenses, memory cards and other accessories. The Full Access Lid with reverse open design allows photographers to safely and easily work out of the bag and zip stop buckles keep equipment from falling out.
The Full Access Lid also includes a built-in memory card pouch to quickly access and store memory cards. A micro fiber LCD cloth protects the camera's LCD screen scratching. The two generous accessory pockets provide quick access to cables, adaptors, small accessories or personal items. Additionally, the SlingShot AW bags include Lowepro's patented All Weather Cover to protect the equipment from rain, sand and dust.
For greater comfort, stability and storage, the new Lowepro SlingShot 100 AW and 200 AW camera bags include a Tuck-Away Stability strap for additional support and stability, and SlipLock Attachment Loops for adding additional storage accessories and customizing the bag for individual shooting preferences. Other features include Silent Zipper Pulls for quiet access to equipment and a mesh back pad provides additional comfort.
The Lowepro SlingShot 100 AW and 200 AW camera bags have the following suggested list prices:
SlingShot 100 ($79.99)
Measurements: 8.1 (W) x 6.7 (D) x 17.7 (H)-inches (External)
SlingShot 200 ($99.99)
Measurements: 9.4 (W) x 7.1 (D) x 17.3 (H)-inches (External)

LATEST VIDEO