Lens Review: Tamron 28-300mm f/3.5-6.3 Di VC PZD
Tamron is a pioneer in all-in-one, do-everything lenses. The new Tamron 28-300mm f/3.5-6.3 Di PZD lens is designed for Canon, Nikon and Sony shooters and I tested the Canon EF version using an EOS 5D Mark I and an EOS 50D, which changes the lens' angle-of-view to that of a 45-480mm lens.
The lens features four LD (Low Dispersion) glass elements, three molded-glass aspherical elements, one hybrid aspherical element, one XR (Extra Refractive Index) glass element, an element of UXR (Ultra-Extra Refractive Index) glass with a higher refractive index than XR...and a partridge in a pear tree.
Whew!
In real-world terms, this means that all of the images I made were crisp. It's all wrapped up in a solidly built, 19-ounce lens with a 67mm filter diameter.
Build
While not fully weather-sealed, the Tamron 28-300mm f/3.5-6.3 Di PZD lens has moisture-resistant construction for outdoor shooting in snowy or wet conditions. Tamron says it has an "upscale cosmetic design and finish" and that's a realistic expectation for a lens costing $849. They even include a lens hood and a combination of the well-designed hood and coated elements suppressed flare even when I deliberately tried to force it to happen.
The lens uses Tamron's PZD (Piezo Drive), a standing-wave ultrasonic motor system for fast, quiet autofocus but, more importantly, it has the company's VC (Vibration Compensation) mechanism that comes in handy in low ambient light or when making close-ups at the lens' not-quite-macro close focusing distance of 19.3 inches.
The variable f/3.5-6.3 aperture won't necessarily set low-light shooters hearts aflutter but in these days of high quality high ISO settings, it's not a major disadvantage. Bokeh fans will delight in the nearly circular diaphragm that makes it possible to produce attractive background blur effects for creative depth-of-field.
In the Field & Studio
I like image-stabilized lenses because they ensure a higher percentage of sharper images and expand your ability to use the lens in all kinds of lighting situations or when the lens is at its maximum focal length. Some image-stabilization systems only correct horizontal or vertical camera shake but Tamron uses three pairs of driving coils and ball bearings around the shake-compensating optics to compensate for diagonal movement as well as up-and-down and side-to-side movement.
The lens' gyro detects even modest amounts of movement and along with a 32-bit CPU produces (up to) a four-stop advantage and unlike similar systems is quiet even in a studio setting.
To put the 28-300mm f/3.5-6.3 do-everything lens to work I took it to the Colorado Railroad Museum. To make images with an APS-C format camera, the EOS 50D I brought along had been converted to infrared-only capture by LifePixel.
I conducted an impromptu lens test photographing bricks on the museum's Robert W. Richardson Railroad Library, shooting at the sweet spot of f/8 and wide open at extreme ends of the focal lengths.
At 28mm, the lens was crisp edge-to-edge when wide open, with similar results at f/8; at 300mm wide open is f/6.3 so the difference between and f/8 is small with less sharpness at the edges that only pixel peepers might notice.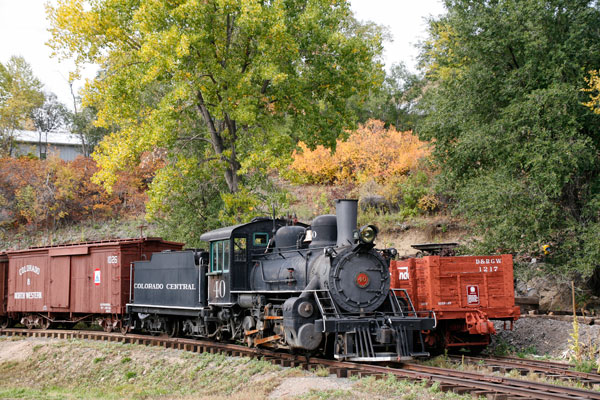 Wide Range
The wide range of focal lengths and close-focusing, even at 300mm, made it an ideal lens for photographing trains at what is really a living museum, with bells and diesel horns sounding as a switchers move around the tracks. The zoom and manual focus controls are smooth and precise.
When mounted on an EOS 5D you could feel the weight of this solidly built lens, but on the lighter 50D it seemed well balanced, keeping in mind that a 28-300mm f/3.5-6.3 is really all you need for a day's shooting.
Image stabilization is not just for long lens and low light environments but is useful in the studio when working with fluorescent and LED studio lights that lack the POW! of electronic flash. While shooting with LED lighting for an upcoming review in Shutterbug's continuing studio light series I made a few images, including the one shown exclusively here.
The Tamron's 28-300mm f/3.5-6.3 felt as much at home in the studio as on location. Working with the low output of LED lights even when shooting at less than 1/30 sec the lens' Vibration Compensation function produced an acceptably high number of sharp images.
Conclusion
Tamron's 28-300mm f/3.5-6.3 Di VC PZD lens lives up to the company's reputation for producing Swiss Army Knife lenses that are sharp as well as versatile. The 67mm filter thread means you won't go broke buying a high quality UV or Skylight filter to protect it (and you should.) If you have a full frame SLR you'll love using the lens' wide-angle capabilities; on an APS-C camera SLR this might be the ideal lens for photographing your kid's baseball or soccer game. Overall, the Tamron's 28-300mm produced great-looking image files and I had fun shooting it and expect you will too.
Price: $599
FEATURED VIDEO