Leica Intros Black-and-White-Only M Monochrom (Type 246) Digital Rangefinder
Leica Camera unveiled its new Leica M Monochrom (Type 246), an updated version of the company's black-and-white-only digital rangefinder. Leica says the revamped M Monochrom is the first digital camera to capture a real black-and-white image (still or moving) without the aid of image processing or filtering.
Due to its high-capacity 2GB-buffer memory and Leica Maestro processor, the Leica M Monochrom captures sequences three times faster than its predecessor. The new processor also enables fast display of the captured images in Review mode.
The Leica M Monochrom captures images with a 24-megapixel, monochrome-only CMOS sensor, which is designed to produce sharp black-and-white photos at all sensitivity settings up to ISO 25000. As the M Monochrom has no color filter array over the sensor, it requires no interpolation for the calculation of luminance values. The result is 100% sharper images with brilliance and detail contrast that exceeds what color photography can do, Leica says.
The new Leica M Monochrom can also shoot full HD video in black and white. The optional Leica microphone adapter set, (an adapter and a stereo microphone) records optimized sound. The high-resolution 3-inch monitor (with 921,600 pixels) ensures that photographers have control of the composition, exposure, focusing and depth-of-field.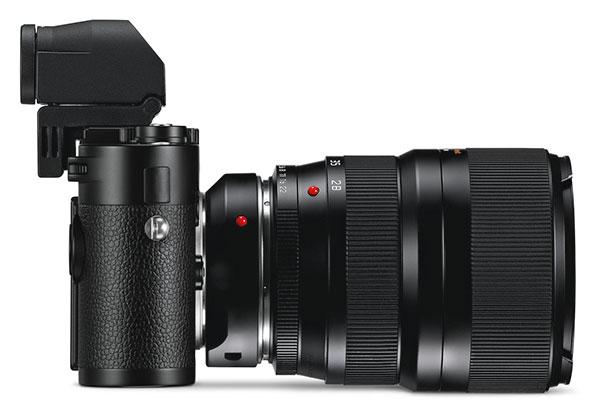 The camera offers full visual control with its Live View function, which provides two focusing methods: the up to 10x magnification of Live View Zoom mode, enabling full control of the sharpness of details in the image on the monitor or the closest focusing distance; and Live View Focus Peaking mode, where sharply focused edges in the image are highlighted by colored lines.
An advantage of the CMOS sensor is that, in addition to the M-Lens portfolio, almost all lenses of the Leica R series can now be used with an optional adapter on the Leica M Monochrom. All of the equipment and accessories from the Leica M series are compatible with the new Leica M Monochrom.
Features:
• Nearly unbreakable sapphire crystal cover glass for the LCD monitor, treated with an anti-reflection protective coating to ensure precise assessment of images in any lighting situation.
• A body manufactured from high-strength magnesium alloy, with a top- and baseplate made from solid brass blanks and finished in black chrome.
• New yellow, orange and green filters (available in July).
More info on the Leica M Monochrom (Type 246) here.
FEATURED VIDEO