An Interview With Graham Nash: Photographs From The Recent Taking Aim: Unforgettable Rock 'n' Roll Photographs At The George Eastman House, Rochester, NY
Is it possible to communicate through photography the energy as well as the quiet moments of rock 'n' roll? These photos, selected by Graham Nash for the recent Taking Aim: Unforgettable Rock 'n' Roll Photographs exhibit at the George Eastman House, answer with a resounding "yes!" Nash, of The Hollies and Crosby, Stills and Nash fame, started taking pictures long before he became famous as a musician, and few may be aware of his talents as a curator, collector, and photographer.
Born in 1942 to working-class parents in the industrial town of Salford near Manchester, England, Nash had a first-hand view of photography at an early age. His father was an amateur photographer and set up his darkroom in the younger Nash's bedroom. After a visit to the zoo when he was about 11, his father developed some negatives in the kitchen and brought them up to the room. "Watch now, watch, keep watching, see! See!"
Nash recalls, "It was like magic to see elephants appear on what had been a blank sheet of paper, and it changed my life forever." If it weren't for realizing as a teenager that his love life had much more potential as a musician, he might have chosen photography as a full-time profession. "There was an absolute fascination with American blues and the emerging rock 'n' roll scene in the late 1950s, and I clearly remember crossing a dance floor to chat up a pretty girl when I was stopped in my tracks hearing The Everly Brothers' 'Bye Bye Love.'"
Capturing The Moment
Nash had a variety of interests for photo subjects, but it was then-girlfriend Joni Mitchell who encouraged him to take advantage of meeting other rock stars on their many tours. One of his best portraits is of Mitchell in 1969 while she was sitting and listening to music (#1). It perfectly brings to mind her delicate, lilting voice and it's obvious her thoughts are a million miles away. "She has her eyes closed, she's in another world. She usually is," Nash notes. "It's sometimes difficult taking photos candidly—don't want to intrude—but I think I really got her in this shot."
Nash is an expert in playing around with moody lighting and off-kilter perspectives to visually describe a subject's personality. While Mitchell was performing on The Johnny Cash Show in 1969, Nash had his camera along, of course, and shot a dark silhouette of Cash standing backstage (#2). "He was just reflecting on his life, I'm sure. But this really, to me, is the man in black."
But most of the time a rock 'n' roll photographer has only a second to capture a performer's acrobatics to turn it into stop-motion imagery. This is perfectly exemplified by Barrie Wentzell's shot of Elton John at London's Sundown Theatre in 1973 (#3). John is leaping around at the piano, "but look at the energy here, look at the faces on those kids. This is rock 'n' roll at its finest," Nash comments.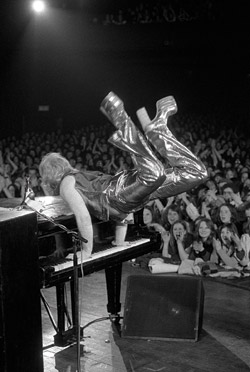 How can one be ready for those split-second moments that instantly capture a star's personality and talent? "I think the challenge as a photographer is to be able to soak in the performance and react to the performance, and apprehend when a performer is going to hit a peak, or a valley. You really have to make yourself a part of the music to take great music shots."
On other occasions, the photographer does have the opportunity to stage a shot. Jini Dellaccio knew she wanted a picture of Neil Young wearing his fringe jacket (#4). "Neil has a beautiful, interesting face and I asked him to get up on the roof. So he got on a ladder and climbed up. As he looked down at me I told him 'now, fly like a bird!'"
Bob Dylan seems to stand apart from other celebrities in his refusal to preen or to be anyone but himself. Nash recalls, "My friend Barry Feinstein took this shot of Dylan signing a poster of himself at the Olympia Concert Hall in Paris in 1966 (#5). It's a wonderful portrait: the mirror, himself, looking at himself in the mirror of himself. Hmm. Reminds me of a Dylan song."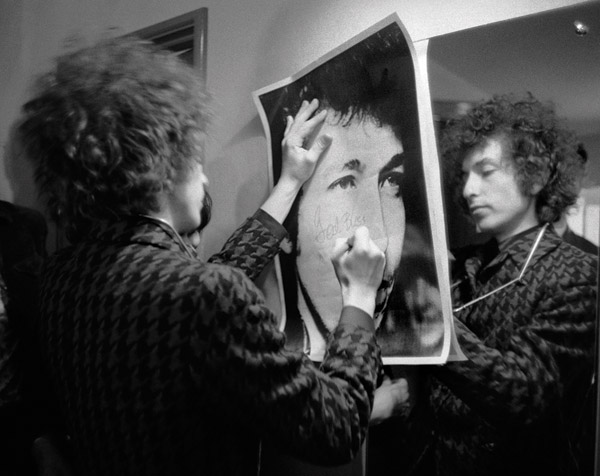 Photography In Motion
"I love this image of Neko Case and her boyfriends, sitting there in the car (#6). Taken by Alice Wheeler, it really gives an impression of the freedom of music, the freedom of rock 'n' roll—the wind in your face, get-out-of-my-way attitude."
Nash is not a big fan of landscapes, as he prefers images that disappear in 30 seconds. "I would much rather experience the landscape rather than just take a shot of a sunset, for example." He combines the best of both worlds in the photo of Neil Young driving home to his ranch in northern California in 1988 (#7). "May the journey continue," he comments.
Self-Portraits
"I've always been a fan of interesting self-portraits," Nash says. "Here's a great one (#8) taken by Lynn Goldsmith in 1981 on the back of a motorcycle with Sting in Los Angeles." It takes a unique talent to steady the camera and find just the right spot on the mirror, all while speeding along over an open road.
"I prefer not to display my own self-portraits in an exhibit, but am usually talked into it. This one (#9) I took of myself with the help of my then-girlfriend Calli Cerami at the Plaza Hotel in New York City in 1974. It was in the waning days of a grueling tour that Crosby, Stills, Nash & Young took in stadiums around the country, and we were on our way to Wembley Stadium in England." We can see the fatigue on Nash's face and a very serious outlook.
Communicating Through Photography
"This image of Ice-T (#10) taken after the release of his album Body Count really reminds me that we can't shut up. We must speak our minds. The world is too important, humanity is too important for us to lie down." Taken by Mark Seliger in 1993, this shot wordlessly communicates the message of censorship. Ice-T's rap song "Cop Killer" had sparked national protests and refusals by stores to stock it.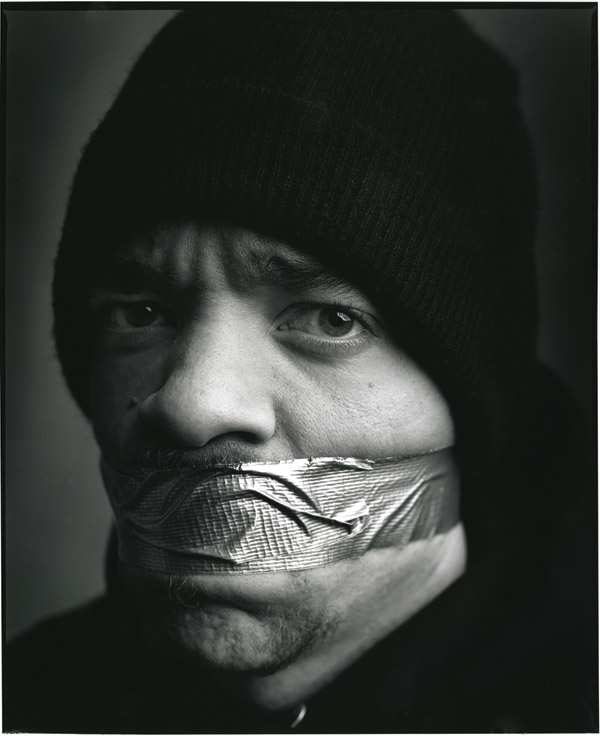 Capture The Moment, Not The Technology
Nash's favorite camera is the Leicaflex he purchased when he first came to the US, but if the moment is right he could care less about what type of camera he uses. "I'll take a Mickey Mouse, a Brownie, or whatever camera I can borrow if I see a great shot. All I'm interested in is, do you like this image? Does it change your life? Does it make you think about your fellow human being? I really don't care how you get there, and 99 percent of the time I do not pose the picture. A friend loaned me a Leica M6 once and by the time I figured it out and got everything set up, Elvis had left the building…Presley not Costello."
He also has a strong preference for black-and-white photography. "I grew up with black and white and it always seems more real to me than color." However he could not resist including Lee Friedlander's shot of Aretha Franklin in full concentration singing in the recording studio (#11).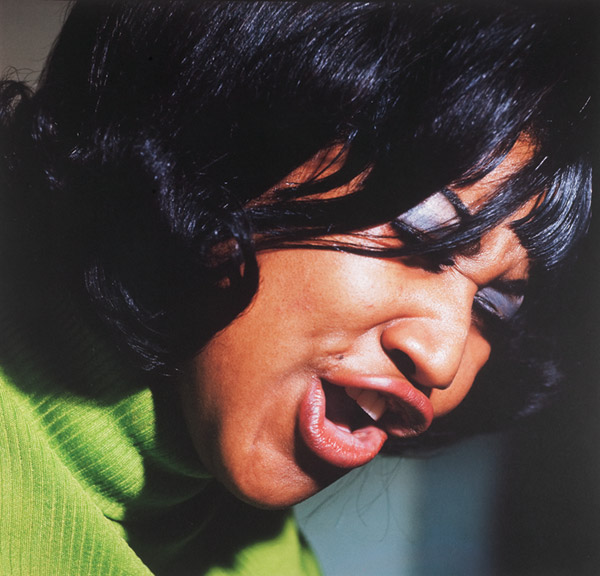 All photos are from the Experience Music Project's collection in Seattle, and were taken with 35mm film. "I'm still waiting for digital to approach the resolution of film," Nash says. "But I believe you either had to join the digital revolution or be left behind." Not only did Nash readily adopt digital photography, he was a true pioneer in using digital printing.
Experimenting With Inkjets
Joni Mitchell was also a painter, and in 1990 she had the opportunity to exhibit at the Parco gallery in Japan. The gallery readily accepted her suggestion that they later showcase some of Nash's photos as well. Nash had no problem selecting the 35 images they wanted, but "I was quite taken aback when the gallery requested they be 3 feet by 4 feet in size!" Fortunately he and tour manager Mac Holbert had been experimenting with early commercial printers such as the large format Fujix inkjet to replicate all the fine details of a digital photo. When Fuji stopped supporting this printer, Nash and Holbert were introduced to Disney color engineer David Coons, who was using a 3024 IRIS. The IRIS was a new large format, continuous tone inkjet printer built for prepress proofing, and in his off-hours Coons wrote the software to produce large images of Nash's photographs. Nash eventually paid $126,000 for his own 3047 IRIS Graphics inkjet and started Nash Editions, a pioneering printmaking studio that produces state-of-the-art digital images for master photographers and artists. Today Nash's son Will manages the company and they donated their first IRIS to the Smithsonian.
International Recognition
Nash's many contributions to music, photography, and charitable work are being recognized all over the world. In June, 2010, he received the Order of the British Empire by the Queen of England, and the Smithsonian Institution cited Nash Editions for its role in the invention of digital fine art printing. In January, 2011, he was bestowed the title of George Eastman Honorary Scholar for his contribution to photography as an artist and an innovator.
"I sense the very same energy in photography that I find in music. Through these rock 'n' roll photos we are conveying what is so difficult to put into words: how the spirit of rock 'n' roll is mainly an attitude; an attitude of 'get out of my way, I have something to say here.' Whether you're a country singer, a pop, rock, blues, or gospel singer, it makes little difference to the unceasing eye of the camera."
These and other photos can be seen in the book, Taking Aim: Unforgettable Rock 'n' Roll Photographs Selected by Graham Nash.
FEATURED VIDEO