The HiTi S420 Dye Sub Printer; Compact Printer Handles Many Inputs For 4x6 Prints And More Page 2
Note: The unit will not read raw files, which is understandable, so if shooting raw always choose the raw+JPEG option to enable index print creation. While the unit has other attributes, such as being able to make novelty prints like stickers or ID cards for home and business travel, the index print feature is, for this photographer, invaluable.
Hi-Res For A Dye Sub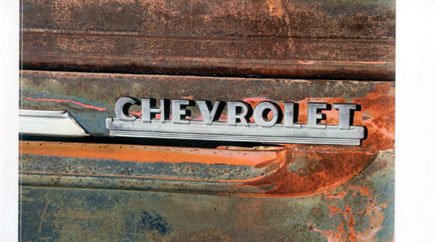 The makers claim 403x403dpi for the printer, said to be equivalent to about 6400dpi on an inkjet. This crisp and colorful detail from a rusted-out pickup was made directly from the unretouched image in a Picasa browser, a result that seems to back up their claim.
Full 4x6 prints are clean, brisk, and colorful on the glossy paper included with the test package sent. From start to finish each takes less than a minute and a half to go through the three-pass printing process. Skin tones are true, and even very colorful images with contrast present a very good tone and resolution. The stated res of the printer is 403dpi, which for a dye sub is very good and, according to the maker, equals about 6400dpi on an inkjet. In short, I had no complaint with print quality.

Setup is quite easy--all you need do is use the accompanying CD to load the print driver, follow instructions on the print and ink ribbon packages to load the media and off you go. The unit takes very little space on the desktop. One thing that does need work is the printed instruction manual, which takes time to figure out, but that at least points you in the right direction. On another less than positive note, I would not use this printer to create black and white images. The composite monochrome created by the color ribbons is at best passable.
Index Print Capability
One of the main attractions for me is the printer's ability to create quick and clean index prints directly from a loaded memory card. I put an SDHC card from a Nikon D40X right in the printer's card slot and chose Index Print using the LCD controller. In about a minute and a half the unit downloaded the images and gave me three index prints holding 20 images each, the full card's worth. The unit will not read raw files (as all are proprietary) so as usual I shot raw+JPEG and got thumbs of the JPEGs. The circular images on this card are due to the fact that I was testing a Sigma 4.5mm fisheye that week.
In all, the HiTi S420 is great for making handout snapshot-size prints with very good color and clarity and an excellent index print maker for images directly off a memory card. Its ability to take numerous inputs makes it extremely versatile, and the speed and simplicity of operation present no hurdles to getting the most from it.

For more information, contact HiTi Digital America, Inc., 285 S. Dupont Ave., Ste. #104, Ontario, CA 91761; (909) 974-0099; www.hitidigital.com.
FEATURED VIDEO