The Goods: Our Favorite New Premium Photo Gear
Printer's Choice
If Canon's 17-inch imagePROGRAF PRO-1000 inkjet printer reminds you of some of Canon's other professional imaging products, that's no coincidence. The Canon PRO-1000 sports the same "red stripe" of Canon's top-of-the-line L-series lenses and has a contoured black chassis reminiscent of Canon's pro digital SLRs. But the quality comparisons aren't merely cosmetic. The PRO-1000 features a new print head, a new ink set, and a new image processing engine designed to produce stunning photo prints up to 17 inches wide. The new print head in the PRO-1000 is 50 percent larger than the previous model, and increases the number of nozzles to 18,432 for each of the 12 channels. If any of the nozzles gets clogged or can't fire for any reason, a backup nozzle automatically goes into action to prevent output errors. The PRO-1000 printer has 11 new Lucia Pro pigment inks plus a Chroma Optimizer and features a Canon-rated print speed of six minutes for a bordered 17x22-inch print and just over four minutes when printing in high-speed mode. Most importantly, the PRO-1000 outputs beautiful photo prints with vivid colors and rich black and whites, along with expanded dynamic range.
Palm Perfect
What has over 42 million pixels and fits in the palm of your hand? It's the Sony RX1R II, which squeezes a 42.2MP, back-illuminated full-frame sensor into a compact black body and then adds a premium 35mm fixed focal length Zeiss Sonnar T* F2 lens on front. And that's not all. The Sony RX1R II also sports a retractable XGA OLED viewfinder for eye-level shooting on top and a tilting three-inch, 1.2-million-dot LCD on back. The new RX1R II features 30 percent faster autofocus speeds compared to the original RX1R and the "world's first" variable low-pass filter that can be set to "off," "standard," or "high" based on the photographer's preference, along with low-pass filter bracketing. The new Sony RX1R II can shoot images as uncompressed 14-bit Raws along with other compressed image formats. On the video side, it captures Full HD in a range of frame rates and offers wireless transfer via built-in Wi-Fi and NFC. The fully loaded Sony RX1R II is not cheap but it offers more in one palm-sized shooter than several other cameras combined.
Easy Wider
Analog photography fans have a new way to go wide, instantly. The Lomo'Instant Wide from Lomography uses Fuji Instax Wide film to produce arty wide-angle instant photo prints with an exposure area of 64x99mm. The design of the Lomo'Instant Wide, like many Lomography products, is pure retro chic and comes in several different editions with different color schemes, including a two-toned Central Park version, a three-toned Portobello Road version, along with Black and White models. The camera has a 90mm (35mm equivalent) lens, a built-in flash, and comes with four colored gel filters.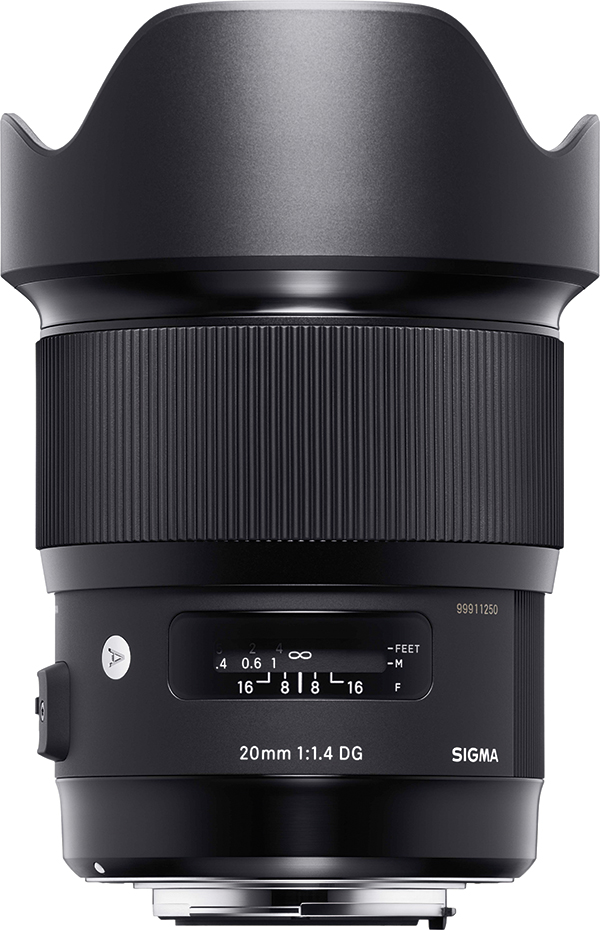 Art Part
Sigma has produced some innovative lenses in its Art line but the company's really outdone itself with the Sigma 20mm F1.4 DG HSM Art lens, which is the "world's first" 20mm f/1.4 lens for full-frame digital SLRs. The Sigma 20mm F1.4 DG HSM Art lens uses both "F" Low Dispersion (FLD) glass and five Special Low Dispersion (SLD) glass elements in an optical array of 15 elements in 11 groups. This setup is designed to minimize spherical aberration, axial chromatic aberration, and field curvature, to produce high image quality. Sigma sought to minimize flare and ghosting by establishing an optical design that is resistant to strong incidental light sources such as backlight with its Super Multi-Layer Coating. The Sigma 20mm F1.4 DG HSM Art lens is designed for seascape, cityscape, and astrophotography, as well as for photos in low light, indoor photography, environmental portrait photography, and event and wedding photography.
THE GOODS is a new feature in Shutterbug that spotlights the hottest premium photo gear out there. If you have a product you'd like considered for The Goods, e-mail images and info to editorial@shutterbug.com.
FEATURED VIDEO